About Me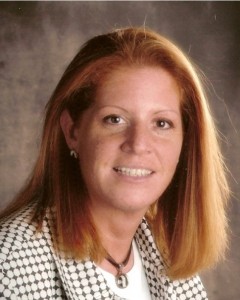 What does "Mele Cotte" mean?
Mele Cotte means Baked Apple in Italian.  Baked Apples were one of my most favorite desserts my mother made when we were little.
Who is the face behind Mele Cotte? My name is Christina, although many call me Chris. I grew up (mostly) in the Boston area surrounded by a family of experienced Italian cooks.  Whether it was the eye witness accounts of mom spending endless hours preparing "shifts" of meals to fit her family's forever-changing schedule, Nana hand rolling homemade pasta or Grandma making quick, simple, yet delicious rice with egg, fresh, homemade food was and has always been the center of personal, familial, and social camaraderie. Although my cooking ventures did not begin until my late twenties, my love for food has lasted through my variety of jobs in marketing and a career as a middle school educator/administrator.
It wasn't until I completed a baking and pastry certification course from the Art Institute of Atlanta that my food fervor ignited once again. Utilizing baking as a stress reliever, my most pleasurable activities that stemmed from culinary adventures was Mele Cotte, my personal blog that began with a dual purpose.  First, the blog was a great vehicle with which to direct others to recipes requested.  Secondly, Mele Cotte became an entertaining means to create a personal diary of dishes created on a whim, using only the available ingredients on hand in my kitchen. And, who am I kidding – there have been times when Mele Cotte has been a great therapist, and at a fraction of the cost!

Blogging has exposed me into a whole new culinary realm, leading me to meeting scores of fellow foodies from around the globe, writing gigs for the Well Fed Network, recognition as an Atlanta blogger in the Atlanta Journal Constitution, small catering requests from friends and coworkers, and an opportunities to serve as a pastry chef in two small downtown Atlanta restaurants.
Believing I have found my calling, I continue to working to further expand my culinary knowledge. I use every opportunity as a learning experience and always look forward to what the future has in store.