croccante/peanut brittle
Happy Secret Recipe Club reveal Monday!
*Confession*(Or as my boss says, "I am writing myself up.")
And, I experienced technical difficulties with my pictures and deleted all of them somehow.  Yikes!  No ones fault but mine and my moving in too many directions while in my work-life swirl. So, this post is part 1….and this evening will be part 2.
Please pardon my delay in posting pictures!  Don't let my challenges taint how super excited I was to to receive Desi's blog, SteakNPotatoesKindaGurl.  She has four years of amazing recipes to choose from! Since I am a candy-a-holic, I had to  try her Peanut Brittle.  I have only made it a handful of times and wanted to try her version! It couldn't have turned out better.  An amazing treat for a peanut lover.
Rewind to last night.  I know!  We're not supposed wait until last minute for SRC.  And, I didn't!  I made the brittle last week.  It's the post that escaped me.
*Ring Ring*
It's me.  You wouldn't happen to have any of that brittle I gave you, would you?
Uh….really?  (laughing) So it's like that?  Give, with conditions?
No!  I messed up my pictures.
Oh!  So it's more like, "Here, enjoy!  But wait for the post!"  Kind of like the effects Instagram has had on eating out.
Well, when you put it like that, it sounds terrible!
All in all…bits and pieces were all that were left.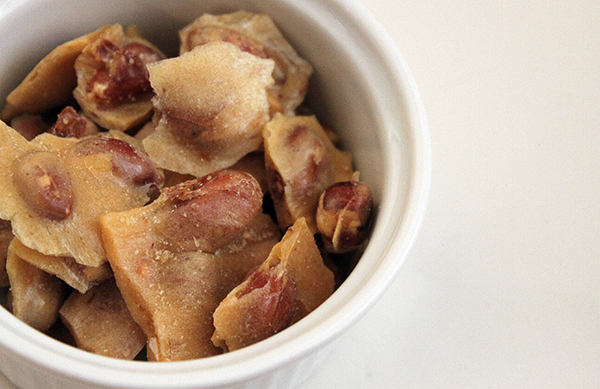 So, I whipped up another batch last night.  I had to wait until today, after work, to break it apart.  More brittle…the horror!  (not!!!) I think I will make another batch of Chocolate Crunch Cupcakes with this new batch of brittle.
Thanks Desi!
Peanut Brittle
As seen on SteakNPotatoesKindaGurl, who slightly adapted from Mother Thyme
1 cup sugar
1 cup light corn syrup
2 cups honey roasted peanuts
Line a large, wide/shallow baking sheet with parchment paper and lightly spray with cooking spray. Set aside.
In a large saucepan, stir sugar and corn syrup over medium heat until sugar dissolves. Add peanuts. Increase heat to high and bring to a boil, stirring frequently to avoid burning.  Stir until candy thermometer reaches 295°F and the mixture is a golden color, about 10-15 minutes.
Remove from heat. Quickly pour mixture onto prepared baking sheet and spread evenly. Set aside to allow to cool and harden. Break into pieces and store in an airtight container.
Loading InLinkz ...