fetta di torta/piece of cake
Happy Secret Recipe Club reveal Monday! It's good to be back again for another month.  Margaret's Tea and Scones blog was the focus of my "research" this month. She is very active in blogging groups, so you have probably come across her food aventures if you follow Bundt Bakers, Donna Hay Wednesdays, French Fridays with Dorie, I Heart Cooking Clubs, Magazine Mondays,  Modern Baker Challenge, My Kitchen, My World, or  Tuesdays with Dorie. Good stuff! And, there were plenty of recipes from which to choose.
I went back and forth, trying to choose between the Äppelkaka, Cinnamon Scented Chocolate Mousse Cake, and Lamingtons. When push came to shove, after getting back home from several business trips, I realized I had to go with a recipe with "readily available ingredients". Since I didn't have apples for the Äppelkaka, have yet to unpack my Modern Baker for the Cinnamon Scented Chocolate Mousse Cake, and used up all the coconut needed to Lamingtons on macaroons, I was back to square one.  Then, it hit me.  Pound cake!  How can you go wrong with Dorie pound cake?  You can't.
I added Heath bits to this pound cake since I was bringing it to my niece and nephew.  A little toffee makes for happy middle schoolers.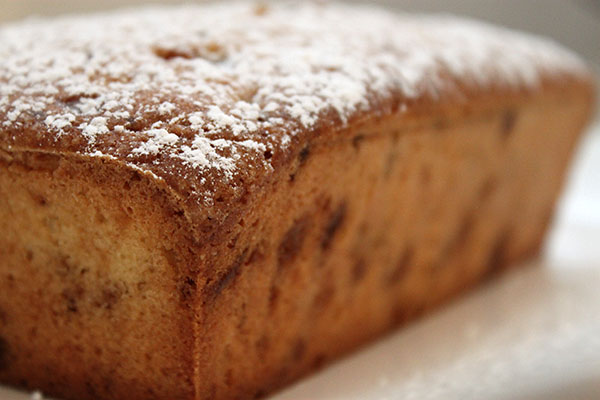 Perfection Pound Cake
A Dorie Greenspan recipe posted on Tea and Scones
2 cups all-purpose flour
1 tsp. baking powder
¼ tsp. salt
1 cup unsalted butter, at room temperature
1 cup sugar
4 large eggs, at room temperature
1 tsp. vanilla extract
Preheat the oven to 325 °F. Butter/Spray a 9×5-inch loaf pan, place on a baking sheet and set aside.
In a bowl, whisk together the flour, baking powder, and salt; set aside.
In the bowl of a stand mixer, fitted with a paddle attachment, cream butter and sugar until pale and fluffy. Add the eggs one at a time, scraping down the bowl after each addition. Mix in the vanilla extract. Add the flour and mix only until incorporated.  Do not overmix! Scrape the batter into the prepared pan and smooth the top.
Bake for about 45 -60 minutes, or until an inserted toothpick comes out almost clean.  Transfer to a wire rack and let rest for 30 minutes. Run a blunt knife between the cake and the sides of the pan and turn out the cake onto the rack. Cool completely.
To store, wrap well.  The cake will keep for 5 to 7 days at room temperature (stale cake is great toasted) or up to 2 months in the freezer.
Loading InLinkz ...