granturco/sweet corn
Spring is here!  But, don't get too comfortable.  The summer sun will be shining down before we know it and it's rays will be nudging you and me to mosey-on outside and celebrate with family, friends, and food. In turn, farmer's markets, seasonal roadside stands and gardens will be overflowing with an abundance of the season's freshness. And, how better to celebrate summer season's freshness than with sweet corn?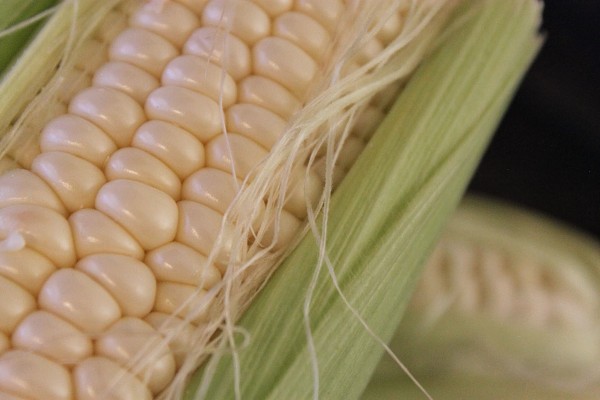 There is something about grabbing hold of really fresh ears that stir up memories from my past, like when I was a youngin' living in my parent's home, grilling on (sketchy) Boston roof tops as a collegiate, or entertaining in my own home's backyard in Atlanta. No matter the decade, or specific preparation methods, one thing is for certain.  Summer is not summer without breaking open a corn husk, peeling away the silk off each ear, and chuckling because someone will inevitably struggle to get that one piece of silk that was missed out from between their teeth.
I know.  Your own personal memories are bubbling to the surface at this very moment.  You're even racking your brain, trying to figure out where those little yellow plastic corn cob holders are in the kitchen, right? Since I don't have any of those little guys, I decided to go rogue with the first ears of the season I picked up from the market.  Traditional butter, salt and pepper cob?  No way. I made sure my ears were devoid of shriveled kernels. The corn that came home with me was bright white, plump and milky when pressed, perfect for juicing or pureeing.
First, I made a relish.  Easy as 1,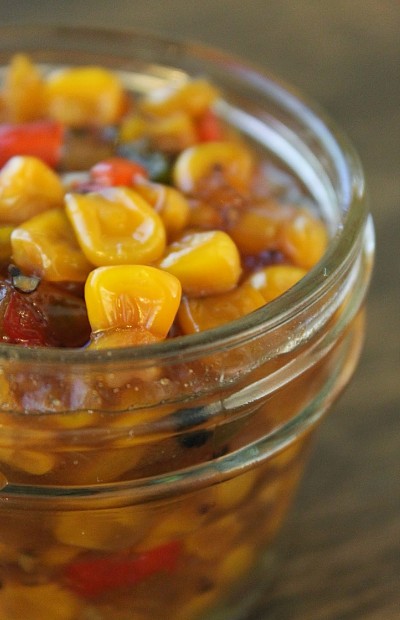 But, you know I love making and sharing desserts.  So, I went back into the kitchen and traveled down memory lane once again. When I revisited the time I made countless desserts during the dinner shifts at the restaurant several years ago.
I made semifreddos for months on end while working in that kitchen. Semifreddo after semifreddo. It became routine…until I played around with different flavor profiles on nights it was slow.  Channeling that energy, I took my sweet corn in hand and decided to make a sweet corn semifreddo with a corn cake, crunchy candied kernels, and caramel sauce.  The creaminess of the semifreddo, its subtle corn flavor against the sponge of the cake, and the crunch of the kernels was a summer day in a bite. I was pleased.
Cravin' corn yet? What summer lovin' are you planning to pay some sweet corn? Not sure?  No worries!  There isn't any reason to strain your brain trying to think of ways to prepare this summer's corn.  Sunshine Sweet Corn is ready and waiting to help "Put a Little Sweet in Your Step". The Sunshine Sweet Corn site has copious recipes to try. There are several of my fellow bloggers participating in Kitchen Play's Florida Sweet Corn Exchange all week (April 7 – 11). Each day will definitely entice you to get a little corny!
Then, there is the giveaway.  Yup!  A giveaway! I want to invite you to pin recipes that include sweet corn, any corn, not just Sunshine Sweet Corn recipes, to my Sweet Corn Creations Pinterest Board. The more the pins the merrier (but only your first will be considered)! An ample Pinterest board leads to endless inspiration to cook and bake with sweet corn, right? I will be giving away a $50 gift card to one randomly selected guest pinner on our group board.  Just in time for summer produce shopping!
To enter the Pin Party for a chance to win a $50 VISA gift card, just leave me comment letting me know you'd like to be part of the Pin Party (be sure to include the email you use on your Pinterest account when filling out the comment info) and I'll send you an invite to my Sweet Corn Creations Pinterest Board.  Then, you can pin your favorite corn recipe to this board.  (Note: Pinterest will only allow invites to group boards to people who follow all of my boards.  Sorry, but thank you!)  Pinning for a chance to win will end on April 16, 2014 at 11:59EST.  Good luck!
No purchase necessary. Open to US residents age 18 and older. This sweepstakes is sponsored by the Florida Sweet Corn Exchange in partnership with Kitchen PLAY. One prize of a $50 Visa gift card will be awarded randomly to one eligible entrant. To be eligible to win, reader must request to be added to the Sweet Corn Goodness Pinterest group board  maintained by Mele Cotte, via the comments on this post. Once added to the group board, he/she must then add at least one pin featuring sweet corn to the group board during the sweepstakes period. (Pinning from the Florida Sweet Corn Pinterest board is allowed.)
This promotion begins at 9:00 AM EST on April 9, 2014 and ends at 11:59 PM EST on April 16, 2014. Winner will be selected randomly on April 17, 2014  from all eligible entries and notified by email. Winner must provide shipping address within 48 hours of notification, at which time a new winner will be chosen randomly from all remaining eligible entries. Odds of winning depend on final number of eligible entries. Total value of prize is $50, and no cash will be awarded in exchange for the prize.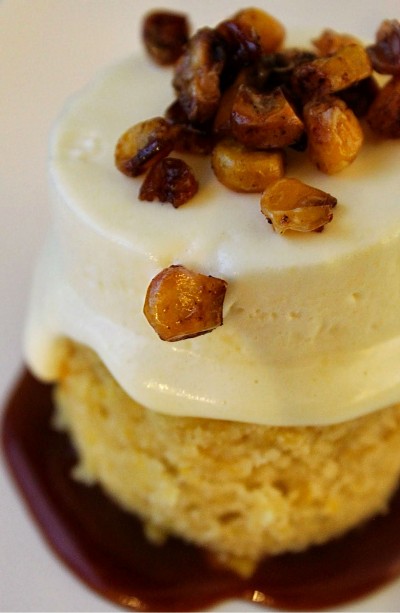 There are four parts to this dessert. All are very simple to execute. The four taste compliment one another, but are also fabulous on their own!
Corn Cake
1½ cup all-purpose flour
1 tsp. baking powder
¼ tsp. salt
2-3 ears corn (1½ cup) corn kernels, fresh or frozen (thawed)
¼ cup milk
1 tsp. vanilla extract
¼ cup butter, melted and cooled
¼ cup canola oil
½ cup white sugar
¼ cup brown sugar
2 eggs, lightly beaten
Salted Caramel Sauce
Preheat oven to 350°F. Line and butter a 9-inch (round or square) cake pan; set aside.
Whisk together the flour, baking powder, and salt; set aside.
Cut the kernels from the corn cobs to accumulate 1-1 ½.  Reserve ½ cup of the kernels. Puree the remaining 1 cup of kernels in a blender or food processor with the milk until as smooth as possible; set aside.
In a large bowl of an electric mixer, mix the butter, oil, and sugars until blended. Add eggs, scraping down the sides of the bowl as needed. Add the pureed corn mixture, followed by the flour mixture.  Mix until just blended.
Pour the batter into the prepared pan. Bake 25-30 minutes, or until a toothpick inserted in the center comes out almost clean. Cool completely on a wire rack. The cake will be dense, but moist.
Sweet Corn Semifreddo
2 cups fresh corn kernels (from approximately 3-4 ears)
1¼  cups heavy cream
¾ cups sugar
¼ cup water
4 egg yolks
½ cup corn milk (see below)
½ tsp. pure vanilla extract
Line a 9-inch square cake pan with plastic wrap; set aside.
Cut the kernels from the corn cobs to accumulate 2 cups; set aside.
In a chilled bowl of an electric mixer, whisk 1 cup of cream to stiff peaks. Transfer to a large bowl and refrigerate.
In a blender, puree ¼ cup cream with corn kernels. Puree until smooth. Press through a mesh strainer to extract the "milk" from the solids.  Reserve the liquid. Discard the solids.
In a small saucepan, combine the sugar and ¼ cup water. Clip a candy thermometer to the side of the pan and cook over medium heat until the mixture reaches the hard ball stage, 247 to 250°F. While the sugar is cooking, place the egg yolks in the bowl of an electric mixer and beat with the whip attachment at medium speed. The egg yolks should become very thick and pale in color. When the sugar reaches the hard ball stage, remove it from the heat. With the mixer running on low speed, carefully drizzle the hot sugar into egg yolks. Keep the stream of sugar against the side of the bowl to prevent the sugar from hitting the whip. After all of the sugar has been added, increase the mixer speed to medium and beat until the bowl is cool to the touch. Add the corn milk and vanilla. (This will thin out the mixture). Gently fold the mixture in the whipped cream. Spoon the semifreddo into the prepared pan and freeze, covered with a plastic, at least 4 hours or until firm. If possible, chill overnight.
To serve, slice, scoop, or cut the semifreddo, serve as is, with fruit, or cake.
* Sweet Corn flavor increases over time. Keep frozen for up to 1 week.

Candied Roasted Corn Kernels
2 cups corn kernels, fresh or frozen (thawed)
1 Tbsp. canola or vegetable oil
2 Tbsp. sugar
1 tsp. cinnamon
pinch of fine sea salt
Preheat your oven to 400°F. Line a baking sheet with parchment paper or foil.
Toss corn with oil, sugar , cinnamon, and salt. Spread  on the baking sheet in a single layer. Bake for 25-30 minutes, until slightly browned. Be sure to stir every 10 minutes to prevent from burning or browning too quickly. Let cool on a wire rack.
Disclosure: This is a sponsored post by Kitchen PLAY in partnership with the Florida Sweet Corn Exchange for their "Put a Little Sweet in Your Step" event.