pizza alla zucchina/zucchini pizza
Secret Recipe Club, how you've been missed! After a much deserved break, Group C is back for Reveal Day.  For this big day, I was super excited to take a trip to Calera de Tango, Santiago, Chile to visit Gloria and her delicious creations.
While culling through the myriad of choices, my first thought was dessert.  What can I say?  I always move toward dessert first. However, I scrolled through and came across Gloria's pizza con vegetales y zapallitos italianos, or zucchini and tomato pizza.  I had just picked up a few zucchini from the store and knew these little pizzas had my name written all over it.
I did make a couple of tweaks to the recipe, but believe the changes don't jeopardize the integrity of Gloria's original vision.  First, I sautéed the zucchini prior to adding them to the pizzas, seasoning the slices liberally. Secondly, I substituted the sliced raw tomatoes with slow roasted tomatoes I had made a few days prior to making the pizzas.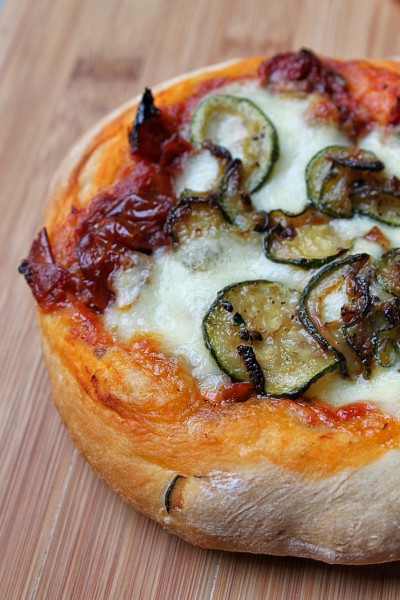 Overall, I thought these pizzas were mini rounds of scrumptious comfort food. I made this determination after realizing I didn't share, not one. I ate each and every pizza over several days.  Pretty successful Secret Recipe Club, day, I think.  Agreed?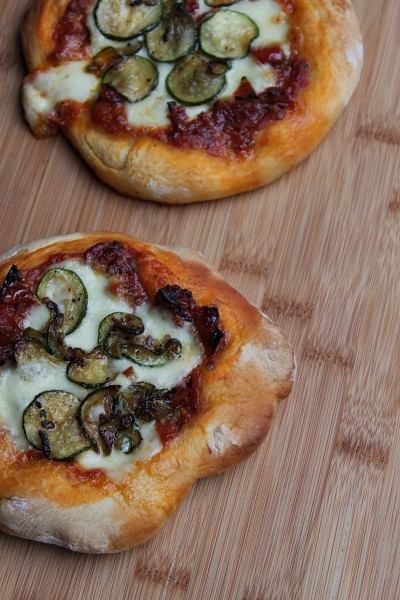 Zucchini and Tomato Pizza
(pizza con vegetales y zapallitos italianos)
Slightly adapted from on Canela Kitchen
Crust
1 ¼ oz. envelope active dry yeast
4 Tbsp. warm water (100-110˚F)
1/8 tsp. of sugar
300 grams all-purpose flour
4 Tbsp. olive oil
1 tsp. salt
Topping
2 zucchini, thinly sliced
1 garlic clove, minced
salt & freshly ground pepper
1 cup tomato sauce
1 Tbsp. oregano
1 pound slow-roasted tomatoes
8 oz. fresh mozzarella cheese
To prepare the dough, dissolve yeast and sugar in water in a small bowl. Let stand about 5 minutes.
In large bowl, add flour and make an well  in the center.  Add yeast mixture. Pulling in the flour slowly, mix with hands until it's a cohesive mass. Turn out onto a floured surface and continue kneading until the dough is nice and smooth and no longer sticks to the hands. Return to bowl, cover with a kitchen towel and let stand in warm place 45 minutes, or until the dough doubles in volume.
Preheat oven to 425°F (180°c).
Divide dough into six portions. With lightly floured hands, stretch or roll each portion into rounds. Place on two, parchment lined baking sheets; set aside.
In a large frying pan, heat the oil over medium heat. Add garlic and cook until fragrant, about 1 minute.  Do not burn! Add zucchini and sauté until their colors intensify, about 5 minutes. Season with salt and pepper, stirring until evenly mixed. Remove from heat.
To prepare pizzas, divide tomato sauce, spreading the sauce on each of the 6 rounds.  spread  the surface with tomato sauce and sprinkle with oregano. Distribute the remaining ingredients, sliced tomatoes, cheese, and zucchini.  Bake for 15 minutes, or until brown and bubbly.  Serve immediately.  [6 servings]