ortaggi/vegetables
Recently, my mother visited my sister, and me in California.  With the exception of one, forced and uncomfortable November about 7 years ago, mom's visit and the times we shared marked the first holiday I formally celebrated the holidays in over a decade. Long time readers of the blog know I have been estranged from my family (except mom) since about '01, so I never say any point. Needless to say, this move have been significant on so many levels.  Most of all, living near family, and the rebuilding my relationship with my sister has been positively profound.
Conversations with my mom are always thought-provoking, too. While my mom was here, she and I reminisced about dishes I enjoyed from my childhood.  We also chatted about the ones I did not favor. After that conversation, I began to think.  While I remember disliking certain tastes from the vegetables used in the dishes from 30+ years ago, I enjoy those same vegetables today.  In fact, many are staples in my adult home.  Yes, I know this is a common occurrence as our palates mature.  But to be honest, the whole thing perplexes me really. Even so, my continued transition to west coast living and careful rekindling of a sisterly bond has, for some random reason, led me to want to resurrect one of my mom's favorite (and my least favorite) veggie dishes.  I just placed my own spin on the overall concept, adding red bell peppers, a heartier tomato sauce, and a flavorful seasonings.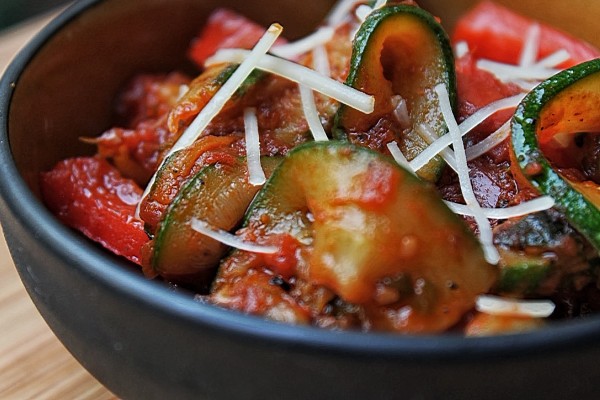 Sautéed Zucchini & Peppers in Tomato Sauce
2 medium zucchini
2 red bell peppers
2 Tbsp. grapeseed oil
1 cups tomato sauce
2 cloves garlic, minced
Coarse salt and ground pepper
Parmesan, for garnish (optional)
Cut zucchini in half, across its diameter.  Cut again, lengthwise, then in 1/4-inch-thick slices. Cut the pepper similarly, removing the ribs and seeds beforehand.
Heat oil in a large skillet over medium-high heat. Stir in garlic and cook until fragrant, about 1 minute. Add zucchini and peppers. Cook 6 to 8 minutes, or until  crisp-tender, stirring frequently.  Season with salt and pepper. Stir in tomato sauce and cook until heated through, one to two minutes.  Taste to check for seasoning.  Serve immediately, with shredded Parmesan.
Cook's Notes:
Amounts of vegetables and seasonings can vary according to preference.
Grapeseed oil can be substituted with olive, vegetable, or canola oil.
Tomato sauce can be homemade or bottled.  I used Rao's Tomato Basil Sauce bought at Whole Foods.
Delicious over a cup of rice