verdure tritate/chopped vegetables
January arrived with shear and utter confidence, and each day has been full speed ahead the moment the calendar turned the page.  It was really important to me that both the new year and my relocation to California were met with a rejuvenation of positive routines.  Depending on whose work you read or the people with whom you speak, routines can be described as a habit that occurs after a repetition of over (about) 14 days. Admittedly, I am notorious for starting things I don't finish. But, this is 2014. One day at a time, right? (I am actually surprised I have stuck with Mele Cotte this long!)   Well. today marks day 14 of '14 and I am happy to report that I have kept to my grocery and smoothie schedule, watched that I don't make my life about work, and that I include my immediate family in life.
To help keep me stay on within the lanes on "the road to me", I have re-read what James Clear's wrote on his blog about the three (3) habits of change.  How and what he wrote, while not anything I haven't heard in one form or another, were explained in an attainable way. Clear's post explains that a habit,  good or bad, follows the same 3–step pattern.  Reminder (the trigger that initiates the behavior) Routine (the behavior itself; the action you take) Reward (the benefit you gain from doing the behavior). Feasible, for sure. An applicable and achievable goal.
I know that each day is a blessing.  My recent transition has lifted the fog of minutia, doubt, and pressure.  Finally, after 40 something years, I am actually believing that those blessed days are meant for me, too. #mindblown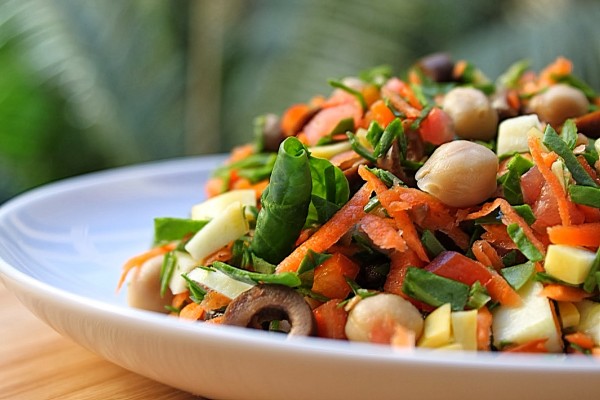 Blessings also come in the form of simple, uncomplicated salads that don't need exact measurements or directions.  It's a grab-whatever-is-in-the-refrigerator dish, like this Chopped Vegetable and Chickpea Salad. Ingredients tossed together according to what you have a taste for, dressed only with freshly ground pepper and the juice of a freshly squeezed lemon can make any day fresh, fulfilling, and a complete with a healthy dose of energy. Perfection.
[For this day's grab-whatever-is-in-the-refrigerator dish, I rinsed 1 can of garbanzo beans/chickpeas and tossed them with shredded carrots, chopped black olives, diced yellow (summer) squash, diced/seeded tomatoes, and diced/seeded red pepper.]