salsiccia/sausage
The holidays, and the foods that are connected with the joy of the time of year, always remind me how much I adore breakfast and brunch foods.  You know what I am talking about, the delicious dishes that beautifully led themselves to lazy mornings at home spent grazing on random combinations of foods while laying motionless, in your PJs, in front of the television while watching some marathon you've seen 1000 times before.
The truth is, I really could eat breakfast and brunch foods 24/7, 365 days a year. Quiches, casseroles, breads, and bacon turn me into a cartoon character whose eyes pop out of their sockets in the shape of hearts. So, deciding to break in my new oven in my new apartment in San Jose over the Thanksgiving holiday weekend led me toward what I love, what I know, what brings me tummy warmth and comfort.
Enjoy!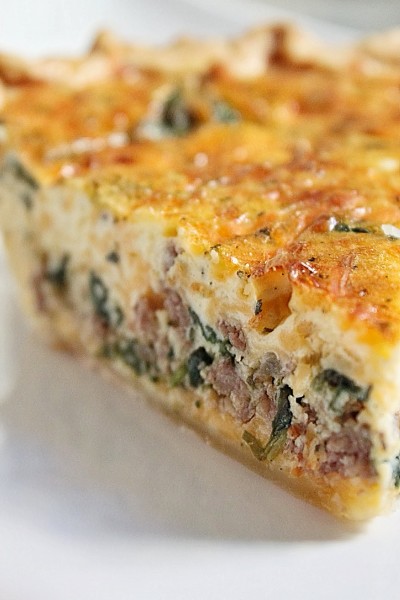 Sausage & Egg Pie
1 unbaked pie shell
1 Tbsp. unsalted butter
½ cup yellow onion, diced
1 clove garlic, peeled & minced
8 ounces Italian sausage
¼ teaspoon salt
1 tsp. za'atar (or seasoning of your choice)
1 10-oz bag spinach/kale greens mix
2 cup cheddar cheese, shredded
4 eggs, slightly beaten
1 cup cream
Preheat oven 375°F.
Melt butter in a large skillet over medium heat.  Sauté onion and garlic until translucent, about 3-5 minutes.  Add sausage, crumble with a spoon/spatula, and cook until  browned.  Stir occasionally. Season with salt and ½ tsp. za'atar. Add greens, stir to mix well, and cook until greens are wilted. Remove from heat; set aside.
Sprinkle 1 cup of cheese on the bottom of the pie shell. Top with the sausage mixture in an even layer.
In a medium mixing bowl, whisk eggs, cream ½ cup of cheese and remaining ½ tsp. za'atar; mix well. Pour egg mixture over sausage mixture. Top with remaining ½ cup of cheese.
Place pie on a sheet pan and bake for 45 minutes or until an inserted knife comes out clean. Let stand for 10 minutes before serving.
Cook's Note:
Cream can be substituted with whole milk and/or half & half
Seasonings and addition of veggies can vary according to flavor preference.
A homemade crust will bring this pie to another lovely level.