patata dolce/sweet potato
It is pumpkin time again. Yup! Fall and pumpkin go together like peas and carrots, peanut butter and jelly, or bread and butter! That goes for sweet potato, too. I can never say no! So, as Group C sets out for our monthly Secret Recipe Club reveal, I chose to blend the two.
My pairing this month was with Lynne, from 365 Days of Baking and More.  Woot!  What a treat!  I actually made her Baked Apple Cider Doughnuts, using Peach Cider, just days before receiving the email naming my SRC October blog.  When I saw the 365 link on the screen, I knew this month was going to be a touchdown for sure. Muffins, biscuits, breads, I had a hard time choosing.
I finally narrowed my choices down and decided upon Lynne's Caramel Pumpkin Cheesecake Tart.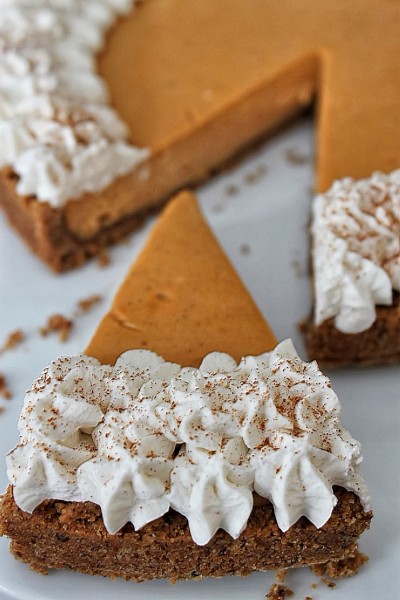 However, rather than open my super big can of pumpkin puree, I used the sweet potato puree  I had left over from another recipe I had made. The end result was a beautiful treat, a stunningly beautiful treat.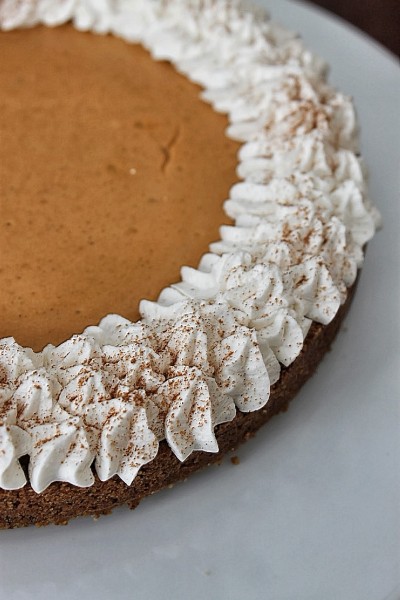 Caramel Sweet Potato Cheesecake Tart
Adapted from 365 Days of Baking & More
Crust
1 cup almond flour or almonds finely ground in food processor
1 cup gingersnap cookies finely ground (about 8-10 small cookies)
4 Tbsp. butter, melted
Preheat oven to 350°F. Combine all ingredients in a medium bowl until crumbs are moistened and sticking together.Pour crust mixture into a sprayed 8-inch round springform or tart pan. With the back of a spoon, press firmly into a single layer on the pans bottom and about ½-inch up the side.
Bake 10 minutes, until set.
Filling
8 oz. cream cheese, room temperature
2 Tbsp. light brown sugar
3 Tbsp. caramel sauce, plus extra for garnish
½ tsp. vanilla extract
1 tsp. pumpkin pie spice
1/8 tsp. salt
¾ cup sweet potato pulp
1 egg
In the bowl of a food processor, cream brown sugar and cream cheese. Add caramel sauce, vanilla, spice, and salt.  Pulse to mix.  Add sweet potato pulp and egg and mix until thoroughly combined. Transfer to the prepared crust. Bake for 25-30 minutes until middle is set. Place tart on a wire rack to cool for 30 minutes. Refrigerate, in pan, for 2 to 24 hours before serving.
Spiced Whipped Cream
1 cup heavy whipping cream
1 tsp. confectioners sugar
½ tsp. pumpkin pie spice
In a bowl of an electric mixer fitted with the whisk attachment,  whisk whipping cream on medium-high until soft peaks form. Add sugar and pumpkin pie spice. Spread over cheesecakes or decorate with a star piping tip before serving. Drizzle with additional caramel sauce, if preferred.
Cook's Notes
The original filling recipe called for ¾ cup pumpkin puree, ¼ tsp. cinnamon, ¼ tsp. allspice, and ¼ tsp.  freshly ground nutmeg
The original recipe prepared the ingredients in a mixer.
The original whipped cream recipe called for cinnamon only.
Will make 12 bite-sized cheesecakes or 4 4-inch tartlets
I used Farmer's Market sweet potato puree. However, I think that roasted sweet potato puree and the caramelization the roasting creates would bring this tart to a new level. Same for the pumpkin!