dolce di pane/bread pudding
Well friends, this is it for a little while. My time in Georgia has run its course and I am hittin' the road.
Everything has happened so fast, quite unexpectedly, and final preparations are in process, cable and internet are on borrowed time, and my house is just about ready to be locked up and tucked away while I make my way across country.
It wasn't too long ago that I let the girls know I resigned from position in the school without a plan.  Yup.  Quit.  I was done. I was also worried. I was worried about what I had actually done, the finality of it all.  However, the inner calm that went alongside my trepidations made me believe the stars would align the way they were mean to align.  My belief was confirmed in the weeks following as I was able to hang with some pretty amazing guys and gals, true friends who only ask that we be ourselves with one another – the good, the bad, and the WTF.  They reminded me about what was important, that I was important.
Through the whirlwind, leave it to Tami to put it all in prospective; her sagacity always arrives at the most appropriate moments. She has known me for quite some time and it was Tami who brought "it" all home for me.  She voiced her noticings that "Chris", the carefree girl she first met, the one who loved to laugh and venture out to experience life, resurfaced. In the moment, I nodded graciously.  At home that evening, I cried.  Boo-hoo'd – the ugly cry.  I haven't talked much about my non-blog life much on here, but the swirl has been quite suffocating and I became quite reclusive as I grasped for (the proverbial) air.  I won't go into all my avoidance here, especially since I have been turning a positive corner toward renewal, but as I exit from my solidarity, I noticed…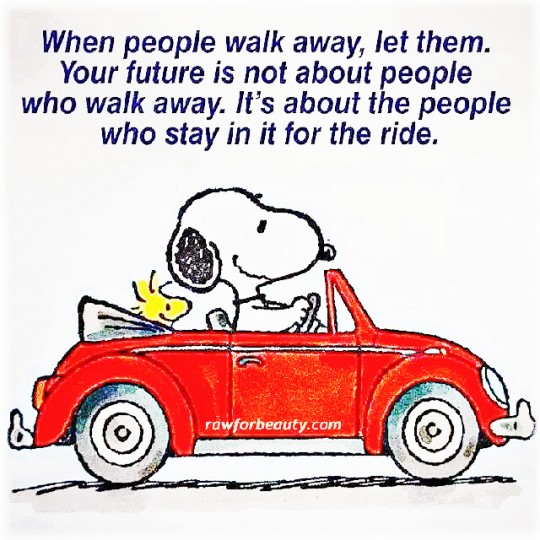 Which brings me today. Just weeks after throwing caution to the wind, I landed another position that I believe is right where I need to be – in California.  Thus, I am driving across country to my new beginning.  And so, who better to begin the journey than with girl who was always there for me, regardless of how deep "underground" I went? Tami!
Our trip will be epic.  Her husband (heeee – I love saying that!) told us to bring out our inner bad ass out on the trip, so I am channeling some bad ass with each key stoke.  I anticipate plenty to share after I land in the Bay area.
Before I leave, though, I am going to take a moment to soak in the east coast's changing seasons, its turning leaves, and its apples and pears that beg to be used in sweet and savory dishes.  (Okay, I am also finding an excuse to use up some remaining ingredients in my 'fridge I don't want to throw in the garbage.) Bread pudding is a quick and easy way to re-purpose an unused loaf of bread and an excess of eggs. This particular recipe is different than other versions I have made because I added both fruits and didn't have one kind of milk.  Differences or not, it's a tummy warming dessert that prompts a footie-PJ wearing, book-reading, curled up in front of the fire coach cuddling kind-of evening.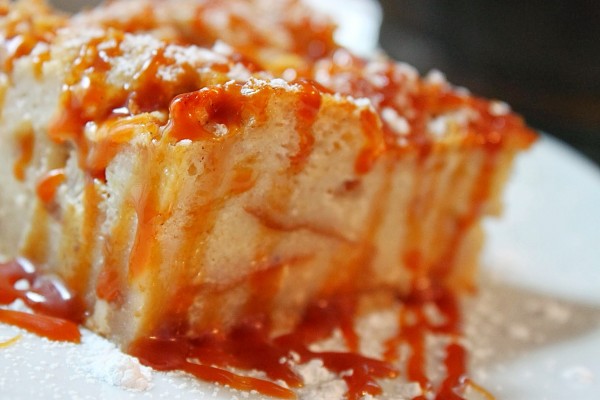 The caramel sends it over the edge, right?  Yum!
Not a bread pudding fan?  Try this fruit combo in an apple pie.  Swoon!!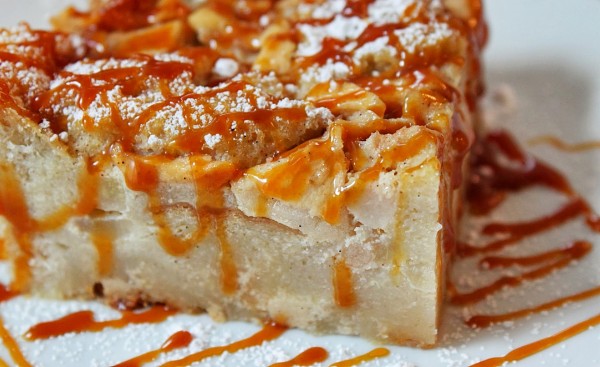 Autumn Bread Pudding with Caramel Sauce
6 cup bread cubes, allowed to stale overnight in a bowl (see note below)
2 apples, peeled, cored and diced
2 Bosc pears, peeled, cored and diced
1/3 cup brown sugar
1/3 cup sugar
2 cups half & half, divided
2 cups buttermilk
6 Tbsp butter
1 tsp. pumpkin pie spice
1 tsp. vanilla bean paste, or pure vanilla extract
4 eggs
Salted Caramel Sauce (for serving)
Preheat oven to 350°F. Line and grease 9″ x 12″ baking dish.
In large bowl, toss together apple, pear, and bread. Spread evenly in prepared pan; set aside.
In small saucepan over medium-low heat, stirring occasionally, melt butter, brown sugar, and half & half. Remove from heat and carefully pour over bread and fruit mixture. Using the back of a spoon or spatula, press bread into the milk mixture.
In small bowl or measuring cup, whisk eggs, buttermilk, spice and vanilla. Pour over apple and bread mixture. Cover with foil.  Bake for 30 minutes.  Uncover and bake an additional 30 – 35 minutes, or until center is firm. Serve warm with Salted Caramel Sauce.
Cook's Notes:
Add raisins or cranberries with the bread & apples if preferred. I like Bosc pears because they are firm and keep their shape.
Don't have pumpkin pie spice?  You can use cinnamon, or make the spice yourself!
When choosing which bread to use, I find sandwich bread gets too "wet".  I prefer breads with a higher egg content, like challah or brioche.  A rustic country bread, like Italian, also works really well.
Bread pudding is often served with a "spiked" sauce.  This can be done by whisking equal amounts of heavy cream and sugar in a saucepan over low heat. Stir occasionally the sauce is thick enough to coat the back of a spoon. Remove from heat, and add 3-4 Tbsp. of liquor, like brandy or rum, to taste. Set aside.