cioccolata bianca/ white chocolate
A friend's 40th birthday is this week and he decided to have a small gathering at his place.  He is one of my faithful recipe taste testers, so I wanted to make sure I thanked him properly with treats he really enjoyed.  When we chatted about it, he mentioned carrot cake (no coconut) or vanilla cake with white chocolate icing. He also added, "nothing 'fancy'", and something that was "easy to eat". 
I am a single guy. I don't have all that serving stuff you do, Chris.
Okay, then!  Cupcakes on deck.
Vanilla anything is a no brainer for those of us who bake regularly. We all have our go–to recipes. For buttercream, I tend to go simple, and this time wouldn't be any different.  Butter, confectioners' sugar, and flavor. Sure, there are desserts that are best suited for Italian, Swiss, or French buttercreams. And, I will make the effort if needed. However, I admit that I typically revert to American buttercream for most desserts I make.
In hindsight, I probably should have made the extra energy with this buttercream so that the effort matched the quality of chocolate.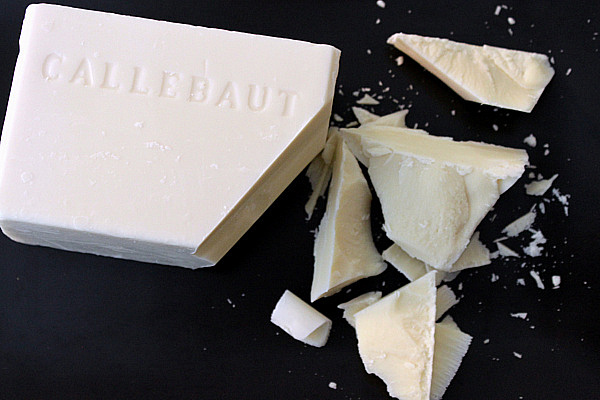 But, it is a detail only I would be concerned with; I am sure.

White Chocolate Buttercream
1 ½ cup (¾ lb.) unsalted butter, room temperature
2½ – 3 cups confectioners' sugar
8 oz. good quality white chocolate, chopped
½ tsp. vanilla extract
1-2 Tbsp. heavy whipping cream
Melt chocolate in a double boiler, or microwave, uncovered, in a microwave-safe bowl on high (100%) power for 1 minute; stir. If needed, microwave in additional 10- to 15-second intervals, stirring just until chocolate is melted. Cool slightly.
In the bowl of an electric mixer, cream the butter until light and fluffy. Add sugar.  Mix together, scraping the sides of the bowl as needed. Once has cooled, carefully add the chocolate and mix until incorporated.  With the mixer running on low speed, gradually pour the cream. Increase the mixer speed to medium-high, and beat buttercream for an additional 2-3 minutes. ~ Enough for 18-24 cupcakes, depending on decorating.
Cook's notes:
For a stiff decorator frosting, add confectioners' sugar, ¼ cup at a time, until desired consistency.  Beware of extra sweetness, though!
For a thinner consistency, decrease amount of confectioners' sugar.
Use good quality chocolate; avoid white chocolate chips or candy melts. Why? Chips and/or melts are typically sweetened with sugar and lower quality cocoa or, vegetable oil is used instead of cocoa butter.  Their composition holds shape in high heat, which doesn't make the chips the best choice for melting.  Good quality chocolate, or couverture chocolate is made with premium cocoa and has a low viscosity.  It melts smoothly and leaves a lovely, glossy finish.