ciliegia/cherry
Today is the third Monday of the month.  Woohoo!  Why the excitement?  Well, it is
The Secret Recipe Club
reveal day for Group C, of course.  In fact, I thought today would never get here! This month has seemed especially long between reveals because I actually baked way ahead of time…for once. Now that today is here, I am super excited.
Once I received Debbi's email, I knew I was in for a fantastic evening of scrolling through Christina's blog, Oven Adventures. We share the same name, so of course her posts would prove amazing. I was right! I became wonderfully overwhelmed by the plethora of choices.  First, I went right to the Brown Butter Banana Monkey Bread with a Brown Sugar because (confession alert) I have never made Monkey Bread.  I know! I know!  Shameful.
However, as we walk in the height of strawberry season, the Strawberry Key Lime Cake looked tasty. But, so did the Sprinkle Cookie Sticks, the White Chocolate Raspberry Mousse in a Meringue Nests, and the 2-bite S'more Hand Pies.
Decisions, decisions, decisions.
Then, it hit me.
Chocolate.  Cherry.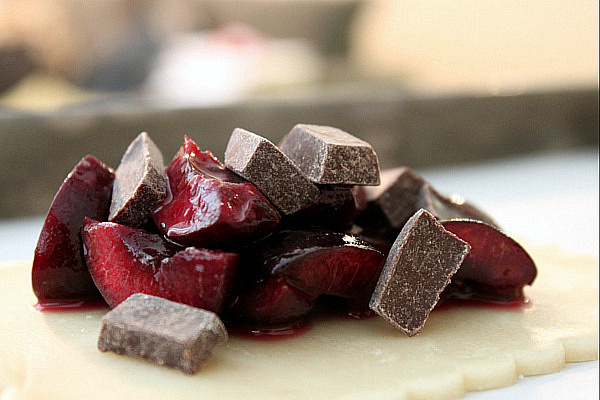 Handpie. [Thought Bubble: The  Williams-Sonoma Toaster Pastry Press I just bought.]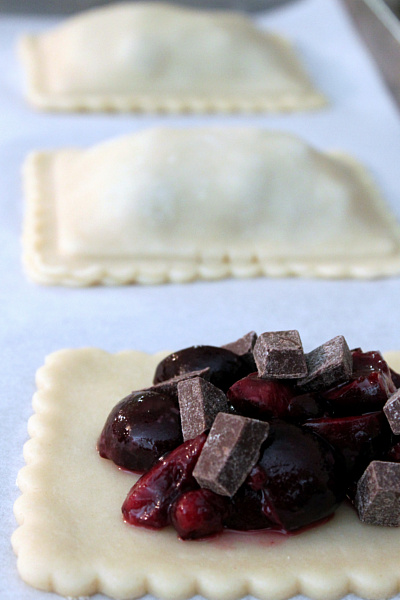 Decision made!
After all was said and done, and I had long forgotten the about the Gluten-Free Cherry Pop Tarts I made last summer, these hand pies rocked! Seriously – look at that [↓] flakiness! The dough was rolled out perfectly and the cherry filling was spot on.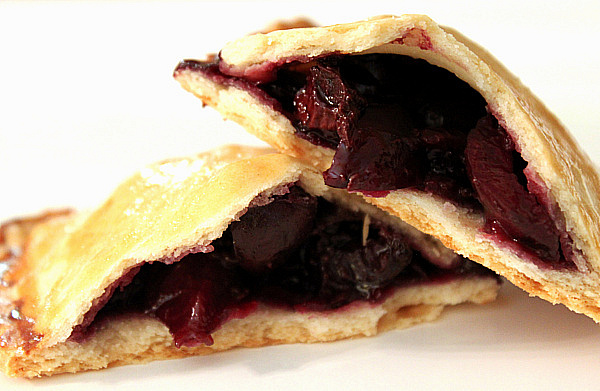 Next time, I will make them without the chocolate, so I can indulge.  As for these, one of my favorite gals at work enjoyed the hand pies with her husband. He was a happy man.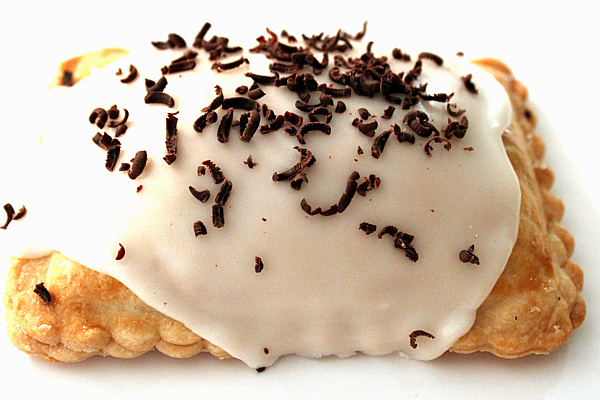 Chocolate Cherry Hand Pies
As seen on Oven Adventures (slightly adapted)
Pie Crust – one double-crust recipe
3 cups all-purpose flour
1 Tbsp. sugar
1 cup cold salted butter, cut into small chunks
¾ cup ice cold water
Cherry Filling
2 cups fresh, pitted and chopped
1 Tbsp. sugar
1 Tbsp. flour
2 oz. chopped dark chocolate
1 egg – for egg wash
Glaze
1 cup powder sugar
¼ tsp. vanilla extract
milk to thin
Place the flour and sugar in the bowl of a food processor. Pulse to combine. Mix together. Add butter chunks and pulse until texture resembles coarse meal, with just a few pea-size pieces of butter remaining.
Gradually add water, starting with ¼ cup, then another ¼ cup, then 1 tablespoon at a time. Pulse until your dough just, just starts to come together and stick to the blade. Transfer to a lightly floured surface. Gather together and knead just until the dough comes together, about 4-5 times. Divide dough ½, form each piece into a disc, and wrap in parchment or plastic wrap. Refrigerate until firm, about an hour.
In the meantime, place the cherries and sugar in a bowl. (Add more sugar to taste.) Stir. Add flour and stir until the cherries are evenly coated. Refrigerate for about an hour, while the dough chills. When ready to assemble, preheat oven to 400°F. Line two baking sheets with parchment paper; set aside.
Preheat oven to 400°F.
Working with one disc at a time, place one piece on a lightly floured work surface, and roll it into a rectangle about 1/8″ thick. Cut about 5 rectangles, about 5 x 3. Transfer to one of the prepared baking sheets. Collect the dough scraps and reroll. Repeat process to cut 5 more rectangles for the top of the hand pies; set aside.
Spoon cherry filling into the center of each rectangle, keeping a ½-inch boarder on the outer edge. Top with chocolate pieces. Brush the edge with the wash. Place a second rectangle of dough atop the first filled piece, using your fingertips to press firmly around the pocket of filling, sealing the dough well on all sides. Press the tines of a fork all around the edge of the rectangle. Repeat with remaining tarts. Prick the top of each tart multiple times with a fork to allow steam to escape. Or, leave as is to make a puffier tart, rather than a flat pastry.
Brush the top of the tarts with egg wash. Repeat until all the pies are ready to go. Refrigerate for 10-15 minutes.  Bake for 25-30 minutes, until lightly browned. Cool for a few minutes before transferring to a wire rack to cool completely.
Mix glaze by placing the powdered sugar in bowl. Add milk slowly to make a thick, yet spreadable, consistency (a little thinner than yogurt that will allow you to spread to desired amount). Add vanilla. Spread each pie with the glaze. Grate chocolate on top of the glaze. Allow glaze to harden. Store in airtight container for up to 3 days.
Cook's notes:
Add more sugar to the cherries for a sweeter pie.
I used 3 oz. of chocolate.
To help ensure a flaky crust, do not over process.
I used the Williams-Sonoma Toaster Pastry Press to make the handpies.
The original recipe calls for 6 inch circles for a total of 8 pies. I made 10 pies.