sociale giustizia /social justice
I just returned from three days in the Birmingham area with our 8th Grade class.  Their Humanities teacher launched a phenomenal spring expedition focused on social justice, its transitions through history in the south, and how the events of yesterday and today have shaped the vision of society.  Each student's goal through the semester has been to see how the lessons learned prompt serious discussions that enhance and refine their abilities. Whether individually or as a group, diversity and inclusion for all members of the our communities boost the wealth of thoughts and ideas, creativity, and the ability to problem-solve. It also means respecting those with whom they (the students) come in contact. Our young people can, and will, make a difference.  Even so, understanding the rich history of the area we live, even the harsh realities, allow them to face challenges within themselves while they discover their talents and passions, and achieve responsibility.
Our group split our time between the city itself, where we visited Vulcan Park and the Civil Rights Institute, and Columbiana, the home of one of the Alabama 4H Center and Coosa River Science School. The trip was a lovely balance of real-world connections as they relate to the environment, history, and the future.
The food, however, is always a challenge, where the balance is not-so-lovely.  Cafeteria-lunch-institutional style mixed with high calorie, artery-clogging heartwarming food. When I arrived home, I longed for something satisfyingly delicious and healthy.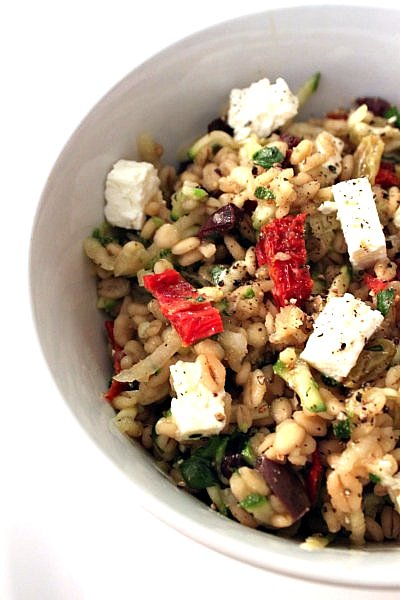 This Sun-Dried Tomato, Feta, & Barley Salad helped calm my tummy's anxiousness.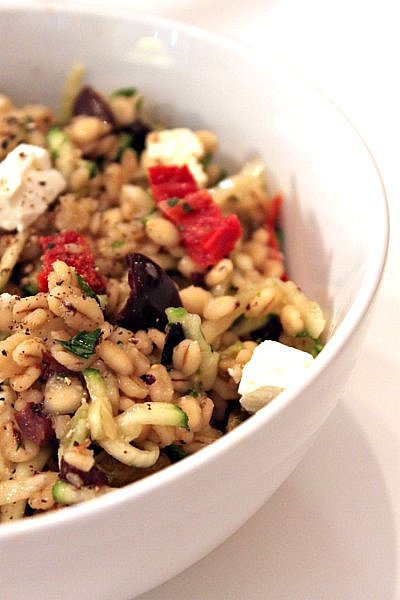 Sun-Dried Tomato, Feta, & Barley Salad
2 ½ cups vegetable broth
1 cups barley
Juice of 1fresh lemon
1 tsp. honey
¼ cup (reserved) olive oil
¼ tsp. fine sea salt
½ tsp. freshly ground pepper
¼ cup diced sun-dried tomato (oil reserved)
1 small zucchini, shredded (about ½ cup)
¼ cup diced onion
3 oz feta cheese, crumbled (about ½ cup or so)
¼ cup golden raisins
¼ cup chopped, pitted, Kalamata olives
1 cup chopped fresh Italian (flat leaf) parsley
Bring barley and broth to a boil. Reduce heat to a simmer; cook, covered, until tender and most of the liquid has been absorbed, 40 to 50 minutes. Let stand to room temperature.
In the meantime, whisk lemon juice, honey, and reserved oil in small bowl. Season with salt and pepper; set aside.
Once the barley is cool, toss the tomatoes, zucchini, onion, feta, raisins, olives, and parsley in a large bowl. Add to the cooked barley. Drizzle oil mixture and toss to coat. Season with salt and pepper and serve.