spirale/spiral
I always look at spiral cookies like an analogy of my days. Both are a continuous, winding, curved patterns of controlled chaos. Just when I think the spiral is coming to an end, a spark gets it moving again.
Although students only have 35 days left of the school remaining in this school year, each day will be jam packed with things to do, people to talk to, and issues to address. Luckily, this week is Spring Break. So, I have a couple of days to call my own. A couple of days to relax, cook, and bake.
Have dates hanging around, now that all the company has left?  These cookies are a great way to utilize the dates' natural goodness, and with very little added sugar!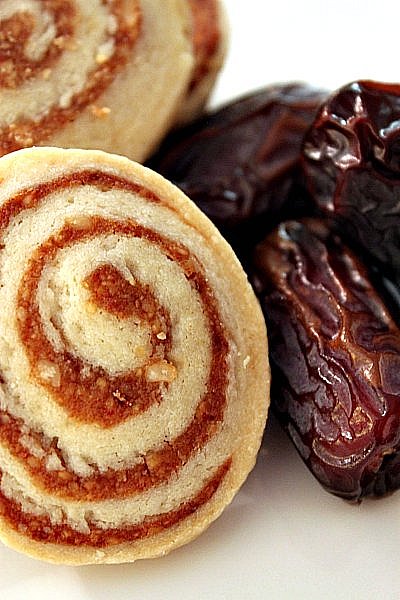 Date Nut Spiral Cookies
1 ½ – 2 cups chopped, pitted dates
2 Tbsp. orange
1 tsp. orange zest
2 Tbsp. water
¾ cup chopped walnuts
2 Tbsp. orange blossom honey
1 ¾ cup all purpose flour
2 Tbsp. sugar
¾ cup butter, diced
4-5 Tbsp. cold water
Place dates lemon juice and water in a pan. Bring to a boil over medium heat.  Add zest, nuts and honey. Stir to combine. Remove from heat and cool. Once cooled, place in a food processor and pulse until finely chopped. Transfer to a bowl; set aside.
Preheat  oven 400°F.
Place flour and sugar in the food processor. Pulse to combine. Add butter, scattering the pieces, and pulse until the mixture resembles fine breadcrumbs. Gradually add water, 1 Tbsp. at a time, until the dough comes together into a soft dough.  It shouldn't be sticky.
Turn dough out onto a floured surface. Pat into a rectangle. Roll out into a large rectangle, about 15X18 and ⅛ inch thick. Spread the date mixture over the pastry, within a  ½-inch of the edge.  Beginning with the long side,  roll dough like a jellyroll. Gingerly, lift the log onto wax, parchment, or plastic wrap.  Seal and and refrigerate until firm enough to slice, about 2-4 hours.  Slice into ¼-inch rounds.  Place 1-inch apart on a lined baking sheet. Bake 15-20 minutes, or until golden. Remove from oven, let stand for 5 minutes, then transfer onto a wire rack to cool completely.
Cook's Notes:
Dough can be refrigerated for up to a week, or frozen for up to 2 months if wrapped well.  Let stand overnight before slicing.
Nuts used can be changed according to preference.
Lemon juice and/or zest can be used in place of the orange.