d'acero/maple
While many people were celebrating St. Patrick's Day yesterday, this Italian girl was more concerned with baking treats and eating a rockin' couscous salad I threw together. I also had to make sure all my ducks were in a row for my post today.  The Secret Recipe Club reveal day is important and I don't want anyone to feel they were "orphaned".  Even so, deciding what to cook came down to the wire. Debbi sent me my blog-assignment this month and my brain about burst!
Veronica, of Veronica's Cornucopia is a cornucopia, indeed!  This blog is an amazingly fun-filled, one-stop shop of abundance and nourishment.  Sometimes, I wish there was a virtual pointer that says, "Chris, make this."  Since there isn't, the decision is up to me.  Yikes!
Because spring has begun to show its warmth, my original thought was to make the Watermelon Black Bean Salsa. But, the temperature plummeted again, making it the perfect time for Chili. Then, the calendar just so happened to place Pi day a few days before revel day. Veronica's Blueberry Pie seemed like a lovely treat for my Math teachers. However, while Pi Day seemed timely, I was on the road with our 6th Grade on their overnight trip to Rock Eagle.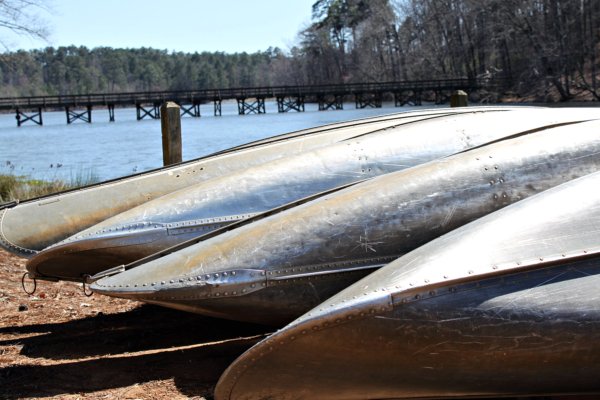 Now, Rock Eagle offers students some pretty decent food for a facilities that cranks out a ton of food, cafeteria style, for one school after another, day after day. But, its not home cookin'.  So, I decided to cook a delicious meal for myself when I returned to my own place. Sesame-Maple Roasted Tofu and Noodles spoke to me.  What did it say? "Pick me!" "Pick me!" How could I say no?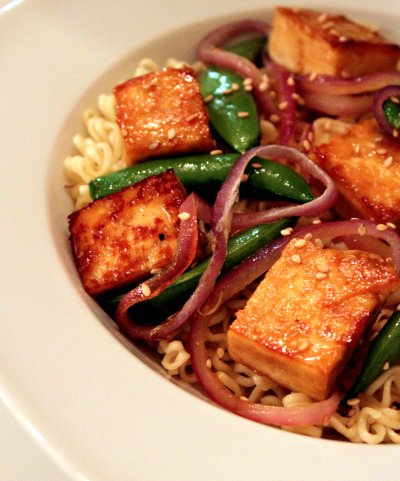 Sesame-Maple Roasted Tofu and Noodles
a slightly adapted EatingWell Recipe. originally posted on Veronica's Cornucopia
1 14-ounce block extra-firm water-packed tofu, rinsed, patted dry and cut into 1-inch cubes
1 medium red onion, sliced
2 tsp.canola oil, divided
2 tsp.toasted sesame oil
1 Tbsp. Maple Crown Royal® Whiskey
¼ tsp. fine sea salt
¼ tsp. freshly ground pepper
1 tsp. peanut butter
1 Tbsp. reduced-sodium soy sauce
1 Tbsp. pure maple syrup
1 tsp. cider vinegar
3 cups sugar snap peas, trimmed
1 Tbsp. sesame seeds
Preheat oven to 450°F.
Toss tofu, 1 tsp. canola oil, sesame oil, Maple Crown Royal® Whiskey, salt and pepper in a large bowl. Whisk peanut butter, soy sauce, maple syrup and vinegar in a small dish until combined; set aside.
Heat 1 tsp. canola oil in a large, oven-proof sauté pan over medium-high heat. Swirl to cover the surface. Pat the tofu dry one more time before cooking.  Place sauté pan in a single layer.  Do not crowd the pan.  Cook on one side until it is deeply golden brown, then flip.
Toss snap peas and onions in the reserved peanut butter-maple sauce. Add to the tofu. Transfer to the oven and roast until the tofu 12 to 15 minutes, until the peas are crisp-tender. Remove from oven.  Serve on top of rice, udon noodles, or Curly Soba Noodles.  Sprinkle with sesame seeds. Makes 4 servings
Cook's Notes:
Crowding the sauté pan with Tofu will cause the heat to drop which will cause the tofu to steam.  And, the tofu will not brown.
I did not have any Tahini.  So, I used peanut butter in its place, a comparable substitute.
Not a tofu-fan? Try this with chicken or beef. Just be sure the meat is cooked through completely
You do not need to include the Whiskey. Maple Syrup will do just fine. (I just wanted to add a little kick after a long week.)
Don't want to pan-sear the tofu (or protein)? Go straight to the oven and bake, flipping half way through the cooking.