torta di ciliegie/cherry pie
There has always been one specific characteristic about energy/protein bars or meal replacement bars that rubs me the wrong way.  More often than not, the bars are dipped in chocolate.  Because I am allergic to chocolate,  I am unable to partake is energy bar pleasures and that small detail gets under my skin…in a most irritating way.  Luckily, I got to know Lärabars several years ago. Are you familiar?  Maybe you've seen their Lärabar über®. Seriously?  They had me at apple turnover. Sfogliatine alle mele! When I began to think and crave about the Lärabars, I knew there was a more economically way to indulge.  And I was right! Amy made Cherry Pie Lärabars and Katie squared up the Oatmeal Raisin. Both  bars made me swoon.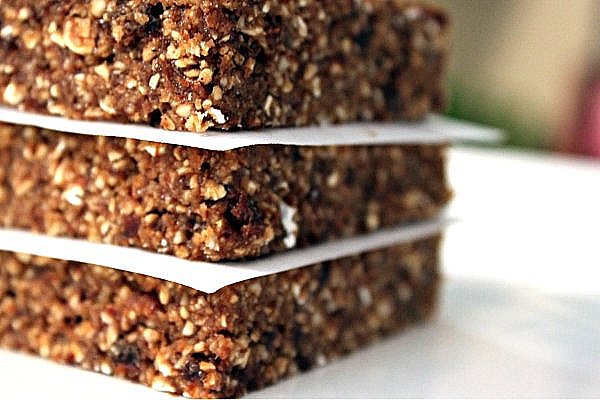 Oatmeal Raisin Lärabars
Whatever your preference, depending on the combination of flavors, making Lärabars amounts to pennies per serving. Well, maybe little more than just pennies, but it is considerably less! Winning the jackpot, I'd say.
Lärabars make great gifts!
Homemade Cherry Pie Lärabars
A (doubled) recipe seen on DAMY Health
½ cup dried cherries
½ cup whole dates, pitted
¾ cup unsalted almonds
1 Tbsp. ground cinnamon
pinch of fine sea salt
Line an 8X8 square pan with foil or plastic wrap; set aside. Pulse the dates and cherries in a food processor until the mixture becomes a paste. Transfer to a medium bowl; set aside. Pulse the nuts in a food processor until the nuts are in small pieces. Add nuts to the fruit, along with the cinnamon and salt. working quickly, use your fingers (or a fork) to mix well. Spread the mixture out into the prepared pan. Refrigerate for at least 1 hour before cutting or molding into bars. Makes about 8 bars.
Cook's Notes:
Measurements slightly adapted
Bars keep about two weeks when wrapped in plastic wrap or stored in an airtight container in the refrigerator.
Freeze for up to 3 months.