patata al forno/baked potato
Tater tots, beloved bite-sized potato treats! Many of us fondly remember tater tots as the school lunch nibbles that paired perfectly with the square pizza the Lunch Lady served.  In more recent years, tater tots have taken residency in many fast food joints and even moved into some restaurants as a featured attraction. Of course, one characteristic that makes tots so tasty is that, typically, the taters are fried. Mmmmm….Fried.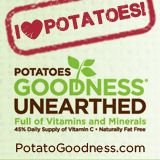 However, fried tots equal additional inches to our bellies or waists. Our arteries may have something to say about the intake of extra calories and trans-fat, too.  Many fried foods are breaded, as well, a sponge for the fatty grease.  Oh the travesty of it all!  How is it that such goodness can cause such adverse health effects?
No need to fret, though. There is always a baking option for everything we create.  Baking is a wonderful avenue to travel when looking for healthier direction. Healthier options bring me to 2013 Munch Madness, Potato Goodness.  What is this madness? Lemme tell ya -
Munch Madness is a joint venture between the Kitchen PLAY and Knuckle Salad in which I have been invited to participate. A bracketed potato playoff sponsored by United States Potato Board, Munch Madness is a competition that brings eight recipes (and their bloggers) head-to-head using potatoes in healthy, light and fresh recipes.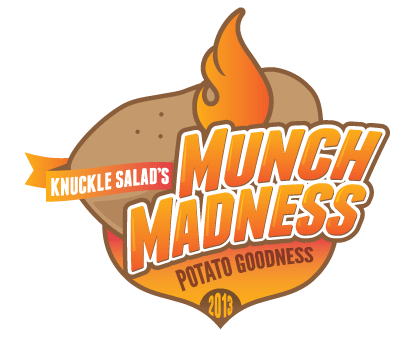 With spring just weeks away, is there a more perfect time to include my baked tater tots in this challenge?  With spring comes cook outs, kids parties, and picnics.  Why stick to plain Jane, everyday ol' fries?  Personally, (and there is no bias here, really…) I think Baked Taters have what it takes to earn the title of 2013 Munch Madness Champion.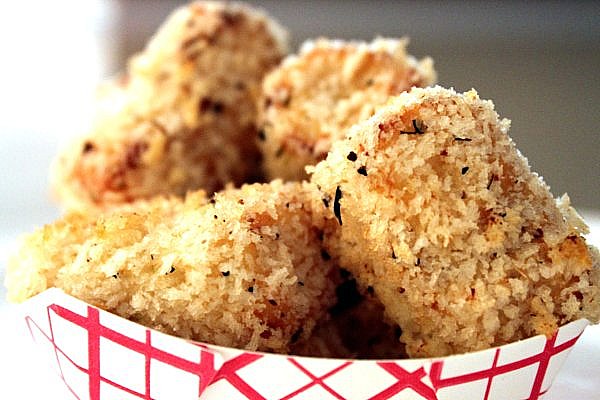 So, family, friends, fans, followers and readers.  I am holding my out my hands with my baked Tater Tots and asking you to get involved with Munch Madness and by filling out (for me, preferably) predictive bracket and voting on the Kitchen PLAY Facebook page (preferably for me!). I am competing against some serious cooks, and wonderful people.  I would love your assistance!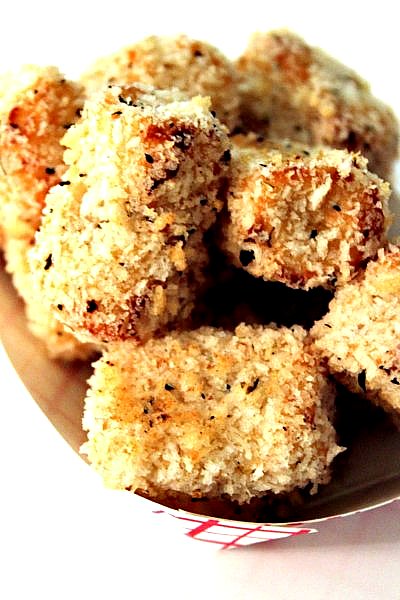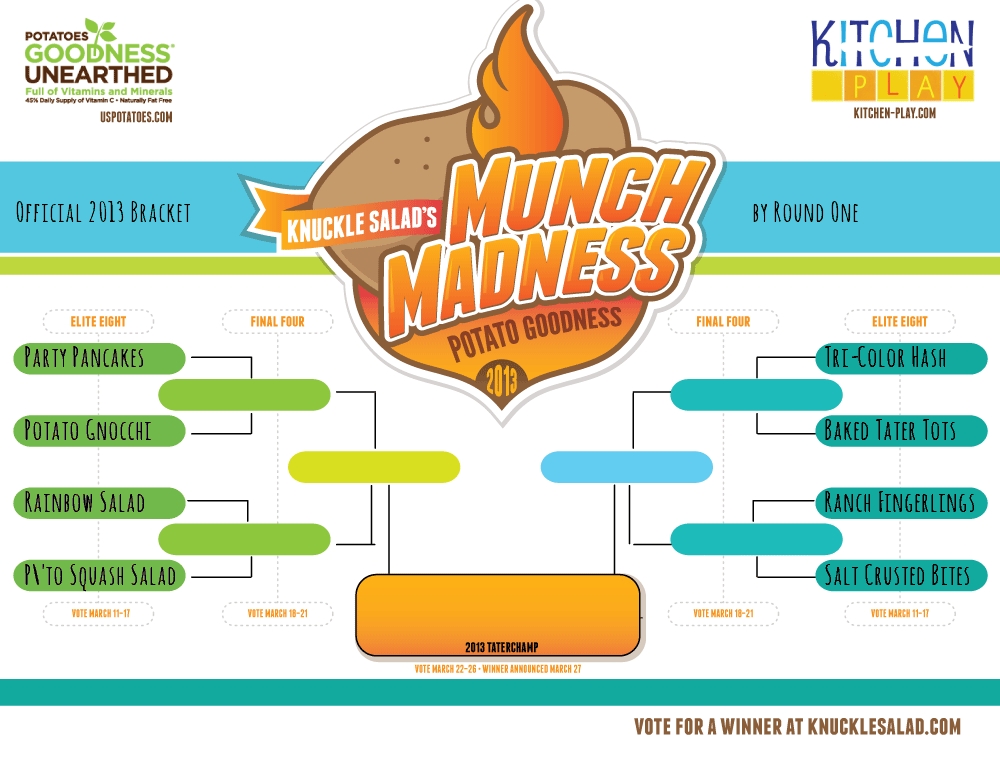 After you check out this fun event, be sure to visit the United States Potato Board's Facebook Page and Pinterest boards.  Both are a wonderful resource for potato goodness! There will also be a live chat coming up on Facebook next month!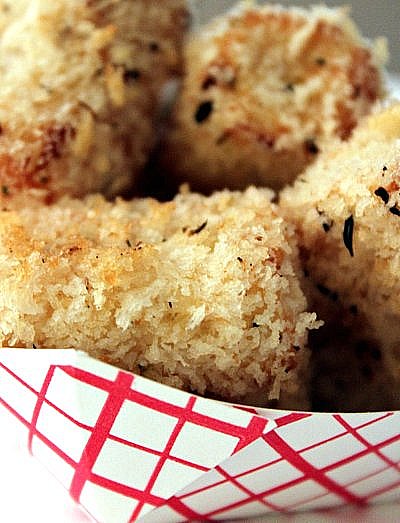 Baked Tater Tots
2 medium-size Russet potatoes
2 Tbsp. unsalted butter
½ – ¾ cup warm 0% Greek yogurt
1 ½ Tbsp. grated Parmesan cheese
½ tsp. fine sea salt, plus extra to taste
1 tsp. freshly ground black pepper
1 ½ cups unseasoned Panko breadcrumbs
1 tsp. Italian seasoning
Heat oven to 400°F. Line a baking sheet with parchment paper.
Scrub potatoes with a brush under running water; dry them off. Pierce each potato with a fork to prevent exploding. Bake the potatoes about 1 hour, or until the potatoes are cooked through. When cool enough to handle but still hot, cut the potatoes in half, scoop the pulp out of the skin. Run the potato through a ricer or food mill into a medium-size bowl. With a wooden spoon or
spatula, stir in warm yogurt and 1 tablespoon of the grated cheese. Add ¼ tsp salt and ½ tsp. pepper, just until blended.
Place breadcrumbs in a separate shallow bowl or pie tin. Stir in remaining cheese, salt, pepper and seasoning.
Using a small scoop, form potato mixture into rounds that resemble a large marble or gumball. Roll in breadcrumbs, shaping the potato into a tot as you roll. Place each tot on baking sheet 1-inch apart. Bake 20 minutes, flipping over half way through baking. Check after 20 minutes and continue to bake until browned and crisp. Serve hot. Makes about 2 dozen tots, about 3 servings.
Cooks Notes:
Seasoning can vary according to taste.
When baking the potatoes, they are done when they give a little when pressed or when a fork pierces the potato with limited resistance. Baking time vary depending on potato size and your location's altitude.
Don't want to bake the potatoes? Peel and cut potatoes large chunks. Place in a pan with just enough water to cover the potatoes. Bring to a boil and cook until tender, about 20 minutes.
Drain well before continuing. Or, cook the potatoes in the microwave. Cook on high heat for 10 minutes (15 minutes for 4 potatoes).
Greek yogurt can be substituted with milk. Amount may have to be reduced, depending on the potato. Add gradually to ensure preferred texture.
Regular breadcrumbs can be used in place of Panko. If either of the breadcrumbs do not stick to the tots well, dredge in egg white before rolling in crumbs.
Recipe can be doubled.
Other Mele Cotte Potato Recipes you might enjoy  -
Disclaimer: This is a sponsored conversation written by me on behalf of Kitchen PLAY, Knuckle, and United States Potato Board. The opinions and text are all mine.