rosmarino/rosemary
My kitchen resembled a cookie baking factory in early January. A number of slice-n-bake cookies were mixed, formed into logs, and frozen. They laid waiting for the moment it was "their time".  After a full day of prep, I ended up with 12 logs that provided me with 6 different cookies to choose from when I decided to answer the proverbial call.
These Rosemary Pine Nut Cookies are, in a word, delectable. For those whose palates have difficulty venturing away from chocolate chip and snickerdoodles may give these cookies the "side eye". Now, chocolate chip and snickerdoodle cookies have their time and place.  Don't get me wrong!  But, some make ask, "Herbs in cookies?" (Here me now…) Yes!!!
I brought these cookies to a training we conducted after the holidays. One of my teachers, who I cherish as an educator and a person, bypassed the other cookies I made (for her initial treats-trip) and b-lined right to the Rosemary Pine Nut Cookies platter. We crossed paths at another point during the day, and she had just grabbed another cookie.  She looked at me mid-bite and simply said, "A round slice of heaven".
Enough said!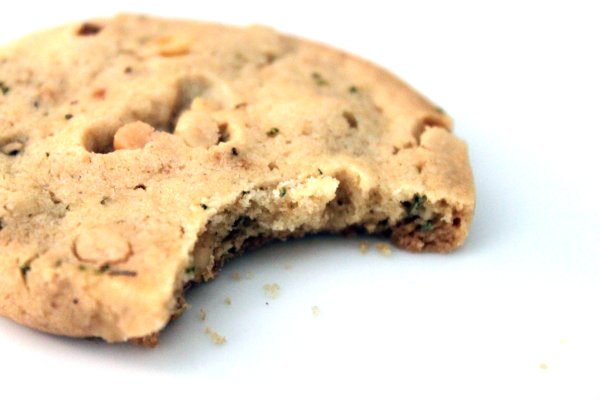 Rosemary Pine Nut Cookies
From Fine Cooking
1 ½ cups all-purpose flour
½ tsp. baking soda
¼ tsp. fine sea salt
¾ cup sugar
1 ½ tsp. chopped fresh rosemary
6 oz. (¾ cup) unsalted butter, room temperature
1 large egg
½ tsp. vanilla extract
1 cup pine nuts, toasted
Whisk together flour, baking soda, and salt; set aside.
Place the sugar and rosemary in a food processor and pulse until combined. Transfer to a mixer fitted with the paddle attachment.
Cream butter and sugar mixture on medium speed until light and fluffy, about 2 minutes. Add the egg and vanilla; beat until combined. Add flour mixture and mix until the dough absorbs the flour and starts to come together. Add pine nuts and mix just until the dough comes together. Turn the dough out onto a large piece of plastic wrap and form into a log about 2 inches thick and 11 inches long. Wrap and refrigerate until firm, 1 to 2 hours.
Preheat oven to 350°F. Line 3 baking sheets with parchment paper. Slice the dough into ¼ or ½-inch slices. Arrange on three baking sheets, spaced about 1 ½ inches apart. Bake \until the cookies are set and the sides are lightly brown, about 10 to 12 minutes. Let cool for 10 minutes before using a spatula to transfer the cookies to a cooling rack. Cool completely, about 1 hour. Store in an airtight container at room temperature for up to five days.
Cook's Notes – freeze dough in wrapped logs for up to three months. No thawing is necessary, unless too difficult to cut. Bake as directed above. Being time may be a few minutes more.