fungo/mushroom
What's better than having today off and not having to deal with my day job?  Well, not much. But, The Secret Recipe Club reveal day definitely competes, followed by finding out which blog I am assigned each month. Why? Well, receiving Debbi's email each month is like an unexpected surprise on a cloudy day.
The blog I was assigned this month moved those proverbial clouds out of the way a little faster than other months. I am familiar with Kristy's blog, Gastronomical Sovereignty, and enjoy her posts as much as her recipes. Her Candied Ginger is on deck for later today so I can use the ginger that is hanging out after a making a soup last week. Her Butternut Squash Parcels look as though I would show my greedy side and not share. Her Panko Herb Crusted Halibut with Honeyed Apples with Roasted Vegetables sounds out of this world! Even so, I decided upon Kristy's Toasted 'Shrooms.
I did make a few tiny changes with my version, including
using only White Button mushrooms instead of a mix. Other adaptations noted here include yellow onion instead of shallots, thyme instead of parsley, and added diced pepper for color. Since I don't make mushrooms often, not having mastered my mom's magic touch, I didn't take the amount of water they generate into consideration. I discarded most of the liquid that was the 'shrooms generated halfway through roasting, to limit steaming.
Adding balsamic vinegar to mushrooms in this manner was a first for me, other than marinating portabellas a long, long time ago.  The twist was wonderful!  I resisted eating the the whole bowl in one sitting so to be able to toss the left overs with Quinoa pasta with a little bit of extra oil and vinegar.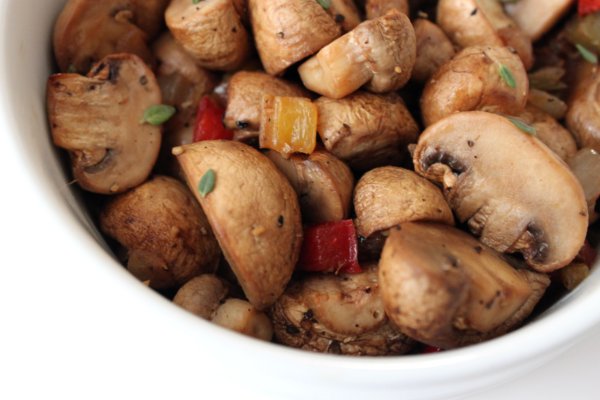 Oven Roasted Mushrooms
slightly adapted from Gastronomical Sovereignty
1 lb. mushrooms, rubbed clean and roughly chopped
2 cloves of garlic, minced
½ cup yellow onion, diced
½ cup red and green pepper, diced
Zest of 1 lemon
1 Tbsp. thyme leaves
2-4 Tbsp. extra virgin olive oil
2-4 Tbsp. balsamic vinegar
Coarse sea salt & fresh cracked black pepper
Preheat oven to 425°F. Line a sheet pan with foil.  
Place the mushrooms, garlic, onion, peppers, lemon zest, ½ the thyme, and salt and pepper in a large bowl. Add oil and 1-2 Tbsp. of the vinegar.  Toss to combine. Add additional vinegar if needed.  
Transfer to the prepared pan.  Roast for 20 minutes, shaking the pan half way through. Remove from the oven, toss with the parsley, and serve.