sciroppo d'acero/maple syrup
A few weeks ago, I posted a Red Grapefruit Jam that was quite tasty. The ingredient that brought the overall balance of flavor to a blissful level was the addition of Crown Royal® Maple Finished, a product released earlier this year.  The overall essence and warmness of the whiskey offered as I sipped its distinct blend of maple, caramel, vanilla, and  oak blends proverbially transported me back to my New England upbringing.
Because the whole experience left a nostalgic yearning in my core, I wanted to keep the fires burning, so to speak.  And, what speaks to New England, winters, and warm, fuzzy inner feelings like root vegetables and apples?
If I cooked or ate meat in any regular manner anymore, I would definitely serve this alongside a simply seasoned roast, perfectly grilled lamb chops, or roast chickens with a black pepper-maple glaze.  Since I don't, this Maple Beet and Apple Saute accompanies salad with which I utilized the beet greens. Simple and satisfying.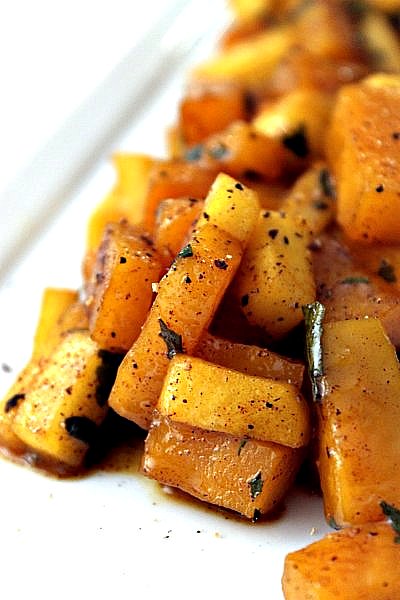 Maple Beet and Apple Saute
2-3 large golden beets
1-2 granny smith apple
juice of 1 lemon
2 Tbsp. unsalted butter
¼ cup Maple Crown Royal® Whiskey
3 Tbsp. maple syrup
½ tsp. cinnamon
¼ tsp. fine sea salt
¼ tsp. freshly ground pepper
water
1 Tbsp. chopped fresh parsley
Wash and scrub beets thoroughly. Cut any greens from the top of the root. Peel with a sharp paring knife. Cut into 1/2-inch cubes; set aside. Peel apple and cut into 1/2-inch cubes. toss in lemon juice, please in a small bowl; set aside.
Melt butter in a large sauté pan over medium heat. Add Crown Royal® (or substitute), syrup, cinnamon, salt, and pepper. Stir to combine. Add the beets, bring to a simmer over medium heat. Stirring frequently cook and uncovered until the liquid begins to reduce, about 5 minutes. Stir in apple and parsley. Continue to cook until the liquid evaporates and the mixture is glazed, about 5 minutes more, or until a preferred tenderness.
Cook's Notes:
Crown can be substituted with apple juice or water. If water, add a little brown sugar to assist with the caramelization.
Pairs well with a roast or chicken.
Don't discard beet greens! Soak the greens several times in cold water to rid them of any grit or dirt. Then, blanch them. Add them to a breakfast omelet or hash. Sauté them in olive oil and toss them with pasta, or prepare the greens in a stir fry.
Depending on how large or small the beets are cut, or the preferred texture, you may want to boil or roast the beets before sauteeing. And, the beets do not need to be peeled; the thin skin is edible.
Disclaimer: I was provided Crown Royal® Maple Finished to taste and use. However, I am under no obligation to provide a post regarding the samples. All opinions noted here are my own, always.