alla Diavola/spicy
What?!? Winter break has come and gone, just like that!  How can that be? It seems like yesterday when my teachers were administering final exams, parents were asking for special permission to release their children early for their respective family travels, and simply I wanted was to fulfill my holiday plans to stay inside, in my flannel PJs, on my couch. Yes, holiday + couch + solitude =my ideal scenario. By the last day, a Friday afternoon, I was all about tunnel vision, totally looking forward to a much needed break.
Once the school door closed behind me, the drive home was uncharacteristically trouble-free.  Home sweet home.  In an instant, my body responded on cue.  I sleep for days. Literally.  Days.
Luckily, I had made these nuts earlier in the week and I kept them in an air tight storage bowl within arms reach on the coffee table.  The nuts allowed me to get a little protein without having to move much, adding to my my ideal scenario.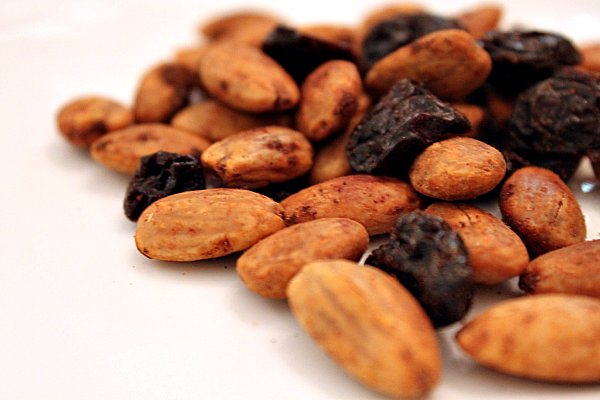 Spiced Nuts and Dried Cherries
2 cups unsalted almonds, or nut of choice
1 Tbsp. unsalted butter, melted
1 tsp. brown sugar
½ tsp. ground cumin
½ tsp. chili powder
¼ tsp. cayenne pepper
¼ tsp. fine salt
1 cup dried cherries, like Sunkist
Preheat the oven to 350° F.
Toss the nuts in a large bowl with the melted butter to combine.  Spread out on a lined baking sheet. Toast in the oven until light golden brown, about 10 minutes, shaking the pan periodically.
In the meantime, stir together the remaining ingredients in a large bowl, except cherries.
When golden brown, remove nuts from the oven.  Using a wooden spoon. carefully transfer the hot nuts into the bowl.  Thoroughly toss the toasted butter nuts until coated.  Add cherries and toss a few more times. Serve immediately, or let cool to room temperature and store in an airtight container.