panino/biscuit
Happy Monday! It's an important day here in the states.  Not only is it the inauguration of our President, but it is also Martin Luther King Day, the federal holiday that celebrates the life and achievements of American civil rights leader Martin Luther King Jr. His crusade to end racial segregation for racial equality holds a special place in Atlantans hearts, as it is King's birthplace. 
As I try not to do any work, the pull to do so is heavy-duty. Indulging in a leisurely breakfast helps divert my attentions away from my work bag and computer.  And, today's  The Secret Recipe Club reveal day recipe definitely facilitated my avoidance.
I was matched up with Cara, from The Boys Made Me Do It. A mom of three boys, she is consistent in posting her weekly menu plans (with commentary).   I have enjoyed perusing the plans, as they reminded me of how I have gotten out of the routine of preparing for my meals.  It's time to jump start that habit!

As I do whenever I receive my match-up, I headed straight for Cara's archives. I stopped short when I went back to this time last year.  Her biscuits?  Done deal.  Cara used to live here in Atlanta and she mentioned her husband job at the The Flying Biscuit before they were married. While The Biscuit became their place for brunch on Sundays, I have only been a few times.  The wait-time is out the door most weekend mornings and (if being honest) I don't have the patience for waiting to eat. Even so, the restaurant is known for their biscuits and I wanted to see if I could bring the The Biscuit into my kitchen. 
I did!  The biscuits are pretty spot on. Next time, putting my feet up with these biscuits will have to include the restaurant's Organic Lavender Blueberry Basil Jam. 
What do you make when you want to indulge in a leisurely breakfast?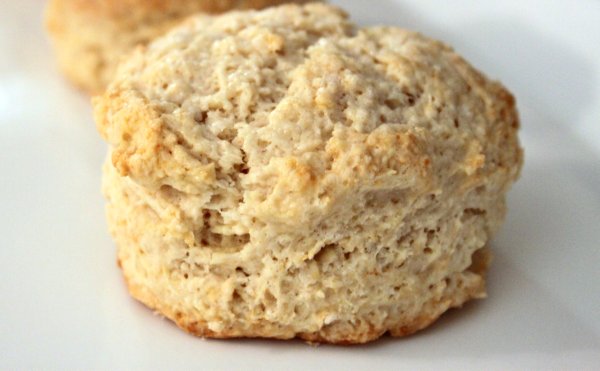 The Flying Biscuit Biscuit
As seen on The Boys Made Me Do It
3 cups of all-purpose flour
1 Tbsp. baking power
¾ tsp salt
4 Tbsp. sugar, divided
6 Tbsp. unsalted butter, room temperature (cut into small pieces)*
1 ½ cup cream
1/3 cup half and half
Preheat oven to 350° F. Line a sheet tray with parchment paper.
Combine flour, baking powder, salt and 3 Tbsp. of sugar in a large mixing bowl. Add butter flour. Using your hands, work butter into dry ingredients. Mix until butter is cut to the size of small peas.
Make a well in the center of the flour and then pour in the light cream. Using your hands in a circular motion, stir the dry ingredients into the wet, knocking the flour mix into the liquid. Stir just until dough comes together into a sticky ball. Turn dough onto a lightly flour surface and knead 3 times. Do not overwork the dough.
Using a lightly floured rolling pin, roll the dough to 1-inch thickness.
Dip a 2 ½ inch diameter biscuit cutter in flour, then cut the dough. Repeat until all the dough has been cut. Do not twist the cutter–apply pressure straight down then pull back evenly. Scraps can be massed together and rerolled one time.
Place the biscuits on the prepared pan, leaving about ¼- inch between them. Brush the tops of the biscuits with the half and half (about 1 Tbsp. per biscuit) and sprinkle with remaining sugar.
Bake for 20-23 minutes, until the biscuits are golden brown on top and flaky in the center. Makes 8-12 biscuits (depending on the size of the cutter).
*I grate the butter, then freeze it before using.  The shreds blend easily when trying not to overwork the dough.