scarole brasate/braised escarole
Oh my!  It is good to be posting again.  It's been quite difficult getting something up! The challenges haven't been because of the ridiculous hours and wheel spinning at work. The mouth full of metal my dentist just bestowed upon me didn't even win out as the most challenging. The three (3) herniated discs in my neck have been the biggest hiccup. Yup!  Not one, not two, but three.What's worth doing is worth doing well, right?  Ugh.
Admittedly, with all the swirl of ouchness around me, not being able to channel my anxiety through working out in…forever, and interrupted sleep have prompted a couple of woe-is-me weeks.  So, there hasn't been a lot of cooking or baking.
Then, it happened.  The urge to get back into the kitchen arrived after one tremendous moment of great joy. Taking advantage of the moment coincided with a delicious delivery that arrived at my door.  What got me going again?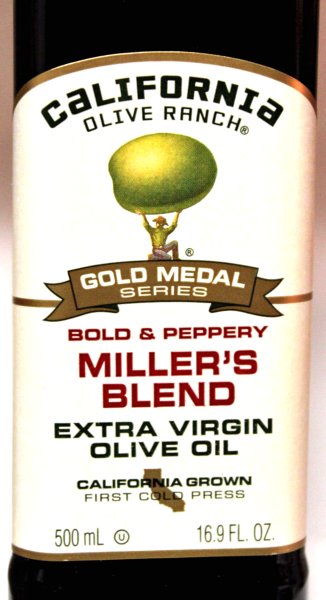 Lovely bottles of olive oil from California Olive Ranch caused the bend in my lips and squint in my eyes.  I giggled like a school girl!
Having heard of the oils, my familiarity stemed only from the magazines and Martha Stewart moments. After a little reading, come to find out that the company set out to produce a quality, affordable oil.   Affordable?  Woot! Woot! Not only did they accomplish their goal, but they did so "to create a healthful and delicious olive oil, using sustainable growing methods."  Persistence paid off as California Olive Ranch oils has won countless awards, and have been recognized by the who's who in food.
Choosing which EVOO to use first wasn't a bad position to find myself. Luckily, I had a wonderful variety to choose from as I decided to achieve my goal by going back to my Italian roots.
Everyday California Extra Virgin Olive Oil
Arbequina
Miller's Blend
Limited Reserve (Formerly known as Olio Nuovo)
I tried each blend, pouring a little of each on a dish, dipping my pinky in the smooth, pressed oil, and savoring the varied layers of flavor. One fact was clear.  (Okay…opinion)  The oil had to be used in dishes with which the oil's impact could offer an organic and authentic flavor profile.
And, what better way to do so than with escarole.  A favorite food since I was a child, Mom would keep it simple and sauté chopped leaves with a little olive oil, adding chick peas to the pan at the end.  Oh my, my, my. The world stopped when I sat at the kitchen table with a bowl of chickpeas and escarole.  Naturally,  I had to try to duplicate my mom's efforts when I began cooking.  Time and time again, my endeavors proved inedible. What was I doing wrong?  Escarole success cannot be that complicated.  right?
It wasn't until I had a sit down chat with my mom about her cooking that I realized I omitted one very important step when working with escarole. I didn't boil the leaves prior to cooking.  Eureka! Escarole has a distinct bitter flavor that can be dulled with boiling until tender. Once done,  a quick plunge into an  ice bath will stop additional cooking while preserving its bright green color. information is power and that, my friend, made me armed and escarole-dangerous. Chickpeas and Escarole was mine.
With that hurdle cleared, it was time to branch out.  As difficult as that might prove, I knew I had to "leaf" any escarole dish I make in its simplest form, keeping the integrity of its nutritional value. Braising the chicory green in the Miller's Blend married all the flavors with the oil's hint of fruit with peppery finish. Subtle overtones of juniper and herbs Fresh, fruity, smooth, buttery, strong olive flavor with slight touch of pepper at the end.
I didn't stop there.  The Everyday California Extra Virgin Olive Oil sautéed my garlic and added flavor to my Pomodoro sauce.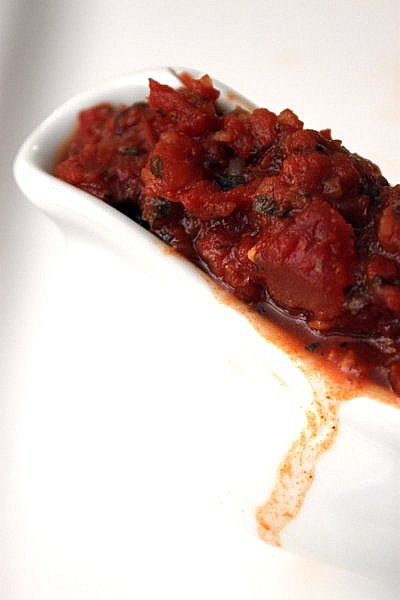 The fruity Arbequina oil enjoyed a toss in some freshly roasted red peppers.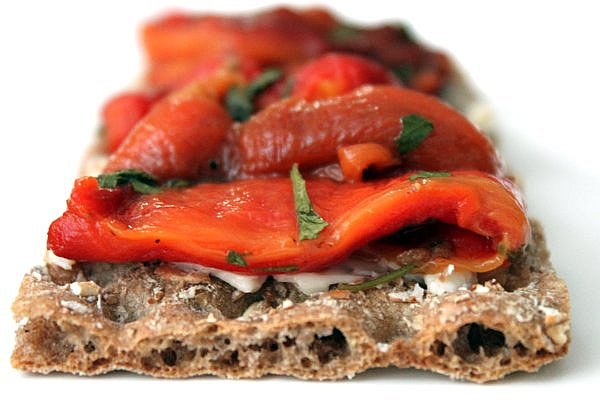 My friends, this is not over.  I haven't even scratched the service.  The question isn't how I will use the oil again, it's when?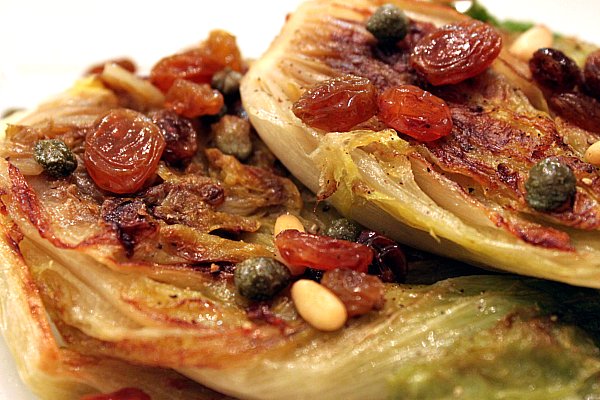 Braised Escarole Pine Nuts & Raisins
1 head escarole
1 Tbsp. olive oil
1 clove garlic, finely minced
Freshly ground pepper and fine sea salt to taste
¼ cup pine nuts
¼ golden raisins
1/3 cup white wine*
1 Tbsp. capers, drained
Grated Parmesan, for garnish (optional)
Soak the raisins in the white wine for 15 minutes, or until plump. Strain the raisins and discard the wine. Pat dry before using.
Bring a large pot of salted water to a boil. Meanwhile, wash the head of escarole in plenty of cold water, whooshing through the leaves to gently to remove all sand and grit. Place the entire, enact head of escarole in the boiling water and cook for 15 minutes. Remove from heat, drain, and immediately place escarole in cold water. Pat dry.
With a sharp knife, cut the head of escarole in half through the core; season the two halves with salt and pepper; set aside.
Heat oil in a heavy skillet over medium-high heat. Add garlic and cook for 1 minute, or until fragrant. Place escarole in the pan, cut side down. Cover and cook until escarole begins to brown, 10 minutes.
Transfer to serving place.
Place the skillet back on the stove, over medium heat. Add the drained raisins, pine nuts, and capers. Cook and stir for 3 to 5 minutes or until golden. Using a spoon, sprinkle the raisins, nuts and capers over the escarole. Serve immediately. Sprinkle with cheese and serve immediately.
Cook's Notes:
Escarole can be chopped.
Black raisins can be used in place of golden
Use red wine with dark raisins
Water or broth can be used in place of wine.
Nuts can vary according to preference – blanched almonds and hazelnuts work well.
Julienned roasted red peppers would add lovely color.
Disclaimer: I was provided olive oil to taste and use. However, I am under no obligation to provide a post regarding the samples. All opinions noted here are my own, always.