piccolo/mini
With the holidays comes visitors.  Right?  Whether guests stop by your house or you drive by friends, family, or the neighbors, it is customary to show up with something in hand. Rather than contribute to the sugar shock that runs rapid between the candy and desserts that are readily available on every corner, I tend to  welcome something savory.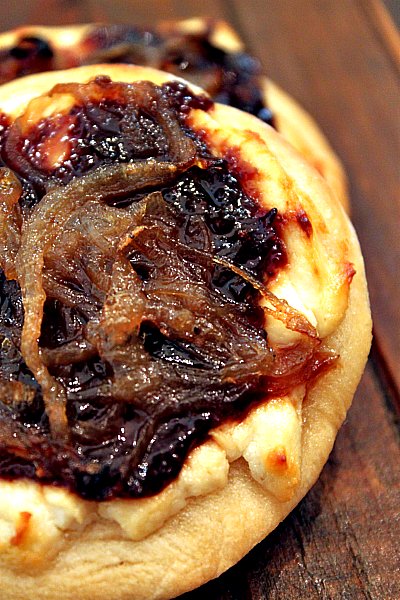 Pizzettes are tasty treats that take on different looks, depending on preferred taste and the dough used. However they are preferred, pizzettes are great for any festive gathering, and can mirror any tradition, celebration, or regional cuisine.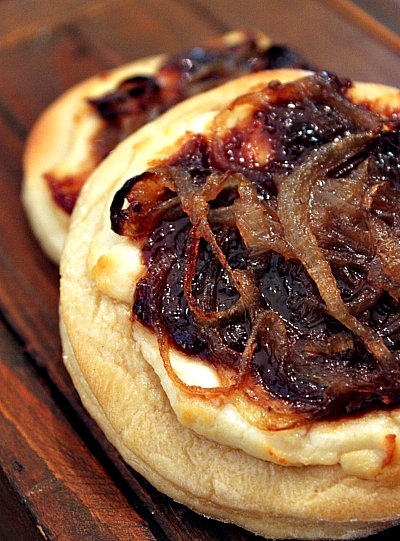 Goat Cheese, Fig, & Caramelized Onion Pizzettes
1 pound home-made or store-bought pizza dough
warmed honey, for brushing dough
12-oz. honey-flavored goat cheese, room temperature
1-1½ cups fig butter
1-1½ cups carmelized onions (recipe follows)
Heat the oven to 425° F and arrange a rack in the middle.
Knead the pizza dough on a lightly floured surface. Roll out into a thin rectangle 1/4 in (5mm) thick. Using a 3in (7.5cm) round cookie cutter, 24 rounds.  (Collect the dough trimmings and re-roll as needed.)
Transfer rounds to greased, or parchment-lined baking sheets. Brush each round warmed honey. Spread goat cheese on each round, followed by fig butter.  Top with onions.
Bake 12 to 15 minutes.


Caramelized Onions

2 large sweet onions, thinly sliced
2 tablespoons olive oil
1 cup Coca Cola
1 Tbsp. brown sugar
Fine Sea Salt & Black Pepper to taste|
Heat olive oil in a large skillet over medium heat.  Add onions and, stirring occasionally, sauté until soft. Stir in Coke, brown sugar, salt, and pepper.  Lower heat to simmer and cook until liquid is reduced.
Cook's Notes:
I used Trader Joe's Fig Butter.
I didn't have any balsamic vinegar in the house for the onions, so I used Coke instead.
The goat cheese can be bought flavored, or made at home.  To make at home, crumble goat cheese in a bowl and top with honey. Stir vigorously until a smooth and blended.
Process can be used for a whole pizza.
Dough can substituted for puff pastry.