alla menta/peppermint
This has been a hard week to get through, personally and professionally.  Yet, even with my temptation to pack up, hop in the car, and drive to …anywhere but here, small moments managed to allow the corners of my mouth curl into a smile. Many authentic moments this week involved a kindergartener or first grader chatting up a storm, with ardent conviction. It's a scenario that positively catches this middle school educator's snarky gal off guard.  Then, there were 26 Moments That Restored Our Faith In Humanity This Year. I emailed the link to my teachers thinking it would bring a bit joy during the last, and very long week before winter break.  In addition to the pleasing replies from some, one group of teachers incorporated the link into an advisement lesson with students, paying it forward.  When all was said and done, though, despite the many expected pleasures that kept me going, edible treats turned out to be the the talk of the town hallways.
I can only take credit for composing them.  Trader Joes  peppermint bark bits are really what send these cookies to a wonderfully blissful level! These cookies are a great addition to any holiday table or for a holiday cookie swap.
Enjoy!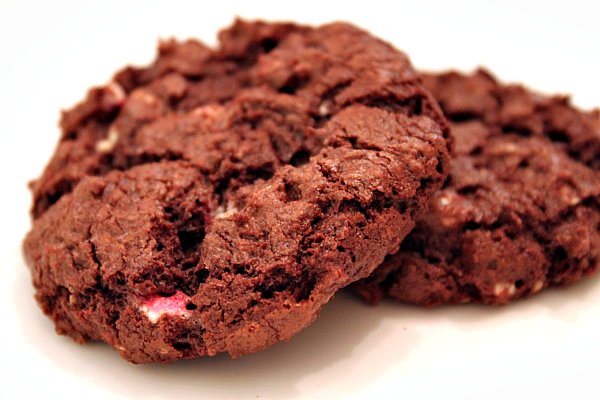 Chocolate Peppermint Cookies
2 cups all-purpose flour
1 cup unsweetened cocoa powder
1 tsp. baking soda
1 tsp. baking powder
1 tsp. fine sea salt
10 oz. bittersweet chocolate, melted
I cup unsalted butter, room temperature
2 ½ cups sugar
4 large eggs, room temperature
1 tsp. vanilla extract
2 9-oz bags Trader Joe's Peppermint Bark Baking Bits
Preheat oven to 325°F. Line 4  baking sheets with parchment paper.
In a large bowl, whisk flour, cocoa, baking soda, baking powder, and salt; set aside.
In the bowl of an electric mixer fitted with the paddle attachment, cream the butter and sugar until light and fluffy.  Add eggs, one at a time, scraping down the sides after each addition.  Add melted  chocolate and mix to combine.
Reduce mixer speed to low, add flour mixture, and mix to blend.  Use a spatula or wooden spoon to stir in peppermint bark pieces, being sure to reach the bottom of the bowl.
Using a Tablespoon or small scoop, drop dough about 2 inches apart on prepared baking sheets. Bake 15-20 minutes, or until the cookies are flattened and firm around the edges.  Remove from oven and let cookies cool on baking sheet for 2 minutes before removing the cookies to a wire rack to cool completely. Makes 4 dozen cookies.