alla nocciola/hazelnut
December already! I can't believe the holiday season is in full swing.  Not only do the jingling bells and holiday music evoke joyful memories of decorating the house with my mom, but cookies seal those moments in time.  Mom would spend most December days baking her cookie assortments, monitoring her drunken fruit cake, and dipping her bon bons. She would store each cookie in a designated container and place them in our window-lined sun room. Winters in Boston not only allowed the space to be utilized as a natural refrigerator for the sweets, but it was a convenient room for me to sneak in after dark for a sample now and again.
Last December, I revisited my Italian roots in Christmas with the Feast of the Seven Fishes. This year, I am remembering childhood smiles with cookies. First memory? We would sit around the dining room table after all the dishes were moved to the kitchen, and only bowls of roasted nuts remained. Various conversations about days of old, new year resolutions, hopes, and dreams quickly intertwined with boisterous sibling banter as we cracked roasted nuts over the table cloth.  Mom would hurriedly rush in with holiday plates for us to use for catching the nuts' shells and skins.
My favorite nuts to crack were hazelnuts.  These Food & Wine cookies are a fine tribute to my nibble preference back then…and now.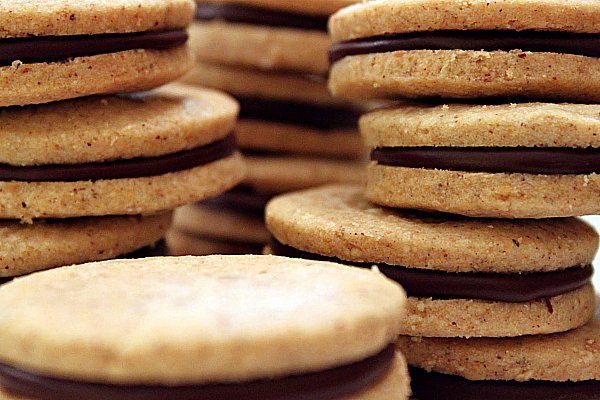 Hazelnut Sandwich Cookies
Flo Baker Recipe on Food & Wine
¾ cup toasted hazelnuts
¾ cup sugar
2 ¼ cups all-purpose flour
½ tsp. cinnamon
1/8 tsp. ground allspice
Pinch of ground cloves
1/8 tsp. salt
1 cup plus 6 tablespoons unsalted butter, softened
10 oz. bittersweet chocolate, finely chopped
Preheat the oven to 325°F and position a rack in the center. Finely chop the hazelnuts.
In a food processor, finely grind the remaining ½ cup of hazelnuts with 2 tablespoons of the sugar. Add the flour, cinnamon, allspice, cloves, salt and the remaining ½ cup plus 2 Tbsp. of sugar and pulse to combine. Add 1 cup of the butter and pulse until a dough forms. Transfer the dough to a work surface and knead 2 or 3 times. Form dough into two disks, wrap in plastic and chill until firm, at least 30 minutes.
Line 2 large baking sheets with parchment paper. On a lightly floured surface, working with 1 disk at a time, roll out the dough to a 10-inch round, ¼ inch thick. Using a 1 ½-inch round cookie cutter, cut out rounds as closely together as possible, so reworking the dough is minimal. Transfer cookies on a baking sheet, about ½ inch apart. Gather the scraps from both batches, form into a diskand chill for about 15 minutes before cutting cookies.
Bake 20 minutes, until the bottoms are lightly colored but the tops are still pale. Transfer the baking sheet to a rack to let the cookies cool.
In a medium saucepan, melt the chocolate with the remaining 6 tablespoons of butter over very low heat, whisking until smooth. Transfer the chocolate sauce to a medium bowl and let it cool for 10 minutes. Turn half of the cookies bottom side up. Spoon or pipe a small dollop of the chocolate in the center of each cookie. Do not overfill! Top with a second cookie, sandwiching over the bottoms and pressing to seal. Let the sandwich cookies stand for about 30 minutes, until the chocolate is set. Makes about 40 cookies, 20 sandwiches.  The sandwich cookies can be stored in an airtight container between sheets of wax paper for up to 1 week.