prugna secca/prune
Yesterday was a special day.  Solo's Sweetest 16 Recipe Contest launched and I was asked to be a part of the festivities! I am one of 16 bloggers participating in a bracket-like contest, charged with the challenge  to create a unique recipe using cake and pastry filling and almond paste supplied by Solo Foods.  The complete list of bloggers is noted below.
This challenge is particularly close to my heart because I grew up with my mom using Solo in her Danish cookies.  I distinctly remember mom's process of layering of ingredients and spreading of the apricot and raspberry fillings. Tempted, I almost made my mom's cookies for the contest, but I chose to travel in a slightly different, gluten-free direction.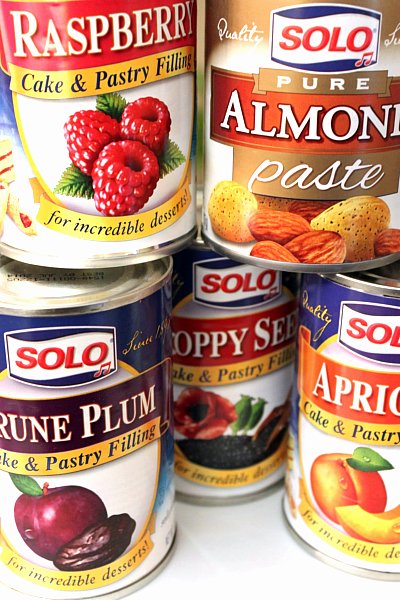 Using the pastry filling many may shy away from including, I am proud of my tart.  Nonetheless, hindsight is 20/20. We all know prunes lead to trepidation for some, as it is often forgetten that Prune = Plum. Therefore, I am asking that you take a chance and vote for my recipe in the first round of voting. It is an easy one- click vote. There isn't a need to sign up, sign in, or donate a kidney. Simply Click Here to check out all the other lovely recipes, then vote with your heart….for prune.
Thanks!
Gluten Free Almond Prune Plum Tarts
Tart Crust:
2 ½ cup gluten-free flour
3 Tbsp. brown sugar
½ tsp. salt
10 Tbsp. cold, unsalted butter, cubed
2-3 tablespoons cold water
Filling:
1 cup cream
½ cup honey
2 eggs
Topping:
12-oz can Solo Pastry Filling, Prune/Plum or preferred flavor
½ cup gluten-free flour
½ cup brown sugar
¼ tsp. salt
¼ cup cold, unsalted butter, cut up
1 tsp. vanilla extract
1 cup Solo almond paste, cut up
To Prepare Crust:
In the bowl of a food processor, combine the flour, sugar, and salt. Pulse to combine. Add butter and pulse until the crust is crumbly. Sprinkle the water over the flour mixture. Pulse until the dough comes together into a ball. Separate the dough into two, form into a disc, wrap in plastic wrap and chill for 30 – 60 minutes.
Preheat oven to 400°F. Divide dough into 6 equal portions. Roll each portion to ¼-inch thickness, and then evenly press each portion into the bottoms and sides of 3.5-inch tartlet pans with removable bottoms. Refrigerate tartlet shells while preparing the filling.
To Make Topping:
Divide the pastry filling between the tart shells and spread evenly on the bottom. Place the tarts on a baking sheet; set aside.
Combine all the ingredients in the bowl of a food processor and pulse to combine; set aside.
For Filling:
Whisk together the cream, honey, and egg yolks. Divide the filling among the tart shells. Sprinkle the crumb topping over the top of each. Bake about 20 minutes.  Reduce heat to 350°F and continue to bake for an additional 15-20 minutes, or until browned. Remove from oven and let cool completely.  Dust with confectioners sugar (optional).
Makes 6 servings
Cook's Notes:
In the absence of a food processor, use a pastry blender or fork to mix dough.
Gluten-free flour can be replaced with all-purpose flour
Solo Pastry Filling flavors can be changed according to preference
One 9-inch tart can be made in lieu of the individual tarts.
The Sweetest 16 participants
Disclaimer: I was provided with Solo products for this challenge. However, I am under no obligation to provide a post regarding the samples. All opinions noted here are my own, always.