biscotti/cookies
Cookies!  Are there better gifts to share with friends, families, or colleagues to celebrate of all things scrumptious than a delivery of homemade biscuits? Exactly!  That is why The Great Food Blogger Cookie Swap works.  Julie from The Little Kitchen and Lindsay from Love and Olive Oil.are in their second year of connecting fellow food bloggers from around the world via delicious homemade treats. In addition, the Swap is partnering with Cookies for Kids' Cancer, a national non-profit organization committed to funding new therapies used in the fight against pediatric cancer. That alone makes the baking worth it.  Be sure to check out the Cookies for Kids' Cancer site and see how you can help support their efforts to find a cure so pediatric cancer no longer claims the lives of more children in the US than any other disease.
For the Swap, I was matched with three lovely women: Erin from The Spiffy Cookie , Julie from ROJ Running, and Betty Ann from Asian In America. How lucky am I? Julie shared cherry lemonade sugar cookies, Betty Ann whipped up some vanilla sugar cookies, then I received lovely Lavender Lemon Bars from Samantha of The Little Ferraro Kitchen.
In return, I sent along a few buttery rings that will have you running around in circles; they're so irresistible.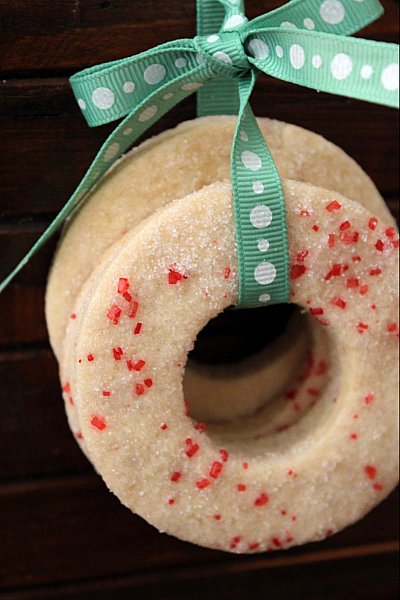 Butter Cookies
3 cups sugar
1 cup unsalted butter, room temperature
6 large egg yolks, slightly beaten
1 ½ tsp. lemon extract.
2 cups unbleached all-purpose flour
1 tsp. baking soda
1 tsp. salt
Juice and finely grated zest of 1 lemon
Set aside ½ cup sugar in a flat dish. In a medium bowl, whisk together flour, salt and baking powder; set aside. In a large bowl of an electric mixer fitted with the paddle attachment on medium speed, cream butter and remaining 1 cup sugar until light and fluffy. Beat in egg, scraping bowl often, until creamy. Add extracts. Add flour mixture; beat at low speed until well mixed and a dough forms. Shape into a ball disc and flatten slightly. Wrap each in plastic food wrap; refrigerate 1 hour (to overnight) or until firm.
Heat oven to 325°F. Line 4 baking sheets with parchment paper.   Divide in dough in half. Roll one half, on lightly floured surface (keeping remaining dough refrigerated), to ¼-inch thickness. Cut with cookie cutters of choice. Place on sugar plate and flip, covering both sides of the cookie with sugar. Transfer, 1 inch apart onto cookie sheets and refrigerate for 15 minutes. Bake 10-15 minutes, depending on cookie size, or until edges are lightly browned. Let stand 1 minute on cookie sheet; remove to cooling rack. Cool completely. Makes about 5 dozen (3-inch round) cookies
Cooks Notes:
Use different color decorative sugars to personalize an occasion.
Glaze cookies instead of adding sugar – In medium bowl, stir together 2 ½ cups confectioners sugar, 2-3 tablespoons water, 1 tablespoon light corn syrup and ½ tsp. preferred flavor extract until smooth, adding additional water, if necessary, to reach desired glazing consistency. Tint with food color, if desired. Drizzle or dip cookies with glaze. Decorate as desired. Let stand overnight to allow glaze to harden.
Disclaimer: By participating in the contest, I received Solo products to use in the recipe. However, I am under no obligation to provide a post. All opinions noted here are my own, as always.