caramellato/candied
Allow me to preface the following scenario with my apologies for however inappropriate you deem the conversation.  But, I can't help by giggle reflecting upon the moments I have with "the teen" that remind me how lucky I am that he still feels comfortable speaking with me about any and everything.
The scene:  Atlanta suburb. Kitchen. Chris at the stove while "the teen" is strooned across the couch, arms extended as he texts his girlfriend.
Teen – Ma, what are you making?
Chris – Candied Kumquats
Teen – Huh? What did you just say?
Chris – Candied Kumquats.  I am making Candied Kumquats.
Teen – Eww, Ma!!! Moms can't use words like that!
Teen proceed to sit up straight and glare toward the kitchen giving the *side eye*.
Chris – G! Kumquats, the little orange citrus fruits. I am cooking them in sugar.
Teen – That is so not what I heard.
Chris – They'll be tasty. Don't knock it until you try it.
Teen resumed is laid back position on the couch.  Smirking and chuckling.
Teen – Oh, trust me…I have knocked it…and tried it.
Chris – Ug!  Really, G? How old are you?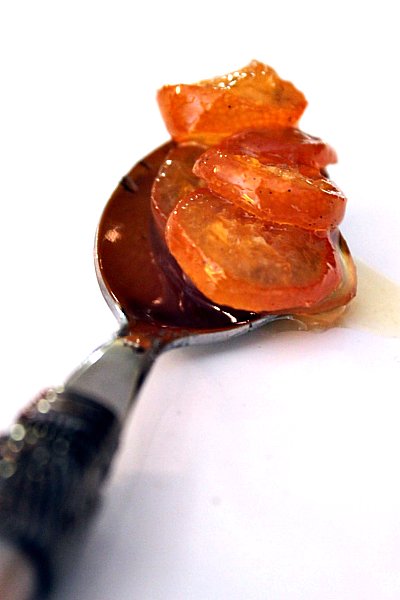 Boys.  Forever middle schoolers!
Even though the teen and I have had our share of awkward, adolescent conversations, he has turned into a phenomenal young man who is months away from graduating.  Maybe one day, is palate will catch up to his age.  Ha!!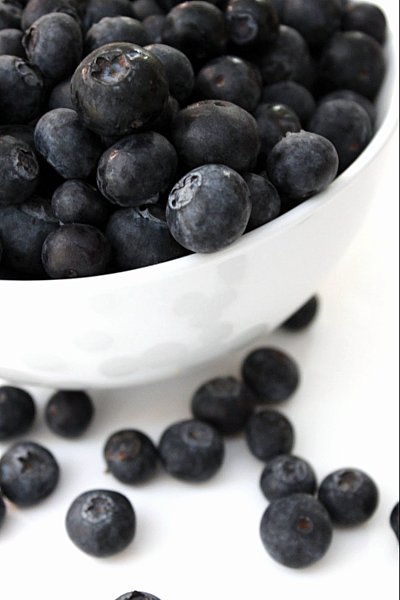 As far as the kumquats go, I decided to make them as an edible garnish for some Blueberry Onion Jam I made using California Giant Blueberries.  They sent me a flat of beautiful fresh blueberries to experiment with in my kitchen and this is one of the recipes I made. Although the onions and berries were crushed during the cooking process, I suppose this is not a true jam, per say.  It isn't really a spread.  Maybe its more of a chutney. But, it is thick and delicious. Next time, I guess I could dice the onions finely to mimic a jam.  I will see.  For now, I simply enjoyed the blue treat on a cracker with a mild cheese, topped with the candied kumquats.  The jam also works well on top of Baked Brie, roasted or seared fish, or in a turkey sandwich. Can you say, "Yum"?

Several cups of blueberries remain and wait patiently in my freezer as I think of how to use them next time. I also made a small loaf of bread, incorporating molasses, a warm winter ingredient.  Happily, both recipes can be found on the California Giant Blueberries Buzz page.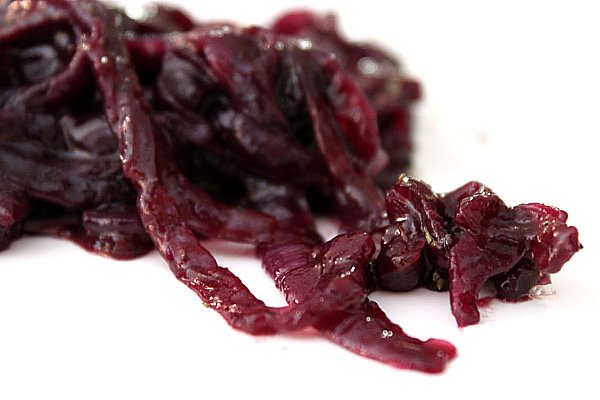 Blueberry Onion Jam with Candied Kumquats
2 Tbsp. grapeseed oil
2 cloves garlic, minced2 large sweet yellow onions, halved, peeled, and sliced (¼-inch) thinly
¼ cup sugar
Sea salt and freshly ground black pepper
¼ cup cranberry juice
2 Tbsp. sherry vinegar
8 oz. fresh blueberries
1 tsp. Mediterranean Seasoning Mix (rosemary, salt, sage, lemon, dill weed, fennel, garlic, marjoram)
In a large pan, heat oil over medium heat. Add garlic, onions, sugar, salt, and pepper. Cook for 3 to 5 minutes, stirring often until onions soften. Stir in juice and vinegar. Lower to simmer and cook until almost all liquid evaporates, about 15 minutes. Stir in the blueberries and seasoning and cook for 5 minutes.  After the blueberries have cooked a bit, use the back of a spoon to mash the blueberries.  Continue to cook until mixture reaches a jam-like consistency, about 10-15minutes. Remove skillet from heat and let jam cool. Transfer to an airtight container.  Serve on top of fish, chicken, in a sandwich, or on cheese. Can be refrigerated for about to 2 weeks.
Cook's Notes:
A mandoline was used to make even onion slices
Red onions can be used.
Seasoning choices can be altered according to preference.
Juice and vinegar can be substituted with wine and or balsamic vinegar
Grapeseed oil can be substituted with canola or vegetable oil.
Candies Kumquats
½ cup sugar
½ cup water
Pinch of salt
1 vanilla bean
1 cup kumquats, seeded & thinly sliced
In a heavy bottomed saucepan on high heat, stir the water, sugar, and salt together.  Split the vanilla bean length-wise, scrape seeds with a knife or spoon and add both the bean pod and seeds to the pot. Stir. Bring to a boil, stirring until the sugar dissolves. Reduce heat to low and add kumquats.  Simmer 10 to 15 minutes, or until tender. Remove vanilla bean. Transfer kumquats and syrup to a heatproof, airtight container. Let cool, then cover.  Store in the refrigerator for up to 2 weeks.
Disclaimer: I was provided with blueberries to use. However, I am under no obligation to provide a post regarding the samples. All opinions noted here are my own, always.