giocherellare/play around
For those who know me, it is not uncharacteristic for me to bypass dessert.  Sure, I make dessert all the time. But, instead of consuming the sugary deliciousness, I just give it all away.  There are one or two sweet treats, however, for which I cannot say no. One of those treats includes Oreo Cookies.  Since Oreo is a world's favorite and best-selling cookie brand of the 21st century, its a cookie that truly walks the walk.
There is truth in their old slogan. Oreo Cookies are For the Kid in All of Us. For example, I will sit on the couch "criss cross applesauce" and dunk cookies that lay waiting on a white paper napkin in a cold glass of milk.
Now, don't get it twisted. Just because I like dunking them the old fashion way doesn't mean I can't find delicious ways to incorporate Oreos into the desserts I make. Cheesecake, truffles, brownies, or crushed as a pie crust, there is always a place for the chocolate wafer and its creamy filling.
Since I can sense that all your heads are nodding, I know you're all in agreement.  So, this is where you come into  Oreo's 100th birthday year celebration. One of the ways you incorporate Oreo Cookies into your favorite family treats might just result in the two OREO Thanksgiving prize packs Kitchen PLAY is giving away.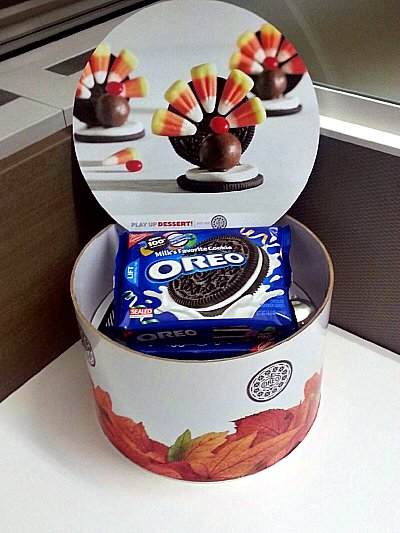 The prize is filled with goodies like a Crate & Barrel serving platter and pie server, an exclusive OREO cookbook and other fabulous treats, valued at $70.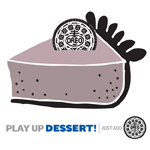 Entering couldn't be easier!  All you have to do it recreate any OREO dessert from this week's Kitchen PLAY event or come up with your own. Post about it on your site and provide a link to that post in the comments on this Kitchen PLAY page.
Feeling ambitious?  Or, just a little competitive?  For those of you who are determined to win that prize, multiple entries are allowed…as long as a separate OREO dessert post is created for each entry. The deadline November 28, 2012 by midnight PT.
Please note that this sweepstakes will also take place again at the holidays, so the earlier you enter, the more chances to win! Full sweepstakes guidelines at Kitchen PLAY.
So?  What do you say?  Not totally positive?  Here is a little temptation from Oreo.  Perfect dessert to make with the kids for the holidays, right?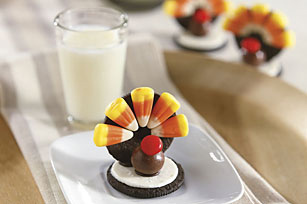 Stay tuned for more!