ricreazione/playtime
I have a delicious dilemma that I have recently discovered and am struggling with a bit. Keep in mind, as you read, that my struggles are occurring synonymously with a milk-mustache- chocolate-crumbs-in-the-corners-of-my mouth grin.
Longtime readers are aware of my chocolate intolerance.  While there is no need to go into specifics about what happens after any chocolate consumption, my inability to take pleasure in the creamy, smooth, heartwarming convection has been for quite sometime.  I bake with chocolate often for others to enjoy, but don't partake personally. Recently, however, this Kitchen PLAY event has brought upon a whole new awareness in my life. What is this awareness, you ask?
Come close to your screen as I whisper, in fear this newly learned information will be redacted.
I can eat three Oreos without having a reaction.
Up!  Three!  How great is that!?!?!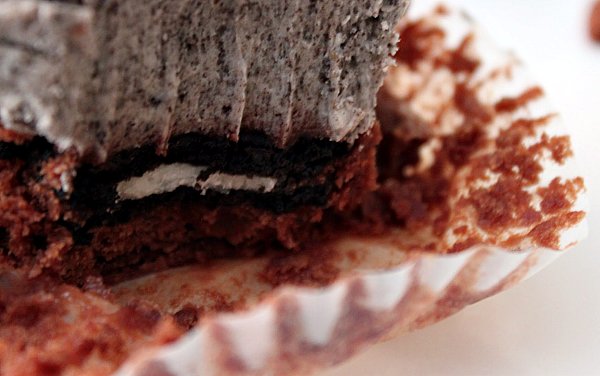 Despite my trainer's soon-to-be-crankiness when he finds out this news, should I choose to tell him, I am super excited to be able to indulge every now and again.
How did I figure all this out? To play up a up dessert with Oreo Cookies, I made a quick trip to my grocer and grabbed a few packages of the tradition Oreo Cookies and one package of the Triple Chocolate Cookies (which are the cookies on top of the cupcakes shown here). After a combination of over ambition and messing up a double batch Oreo fudge, I was left with an extra, unopened package of cookies. Well, it's not unopened anymore.  Temptation got the best of me and I began testing the boundaries of my intolerance to find out that, with milk, I can consume three cookies.  Woot! *Disclaimer* I am not condoning this behavior and am aware of silliness here. However, I know myself, my allergies and intolerances (which are different) and know consuming chocolate does not cause an effect that requires medical attention.
In the process of my "testing the waters", I whipped up a batch of Oreo Brownie Cupcakes for the Kitchen PLAY event that are easy to make and perfect for family members to get involved. The cupcakes celebrate the two OREO Thanksgiving prize packs filled with goodies like a Crate & Barrel serving platter, a Crate & Barrel pie server, an exclusive OREO cookbook and more Thanksgiving goodies Kitchen PLAY is giving away. It's a prize is valued at approximately $70!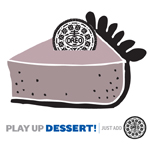 To enter, simply recreate any OREO dessert from this Kitchen PLAY event or come up with your own. Post about it on your site and provide a link to that post in the comments on this Kitchen PLAY page.
Multiple entries are allowed, as long as a separate OREO dessert post is created for each entry. Deadline is Wednesday, November 28, 2012, 12AM PT. So, as you're baking for the Thanksgiving, add a little Oreo into your tradition!
This sweepstakes will take place again at the holidays, so the earlier you enter, the more chances to win! Full sweepstakes guidelines can be found on the Kitchen PLAY site.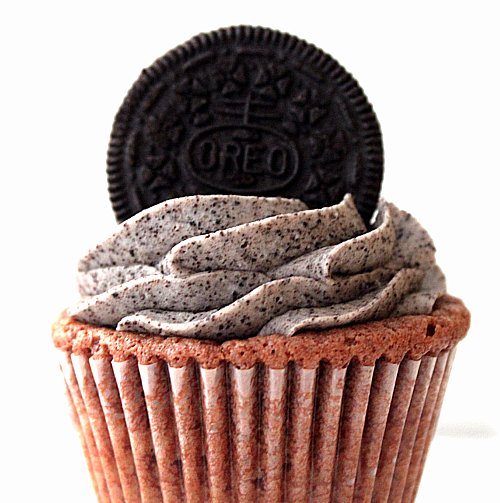 OREO Brownie Cupcakes
1 ½ cup flour
½ tsp. baking powder
1/4 teaspoon salt
6 ounces bittersweet chocolate, chopped
½ cup  unsalted butter
1 ¼ cup sugar
1 tsp. pure vanilla extract
3 eggs, room  temperature, lightly beaten
~ 12-15 Oreo Cookies
Oreo Buttercream (recipe follow)
Preheat oven to 325 °F. Line 12 -15 muffin tins with paper or foil baking cups.
Whisk together the flour, baking powder, and salt in a bowl; set aside.
Melt the chopped chocolate and butter in a stainless steel bowl placed over a saucepan of simmering water. Once melted and smooth, remove from heat and let cool.
By hand or with a mixer, add sugar and vanilla.  Mix in  eggs, followed by the  mixture until combined.
Place a tablespoon of batter in  the muffin cups. Top with one cookie.  Top with additional batter, no more than ¾ cup full. Bake for about 20 – 25 minutes or until a toothpick inserted in the center comes out almost clean.
Let cool on a wire rack. When cooled completely, top with buttercream and a cookie.   Makes 12-15 cupcakes.
Oreo Buttercream
3 cups confectioners' sugar
1 cup butter
1 tsp. vanilla
2 cups crushed Oreo Cookies
In a standing mixer mix cream the butter.  Slowly add on low speed and mix until until well blended.  Increase speed to medium, add vanilla and beat for about 2 minutes. Stir in crushed cookies.
Disclaimer: By participating this month, I did receive an OREO Thanksgiving prize pack from Kitchen Play. However, I am under no obligation to provide a post and or a giveaway. All opinions noted here are my own, always. And, the OREO Thanksgiving prize pack will be given away to my staff and a lil' thanks to them for all they do.