cardamomo/cardamom
Have you ever had the urge to bake, but realize that there isn't much any of the baking-essential ingredients in the pantry? I remember a time that a such a flagrant blunder would never had happened in my home. However, since my day job scarfs the majority of my time, energy (and sanity), my one-time stress relief activity has been somewhat non-existent. (And I wonder why I have knots up and down my back. hmmm….)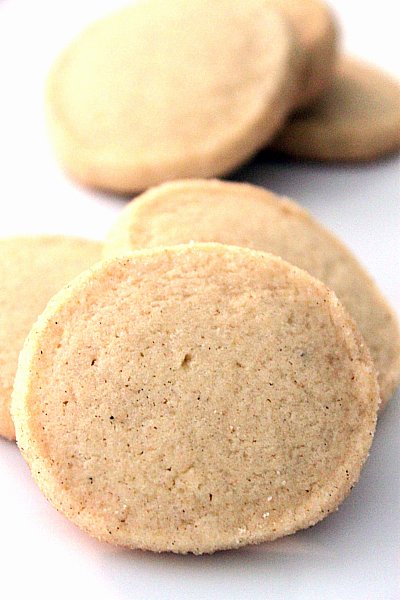 When the urge to bake overwhelmed me a few weeks ago, I looked in the 'fridge to find ¾ pound of butter, 4 eggs, and some expired milk. That's it! Pitiful. Luckily, when combined with flour, sugar, and a flavoring or two, a baker's options are not completely lost. Cookies are a save-the-day kind of treat.
These cookies are have a subtle flavor that can be enjoyed by all. The sugar mixture on the outer edge can be altered according to preference, of course. But, the wonderful draws of slice-n-bake cookies are they (1) usually make a ton of cookies at one time and (2) can be made way ahead of time and kept in the refrigerator or freezer. Sweet! (Literally and Figuratively)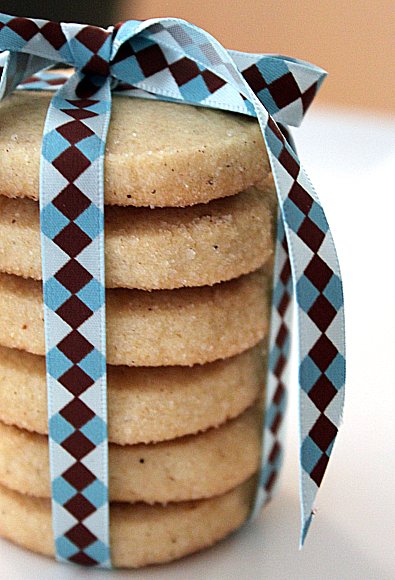 Cardamom Slice-N-Bake Cookies
3 cups flour
1 ½ tsp. baking powder
½ tsp. salt
1 ½ tsp. ground cardamom
1 cup butter, room temperature
1 ¼ cup sugar
2 eggs
1 tsp. vanilla
In a large bowl, whisk flour, baking powder, salt and 1 tsp. cardamom; set aside.
In a small bowl, stir together ½ tsp. cardamom with ¼ cup sugar; set side.
In large bowl of electric mixer fitted with the paddle attachment, cream the butter and sugar on medium speed until light and fluffy. Add eggs, one at a time, and vanilla. Gradually add flour mixture until a smooth dough forms. Divide the dough in half and form each half of the dough into a log that is about 1½ – 2 inches in diameter. Wrap each log in plastic wrap and and chill for 2 hours.
Preheat oven to 350°F. Lined several baking sheets with parchment paper.
Remove one chilled dough log from the refrigerator. Using a sharp knife with a smooth edge, slice each log into cookies about ¼-inch thick slices. Roll the outer edge of each cookie slice into the cardamom-sugar mixture. Place on the prepared baking sheets, with at least 1-inch space in between the cookies.
Bake 10 to 12 minutes or until lightly browned. Remove from oven, cool on baking sheets a couple of minutes before transferring to wire racks to cool completely. Makes about 7 dozen, depending on size.
Cook's Notes:
Sugar rolling mixture can be mixed with spice of choice, cinnamon, nutmeg, lavender, etc.
Log size and thickness can be adjusted according to preference, but be sure to adjust baking time with the change.
The dough can be wrapped airtight and kept refrigerated for up to 3 days or stored in the freezer for up to 1 month.