amatissima/loved
Ahh….The cannoli.  The beloved Italian dessert we loved to ogle during special occasion dinners will forever be a classic. While cannolis remain a special indulgence in my adult-life, I am afraid my ambitious baking of the sweet treats does not match that of my grandmother's or great aunts.  Making cannoli's completely from scratch requires forming
tubes
to make the shells.  I own them, 15 of them to be exact.  Yet, those tubes have not seen the light of day more than on one or two occasions. My
Restaurant Depot
card + the
cannoli shells they sell
=  win-win.
Cannoli filling is actually super simple to make.  But, when I made a batch this last time, I ended up with cannoli filling soup. Okay, it was a little thicker than a soup, but it was runny!  All that drained ricotta, acting like a cartoon cat refusing to get into its carrier.  Refusing to throw out so much filling, and not wanting to add more sugar and compromise taste,  I decided to re-purpose the "error" as the center goodness in a small cake, and use the shell for garnish.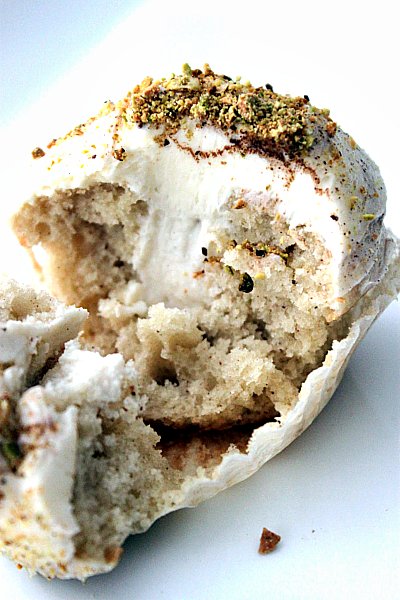 The cupcakes went to work with my Sheriff neighbor and the county court clerks were happy government employees that particular day! Yippee!
Happy Friday, everyone!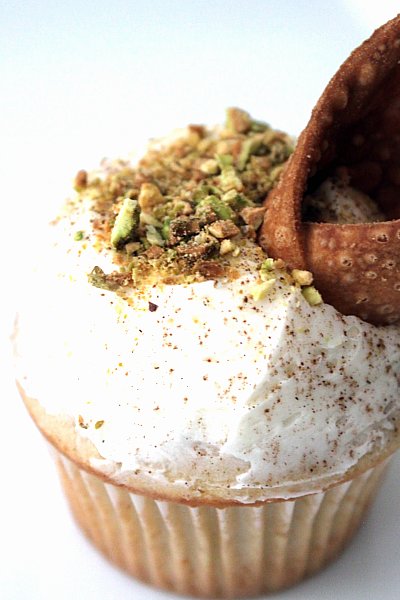 Cannoli Cupcakes
2 cup cake flour
1 ¼ cup unbleached all-purpose flour
1 Tbsp. baking powder
1 tsp. cinnamon
½ tsp. salt
1 ½ cup sugar
1 cup unsalted butter, room temperature
4 large eggs
1 cup whole milk
1 tsp. vanilla extract
cannoli filling (recipe follows)
mascarpone buttercream (recipe follows)
chopped pistachios
cannoli shells (optional)
Preheat oven to 325°F. Line 16-18 muffin pans with paper liners; set aside.
Whisk flours, baking powder, cinnamon, and salt in a bowl; set aside. Cream butter and sugar, mixing until just light and fluffy. Add eggs 1 at a time until combined, scraping down the bowl after each addition. Add flour mixture in three batches, alternating with two additions of milk and vanilla to batter until completely mixed scraping down the bowl as you mix. Scoop batter into baking cups filling about 2/3 full. Bake until a cake tester inserted in the center comes out clean, 17 to 20 minutes.
Cannoli Filling
1 cup whole milk ricotta cheese (drained in a fine-mesh strainer for 2 hours to remove excess liquid)
1 cup mascarpone cheese
½ cup confectioners sugar
½ tsp. vanilla
½ tsp. cinnamon
pinch of salt
In a large bowl, mix filling ingredients using a wooden spoon. Cover and refrigerate until ready to fill cupcakes, at least 2 hours.
When ready to fill cupcakes, transfer the cannoli filling into a pastry bag fitted with a plain tip. Push the tip gently into the bottom of a cupcake and squeeze in the filling until the cupcake plumps. Continue with the remaining cupcakes. Top with mascarpone buttercream, pistachios, and cannoli shell pieces.
Keep cupcakes refrigerated until ready to serve. Let stand 20-30 minutes before serving.
Mascarpone Buttercream Frosting
1 cup (2 sticks) unsalted butter, room temperature
16 oz. Mascarpone cheese, room temperature
4-5 cups confectioners sugar
Using an electric mixer fitted with the paddle attachment, cream butter and Mascarpone until light and creamy. Add sugar and continue beating until smooth.