festicciola/little treat
It has been quite some time since I have made salted caramel.  After having to make it every shift at the restaurant for my Flourless Chocolate Cake with Salted Caramel Ice Cream dessert, we needed a break from one another after I left.  However, a craving began to resurface recently and I decided to incorporate some sauce into a cookie for my staff's enjoyment.
As I enjoy a very much needed weekend away and write this post in the middle of the day, PJs on, and my feet up, this salty sweet cookie represents many conflicting feelings that are connected to my retreat. A fantastic, relaxing, loving weekend that presented an overwhelming feeling of inner peace, has also been met with an certainty of waiting on test results.  So, as I cross my heart, hope of a positive outcome, and as for your thoughts and prayers for my loved-one, I leave you with a delicious treat that is guaranteed to feed your every emotion.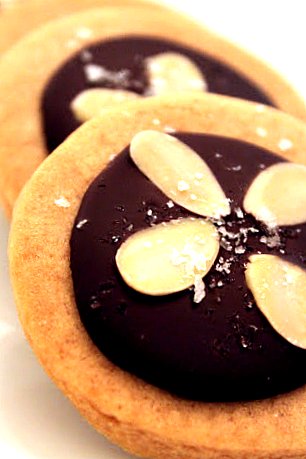 Salted Caramel Shortbread Cookies
¾ lb. (1 ¼ cup) unsalted butter, at room temperature
1 cup light brown sugar
1 tsp. vanilla extract
4 cups all-purpose flour
¼ teaspoon kosher salt
1 cup salted caramel sauce
10 oz. bittersweet chocolate chips. like Ghirardelli
~1 ½ cups of nuts for garnish
Sea salt for garnish
Preheat the oven to 350°F.
In a medium bowl, whisk together the flour and salt; set aside.
In the bowl of an electric mixer fitted with a paddle attachment, mix together the butter and granulated sugar until combined. Add the vanilla. Add fl our and mix on low speed until the dough begins to come together. Add salted caramel and continue to blend on low until incorporated.  Transfer to a flour dusted surface dusted and mold  into a flat disk. Wrap in plastic and chill for 30-60 minutes.
Roll the dough 1/4-inch thick and cut into preferred shapes with a cookie cutter. Place on parchment lined baking sheet. Bake for 13-15 minutes, until the edges begin to brown. Do not over bake! Allow to cool 5 minutes before transferring to a wire rack to cool to room temperature. (makes about 7 dozen, 1 ½-inch round cookies)
For the chocolate topping: Melt chocolate in a double boiler.  Stir frequently until smooth.  Transfer to a piping bag or baggy.  Clip the end and pipe a small round of chocolate on each cooled cookie.  Top with a sprinkle of sea salt and almonds. Allow to cool room temperature for the chocolate to harden, or chill in the refrigerator for about 10- minutes.
Cooks Notes: