purè di castagne/chestnut puree
Various events that have occurred in recent weeks have lead me to become quite nostalgic.  Then, while in Philadelphia a few weeks ago, the brisk weather, an impromptu trip into NYC,  and a brief surprise drop-in on my mom, amplified my wistfulness. Since that trip, I have tried to note at least one memory I cherish. The chestnut puree I used in these rich, creamy bite brought me back to the days my gram marked an X in the flat side of fresh chestnuts and roasted them in an oven as warm as her words. The aroma would full the house and surround us like one of her comforting hugs.
Since fresh chestnuts are not always readily available, Trader Joe's 8 ounce packages of steamed, peeled, whole chestnuts come in very handy. They're easy to make into a puree. Even so, I obtained several jars of chestnut puree some time ago and I have been dying to incorporate their goodness in something delicious. And, chestnut puree and chocolate sing a beautiful love song.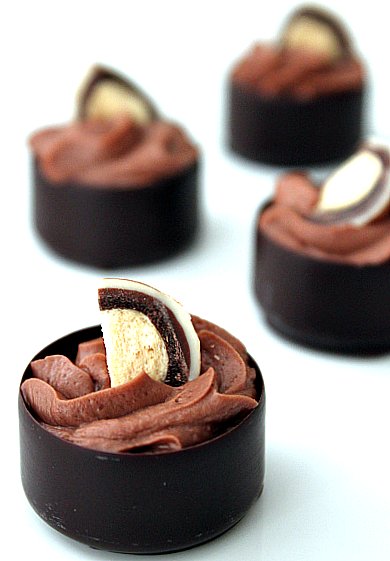 I piped the cream into the last few dozen  chocolate cups I had, the same ones I used for the Mini Tiramisu Cups and Orange Mascarpone Mousse Cups.  Not sure what I wanted to use as a garnish, I split large malt balls I purchase at Citarella. They worked perfectly.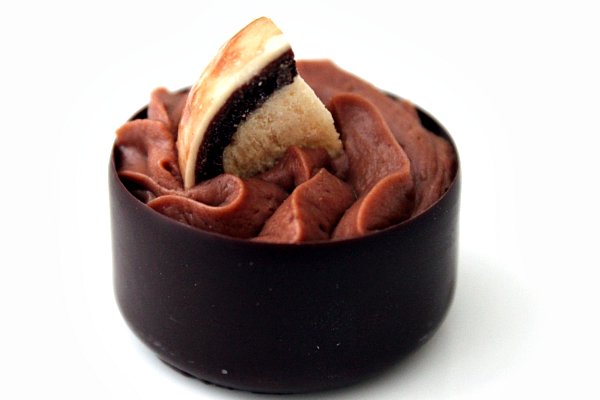 Chocolate Chestnut Cream
4 oz. bittersweet chocolate, melted
10 ½ oz. jar unsweetened chestnut purée
1-2 Tbsp. Amaretto (optional)
1 tsp vanilla extract
8 oz. cream cheese, room temperature
¼ cup confectioners' sugar
In the bowl of the food processor, pulse the chocolate, chestnut puree, rum, and vanilla until absolutely smooth.
In a large bowl of an electric mixer fitted with paddle attachment, cream the cream cheese until smooth.  Add sugar and mix until incorporated. Remove from mixer. Add chocolate puree mixture.  Fold until well combined. Cover with plastic wrap until ready to use.