decadente/decadent
Time is a hot commodity in my house. More and more, I find myself saying, "There just isn't enough time in the day".  As my to-do list gets longer, I am not convinced I am a productive as I once was and actually think I spin my wheels over and over. Most of the reasons for the running, running, running, and not getting anywhere (work, work, work) are not for a conversation on a food blog. Boring, and unappetizing! However, the treats I bring into work every Monday is a topic I can sink my teeth into!
Well, let me rephrase that last comment.
For this particular post, the treats I bring into work every Monday are reasons the staff can sink their teeth. Since the amount of chocolate incorporated into these decadent squares would sound every chocolate allergy alarm from continent to continent, there was no way I would indulge.
So, if I can't eat what I bake, why bother? Whipping up treats for the staff each Sunday ensures I allow myself some time in the kitchen, even if for a short while. The time offers me a few hours to slow down, regroup, and do what makes me happy.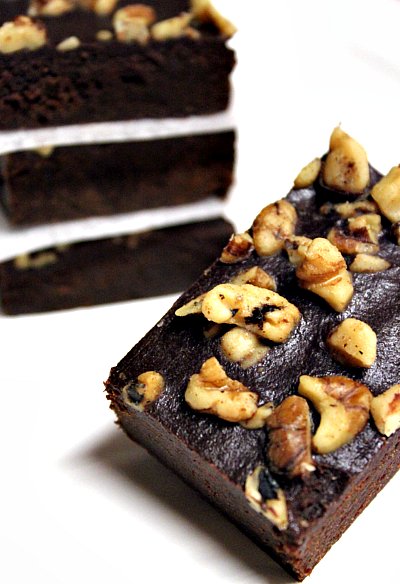 These brownies are decadent and rich.  And, no one (unless they like to bake) would believe how super simple they are to create. I left them by the time-clock, and upon picking one up, my colleague walked across the building to my office.  She looked at me and stated, "These just might be the best brownies I have every had."  My response was that they're easy for her to duplicate.  She confidently said, "I will let you have that stress release and I will kindly consume the fruits of your labor…with a smile."   And with that, she walked back to her office. Enough said about these lil' guys, I think!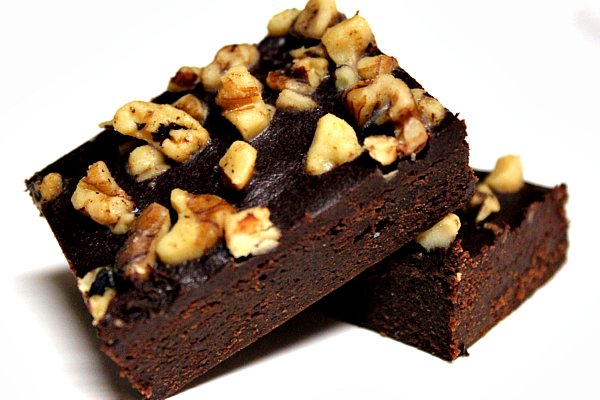 Triple Chocolate Brownies
8 oz. (about 1 ¼ cup) semi-sweet chocolate, chopped
5 oz. (about ¾ cup) unsweetened chocolate, chopped
1 cup unsalted butter
½ cup cocoa powder
6 large eggs, room temperature
3 cups sugar
1 Tbsp. vanilla extract
1 tsp. fine sea salt
3 cups all-purpose flour
1 – 1½ cups chopped walnuts
Chocolate Ganache
8 oz. (about 1 ¼ cup) bittersweet chocolate, roughly chopped
½ cup heavy cream
1 Tbsp. unsalted butter
Pre-heat oven to 350 °F. Line a half-sheet pan (about 13 x 18×1) inch with foil and spray with non-stick spray.
In a saucepan, melt semi-sweet, unsweetened chocolates, and butter over low heat. Whisk frequently to blend. When completely melted, add cocoa powder. Whisk thoroughly to combine. Remove from stove to cool slightly while preparing the other ingredients.
In the bowl, whisk flour and salt; set aside.
In the bowl of an electric mixer fitted with the whisk attachment, mix eggs, sugar and vanilla until combined and light in color.
Carefully pour in cooled chocolate mixture into the egg mixture, whisking continuously to combine. Reduce speed, add flour and mix until just combined. Remove from mixer and continue to stir by hand until well blended.
Transfer to the prepared pan. Bake for 20-25 minutes, or an inserted toothpick comes out almost clean. Do not overbake! Cool slightly completely before preparing ganache. After applying ganache, top with nuts.
Ganache: Place bittersweet chocolate in small heat-proof bowl; set aside. In a small saucepan, slowly heat cream until it just begins to boil. Pour over chocolate and let stand for about 30 seconds; whisk until chocolate is melted and mixture is blended. Add butter; mix until smooth. Chill briefly until thickened (about 15 minutes). Spread over brownies. Let stand at least 1 hour, then refrigerate at several hours before cutting into rectangle or squares.
Makes about 48 brownies, depending on the size of the cut.