una sorpresa/a treat
Several months ago, I lost my head in
Restaurant Depot
preparing for the
Food Blogger Bake Sale
(#ATLBakeSale), the annual event that benefits
Share Our Strength
.  I am not sure why my process of preparation involved mistaking my home for a restaurant. The fabricated scenario filled my home with a ridiculous amount of very-real ingredients, like 15 dozen eggs, a case of unsalted butter, 50 Lbs. of flour, and 40 lbs of sugar.  Even with all the items staring me in the face wondering about their future use,  I ended up ogling at the
5 lbs. of mascarpone cheese
as I crossed my fingers and hoped my lil'
GE refrigerator
would magically turn into a Commercial Walk-In.

*Guilty admission: Restaurant Depot sucks me in more often that I would care to admit. Shhhh!*
As the days and the event came and went, the mascarpone remained, sealed and dormant.  Hours to bake and energy simply ran out.  Thank goodness for expiration dates buy some time, right? Yeah, right. Days ran into weeks, then into months. Where did the time go? More importantly, how the heck would I use 5 lbs. of mascarpone cheese without a specific, large crowd event in mind?
First, I dug my spatula into the tub of cheese to make sandwich cookies with a new stash of Hibiscus, Mango Papaya tea I picked up last time I was in New York.  It was around this time last year that I became a little obsessed with infusing tea into what nibbles and snacks I prepared. This year, my obsession has shifted and the tea tides reallocated themselves to baked goods.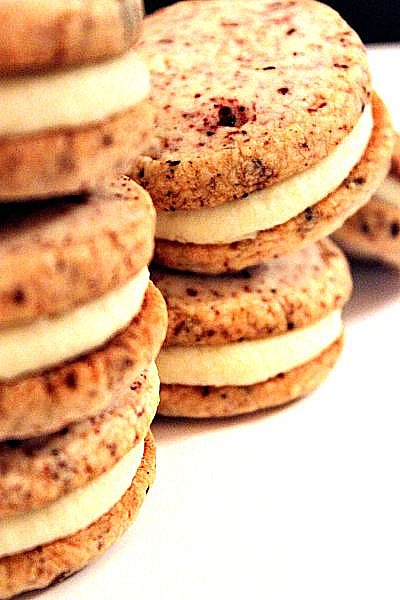 Next, I moved toward Tiramisu.  A quick and easy dessert, I could make a large quantity for my staff. However, the thought of the eggs used in traditional Tiramisu recipes made me nervous because I usually leave my baked goods by the time clock – easy access for staff members to grab and go, or grab and graze. So, I took the idea of Tiramisu and matched it with my love for bite-sized anything and a need to use my latest purchase of chocolate cups, the same kind used with the Orange Mascarpone Mousse Cups. and rolled along.
The end result was wonderful and received rave reviews.  And, making the teachers happy is what its all about!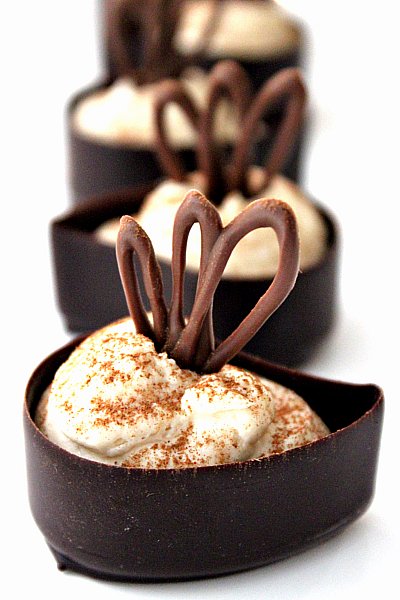 Mini Tiramisu Cups
4 oz. cream cheese, room temperature
1 lb mascarpone cheese
1 cups confectioners' sugar
1 Tbsp. ground espresso powder
8 oz frozen non-dairy whipped topping, thawed
cinnamon for dusting
Chocolate shavings, or pieces for decoration
40 chocolate cups
In a medium bowl, with an electric mixer at medium speed, beat the cream cheese until smooth.  Add mascarpone cheese, confectioners' sugar, and espresso powder. With a rubber spatula, fold in the whipped topping.
Spoon or pipe the filling into the chocolate cups. Dust with cinnamon and top with chocolate piece.
Cook's Notes:
For a mature crowd, add a tablespoon or two of run or sweet Marsala wine to the filling.
Although I did not add crisp Italian ladyfingers to the cups, adding a piece on the bottom of the cup or as a decoration can add to a cup's Tiramisu-ness.
Unsure about how long the cups would remain at room temperature, and since they would be out of my sight, I chose to use non-dairy whipped topping, thawed. Incorporating about 2 cups of heavy whipping cream that had been whisked to stiff peaks would be my preferred addition.