polpa di granchio/crab meat
I am in Denver this week, and loving it!  You know anytime I can head west, I am a happy camper. Don't think this trip hasn't lead to thoughts of changing my plane to lead me a little further west to Salt Lake instead of Atlanta. *Sigh*.  Soon, I hope.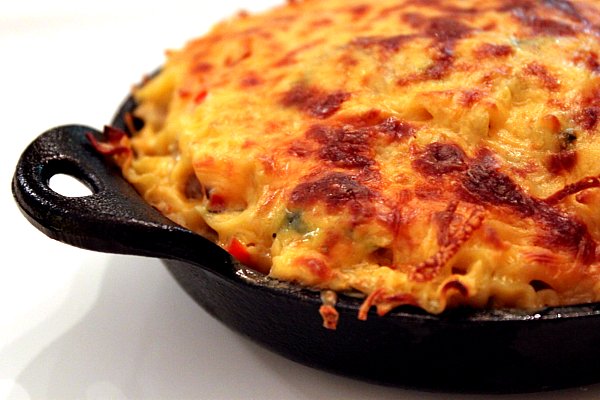 Since I am here for work, and the conference is jam-packed, I am not sure how much time I will have for posting.  So, until I can get to my Date Bars, Muffins, and delicious Barley dinner, I will leave you with an oldie, but goodie. Adapting the recipe this time was perfect, leaving me with just enough grub for dinner and lunch the next day.
Enjoy!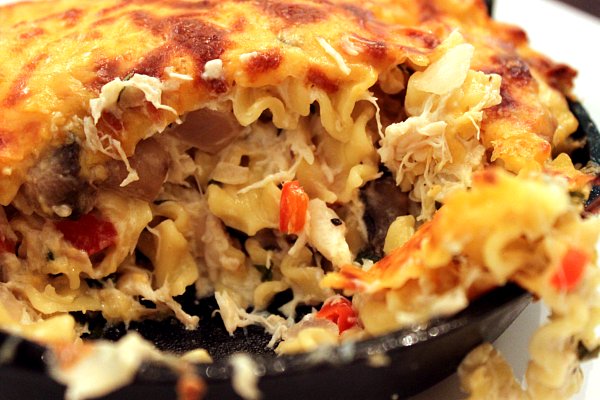 Pasta Crab Casserole
Adapted from a previous post and Taste of Home
1 cup thin pasta or noodles, cooked (I used Les Pâtes d'Alsace Valfleuri Lasagnettes )
1 Tbsp. olive oil
1 small sweet onion, diced
½ cup fresh mushrooms, roughly chopped
½ cup chopped red bell pepper
1 garlic cloves, minced
½ lb. lump crab meat
¾ cup Greek yogurt
2 tsp. salt
1 Tbsp. dried basil
1 cups shredded cheddar cheese
Preheat oven to 350°F. Grease/butter a small, shallow 6-inch baking dish; set aside.
In a medium-sized bowl, carefully stir together the crab, yogurt, salt and basil; set aside.
Heat the olive oil in a large sauté pan over medium heat. Add onions, mushrooms, pepper and garlic in olive oil until crisp-tender. Remove from the heat. Add cooked pasta/noodles; stir to combine. Carefully stir in crab mixture, incorporating all the ingredients without breaking up the crab.
Spoon into prepared baking dish. Top with cheese.Cover with foil and bake casserole for 20 minutes. Carefully uncover and bake 5-10  more minutes, browning the top. Serves 1 famished person, or two hungry people
Cook's Notes:
What is crisp-tender? Cooked until tender enough to be pierced by a fork but still firm to the bite.
Sour cream can be used instead of yogurt
If wanting to freeze the casserole for later use, wrap securely after transferring crab mixture into the baking dish, and freeze for up to 1 month. To prepare the frozen casserole, thaw in the refrigerator for 24 hours. Remove from the refrigerator 30 minutes prior to baking. Unwrap, cover with foil, and bake at 350° F for 55-60 minutes or until heated through.
Ingredients can be adjusted according to taste, including the amounts.  Do yo' thang!