panino/sandwich
I thought today would never come!  Why? It's The Secret Recipe Club reveal day for Group C. Reveal day is always exciting, as I anxiously wait for the Blog hop to fill, checking out which recipes my fellow group members chose from their blog assignments.  Group A was on May 7 and Group B on May 14.
Seeing this month's email from Angela of Big Bear's Wife, our group's hostess,  was a welcomed sight.  A mistake I made last month resulted in my missing out on April's reveal.  So sad!  But, no one to blame but me!  So, I made sure I focused, checked, and doubled checked the steps to be a part of May's SRC.
How happy am I that I got it right?  Hugs & Cookieshappy. The choices and possibilities Danielle presents made this baker all warm and fuzzy inside.  Just when I had come to grips with my choice, after contemplating her Dulce De Leche Cheesecake Bars, Caramel Apple Toffee Cheesecake, and Take 5 Bars, I popped over to her blog when I was drafting this post. She's still posting ridiculousness. Three words, people. Rolo Cheesecake Bars (again). Does it ever stop?
No.  And, we love that.  Keep it goin', Danielle!  My staff gobbled up these cookies before lunch time!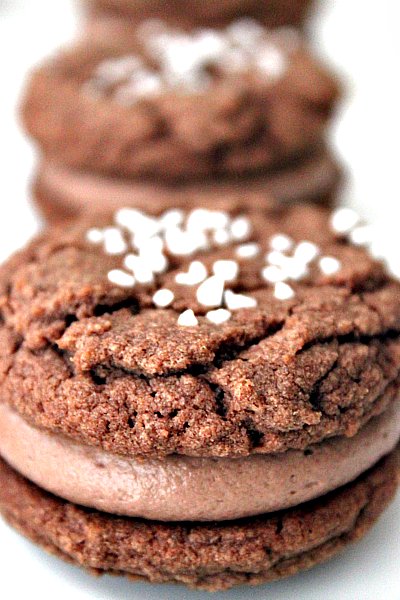 As seen on Hugs & Cookies XOXO , who adapted the cookies from Bakingdom
Nutella Cookies:
1 ½ cups all-purpose flour
½ tsp. salt
½ tsp. baking soda
½ cup unsalted butter, at room temperature
¼ cup packed brown sugar
¼ cup sugar
1 egg
1 tsp. vanilla extract
1 cup Nutella
extra sugar for sprinkling (I used pearl sugar)
Nutella Creme Filling:
6 Tbsp. unsalted butter, at room temperature
½ cup powdered sugar
1 tsp. vanilla extract
Pinch of salt
¾ cup Marshmallow Fluff/Creme
½ cup Nutella
Preheat oven to 375°F.
In a bowl, whisk the flour, salt, and baking soda; set aside.
In a large bowl or the bowl of a standing mixer, cream butter, brown sugar and sugar. Add egg and scrape down the bowl. Add Nutella until combined, then the vanilla. Add flour, salt and baking soda until combined.
Using a Tablespoon or small scoop, roll the dough into balls.  Place on a parchment-lined baking sheet, 2-inches apart. Press the top of each ball gently with a fork and sprinkle with sugar.
Bake 8-10 minutes and allow to cool on wire rack before frosting. Do not overbake!  Or, they'll become too crunchy if you do.
To make the filling: In a medium bowl, cream the butter and sugar. Add vanilla and pinch of salt. Mix in the marshmallow spread and Nutella, and whisk until light and fluffy. If the filling is too soft or runny, add more sugar as needed.
For filling, beat butter. Add powdered sugar and beat until smooth. Stir in vanilla and salt. Mix in marshmallow creme and Nutella until light and fluffy. (If the filling is too soft or runny, add additional sugar.)
Place 1 to 2 tablespoons of filling (I used an un-tipped piping bag) onto half of cookies and top with remaining cookies to create sandwiches. Yields: Makes 2 dozen cookies, or 1 dozen sandwiches