minuscolo/miniature
Summer…beaches, cookouts, outside dining, a glass of wine or cold mug of beer…I am excited it's here. With all the wonderful times that come with summer vacation, the one food I thoroughly enjoy with all these elements are crab or salmon cakes.  Dressed lightly with a dab of a remoulade sauce or aioli?  I am a happy girl.
A few months ago, when I went back to Salt Lake for work, I was happy to see Kalyn, Barbara, and Tiffany again.  I was also able to take the girls from work to Park City during one of our free evenings. Before hitting the Outlets, we grabbed a quick bite at the Hapa Grill. We were not only pleased with the atmosphere and the customer service, but we appreciated the server's knowledge about the gluten-free options.  This helped my colleague who had recently learned of her intolerance.  While she ordered suggested GF dish, (and despite the snow on the ground) I ordered a version of my warm weather favorite, the Lump Crabcake & Avocado Slider's, served with ponzu citrus mayo, balsamic caramelized, red onion, and poblano peppers. They were so satisfying. Then, Liz made the comment, "Oh, I am going to miss crab cakes." When crab cakes are a summer staple, that's a difficult thought to digest.
I knew, once I ate the Hapa Grill sliders, I would recreate them in my own kitchen.  That time came recently, and while I was grocery shopping for the ingredients, I came across Gillian's Foods Gluten-Free Bread Crumbs.  I sent a picture text to Liz with the message,  "I see crab cakes in your future". This time, she was a happy girl once she learned where to find them.
Finally, months after eating at Hapa and finding GF bread crumbs, made my own crab cakes. Wanted to be able to share a successful, gluten free option with Liz, I made these Gluten-Free. If I didn't tell you these Lump Crabcake & Avocado Sliders were gluten free you'd wouldn't be able to tell the difference. But, they are easily adaptable and can be made with your preferred, regular breadcrumbs and rolls.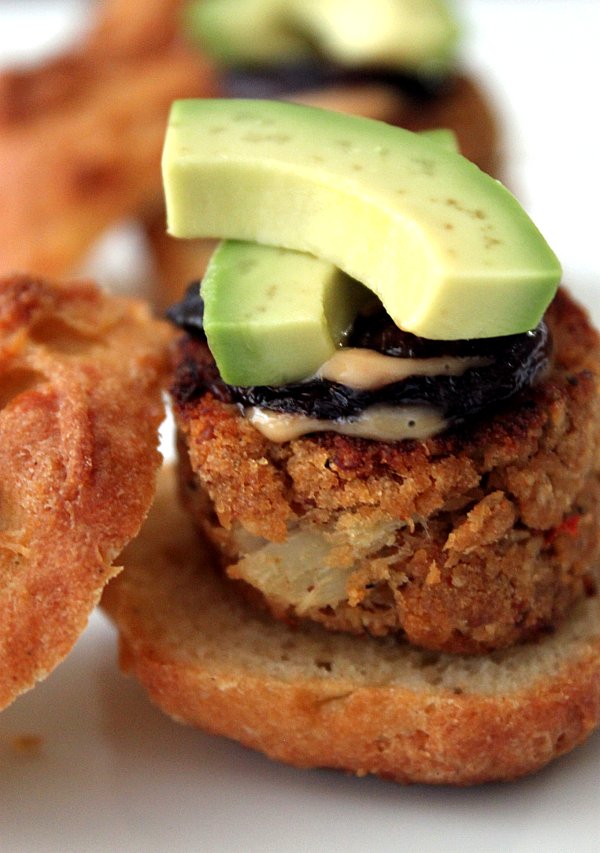 Lump Crabcake & Avocado Sliders
½ pound Lump crabmeat, picked over
2 eggs
¼ cup Vegenaise (or mayonnaise)
2 tsps. Worcestershire sauce
1 tsp. freshly ground pepper
1 tsp. dry mustard
1 tsp. seafood seasoning (recommended: Old Bay)
½ tsp. fine sea salt
½ tsp. cayenne pepper
juice of lemon juice
1 cups plain bread crumbs (not seasoned)
½ avocado, sliced, brushed lightly with lemon
¼- ½ cup caramelized onions (recipe follows)
~¼ cup remoulade sauce
Preheat the oven to 350°F.
Combine Worcestershire sauce, pepper, dry mustard, seafood seasoning, salt, cayenne, and lemon juice, bread crumbs, and eggs in a large bowl and mix until thoroughly combined.
Gently fold crabmeat into egg mixture, being careful not to break up large crab pieces. Shape into 8-10 mini crab cakes. Transfer crab cakes to a lined (or lightly sprayed) sheet pan and bake   for 8-10 minutes per side until the outsides are slightly browned and the filling is warm throughout. Serve on mini rolls with remoulade sauce, caramelized onions, and avocado slices.
Cook's Notes:
I thought I had Worcestershire sauce in the pantry, but I didn't.  So, I used my Bragg's Amino Acids.
I thought I had Old Bay Seasoning, but I didn't.  So, I used Ellbees Zesty Seasoning (which is gluten free).
I used Gillian's Foods Gluten-Free Bread Crumbs
Keeping with the Gluten-Free theme, I made Gluten-Free mini rolls with Bob's Red Mill Bread Mix
I baked these, but you can fry them, too.  Heat 2 Tbsp. canola/vegetable oil in a large skillet over medium-high heat. Add the crab cakes and cook about  3 minutes per side, until golden on both sides.
All ingredients can be adjusted to taste and preference
Caramelized Onions
1 Tbsp. olive oil
1 cup thinly sliced yellow onion
¼ cup red wine
In a skillet, heat oil over medium-low heat. Add onions and cook about 15 minutes, stirring occasionally, until they begin to brown. Increase heat to medium, add wine and cook until the wine reduces and the onions turn dark in color (about 4 minutes). Use right away, or bring to room temperature and store refrigerated for several days in an air-tight container.