cotto al forno/oven baked
It's that time of year again!  It's time to think about cancer-fighting foods. After making the decision last year to host
Cooking to Combat Cancer
as long as I have Mele Cotte, I am actually a little later getting this event out than in past years.  Being in Denver last week threw me off a bit, but better late than never, right?  Even if I am the only one participating, it is important to me to host this event every spring.  Why?  If you've been a reader over the last several years, you may remember reading that I lost my grandmother to pancreatic cancer in November 1993. Then, I was diagnosed with Thyroid Cancer on April 29, 2001.  Cooking to Combat Cancer stemmed from the importance of incorporating healthy, cancer-fighting foods into my diet to help discourage any unwavering cancer cells that want to hang out.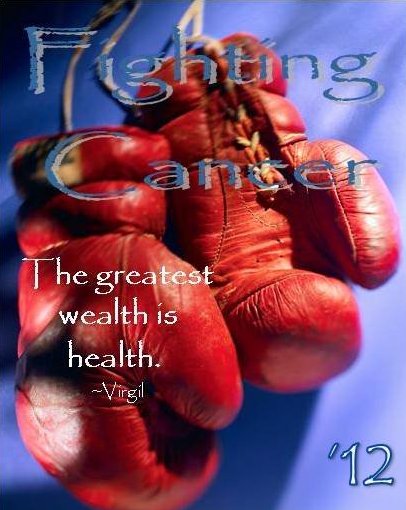 So, for the 2012 round up, will you help me put together another fantastic compilation of foods?
It's easy.  Here is what you need to do:
Create an edible creation that includes something that will help the body fight cancer. In short? Healthy recipes, regardless of course.  Meal, snack, drink…it's all good!
You must post your cancer combating culinary creation, with a link back to this posting, no later than Thursday, May 31, 2012. 11:59 EST. (Feel free to pick up the above logo for your post.)
After you post, please send an email to me at melecotte (at) gmail (dot) com, with Cooking to Combat Cancer in the subject time. Then, in the body of your email, include
your name (as you go by on your blog/twitter)
the name of your blog (if applicable)
the name of your recipe
a permalink to your post (if applicable)
a picture 500  – 600 pixels
***You do not need a blog to participate! Feel free to send me the above information, and even the recipe (if you want). It's all about spreading the word. ***
Need help finding healthy recipes or information? Mayo Clinic Recipes is a great place to look, as well as the places online. Kalyn has a ton of recipes that work, and at one point, let us know about this list of Cancer Fighting Foods and Spices, and this list of 11 Cancer Fighting Foods. Kate Flaherty had an informative guest post on Ask Amy last summer, The Cancer Dietician is a wonderful resource for lifestyle tips for prevention and survivorship, as is All Cancer Fighting Foods.  And, I find this theThyCa (Thyroid Cancer Survivors' Association, Inc.) Thyroid Cookbooka great resource, as I became intimately familiar with its offerings when I had to follow a low-iodine diet throughout my recovery. There are also the previous Round Ups ('11, '10, '09, '08, '07.), so feel free to check them out, too!
To start off this round of Cooking to Combat Cancer, I thought I would offer a delicious snack or appetizer.  Every component includes a cancer-fighting ingredient.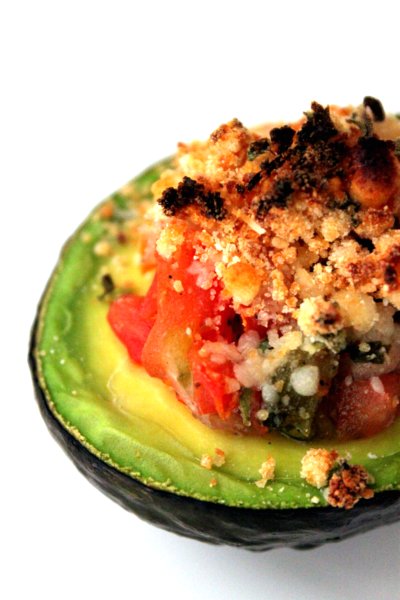 (1) Avocados are rich in antioxidants. (2) Tomatoes contain lycopene, an antioxidant studied for its part in fighting cancer. (3) Garlic has "immune-enhancing allium compounds (dialyl sultides) that appear to increase the activity of immune cells that fight cancer and indirectly help break down cancer causing substances."
The whole idea is brilliant, really.  Eric Ripert knows what he's talking about. Avocado, bread crumbs, herbs, and Parmesan?  Of course!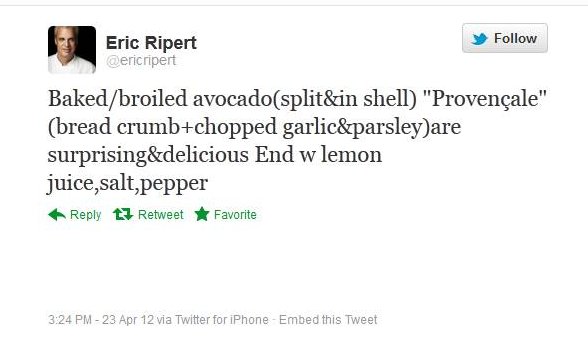 I had to make this baked avocado when I saw this tweet, but, I added my own little twist to Ripert's "Provençale". Next time, I am all about adding crab.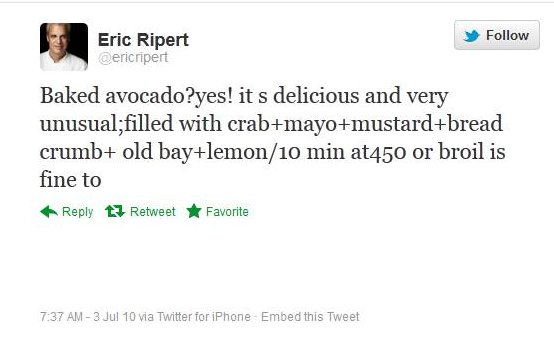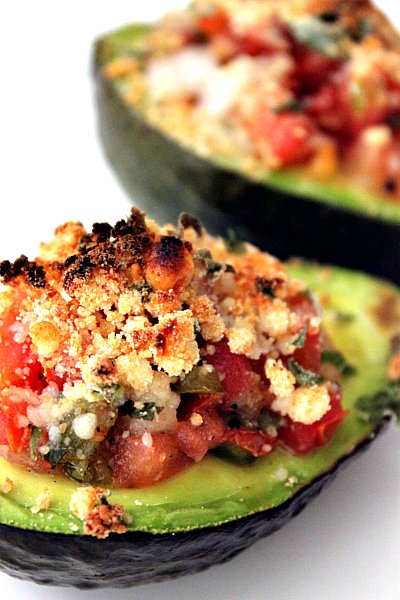 Baked Avocado Salsa
Adapted from an Eric Ripert tweet!
1 ripe Avocado
¼ cup bread crumbs*
1 garlic clove, minced
1 Tbsp. grated Parmesan cheese
1 Tbsp. basil, chopped
1 Tbsp. lemon juice
Salt and freshly ground pepper to taste
¼ cups Roasted Garlic Tomato Salsa
Preheat oven to 450°F.
In a small bowl, combine the bread crumbs, garlic, cheese, basil, lemon juice, salt and pepper; set aside.
Cut the avocado in half and remove pit. Divide the salsa between the two avocado halves.  Top with bread crumb mixture. Place on a small baking sheet. Bake for 5 minutes. Serve immediately.  Servings 2.
* I used Gillian's Foods Gluten-Free Bread Crumbs