sottile distinzione/subtle distinction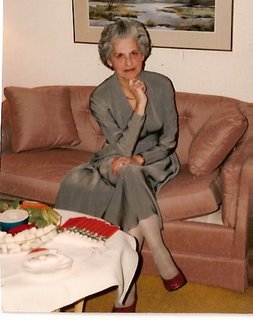 I am not exactly sure what it was that compelled me to make this cake, except it reminded me of my gram. Maybe it was because her birthday was a couple of weeks ago.  She would have been 99. Maybe its because  I still miss her everyday, despite her passing nineteen years ago. Maybe it was whipping the cream because she comes to mind every time I whisk to still peaks.  I am not exactly sure why, other than remembering she enjoyed the whipped cream unsweet. Hold the confectioners, pass the spoon.
She would enjoy dessert, but her preferences were always the less sugary choices . And, a tasty treat that paired seamlessly with a good cup of coffee?  A shoe-in.
In the end, the delicious blend of textures and flavors of this cake was not only satisfied a craving, but offered was therapeutic breath in my day.  And, I admit it.  I had good cry putting the cake all together. Love you gram!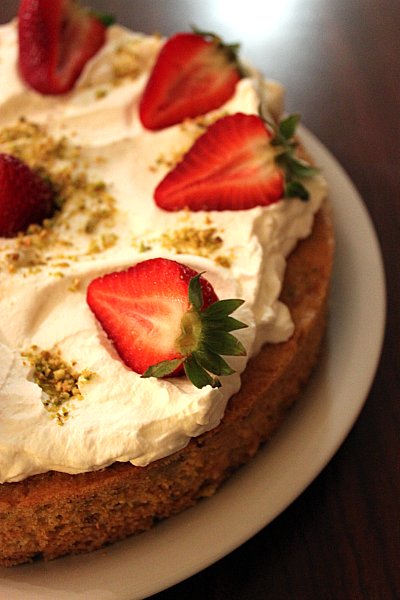 Pistachio-Honey Cake with Berries & Cream
A BHG recipe, printed with permission
1 cup all-purpose flour
½ cup cornmeal
¼ cup pistachio nuts, ground
2 tsp. baking powder
½ tsp. salt
½ cup butter, softened
¾ cup honey
2 eggs
½ cup milk
2 Tbsp. orange juice (see cook's notes)
½ cup mascarpone cheese, chilled or cream cheese, softened
1 cup whipping cream, chilled
2 Tbsp. honey
1 pint strawberries, halve large berries and slice
Chopped pistachio nuts
Preheat oven to 325°F. Butter a 9×1 ½-inch round cake pan. Line the bottom of the pan with parchment; set aside.
In a medium bowl whisk together the flour, cornmeal, ground pistachios, baking powder, and salt; set aside.
In the large mixing bowl of an electric mixer fitted with the paddle attachment, cream butter. Add ½ cup of the honey and continue to beat for 3 minutes, until fluffy. Add eggs, one at a time. Mix in ¾ of the flour mixture until just combined. Pour in milk, then mix in remaining flour until just combined. Transfer batter into prepared pan. Bake for 30 to 35 minutes, or until a wooden toothpick inserted near center comes out almost clean. Cool on a wire rack for 5 minutes. Remove cake from pan.
While the cake is baking, prepare the syrup. Heat the remaining ¼ cup honey and the orange juice in a small saucepan, being sure to whisk to combine. Poke warm cake with a wooden toothpick. Brush on honey-orange juice until absorbed. Cool cake completely.
Prepare topping when the cake has cooled and/or just before serving. In a medium mixing bowl, whisk mascarpone. Add 2 Tbsp. honey.
In another bowl, whisk cream to just before stiff peaks. Fold in mascarpone mixture. Spoon topping on cake, drizzle with additional honey, then top with strawberries and chopped pistachios. 12 servings
Cook's Notes:  I didn't have OJ, so I used apple juice.  And, the use of honey versus granulated sugar was delightful.  It allowed a subtle sweetness that was ever-so-satisfying.