donazione volontaria/donation
It's here!  The big day!  Food Bloggers, coast to coast, are participating in area Share Our Strength bake sales. The Atlanta Food Blogger Bake Sale (#ATLBakeSale), is bound to blow it out of the water again this year. How can I be so sure?  Well, first, we rock.  And, Atlanta hit its online donation goal before the baked goods even arrived at the venue! I think that's a pretty decent indicator that the overall contributions will exceed expectations, don't you? It's all due to Tami's diligence; she does a fabulous job rallying local bakers and merchants for a worthy cause.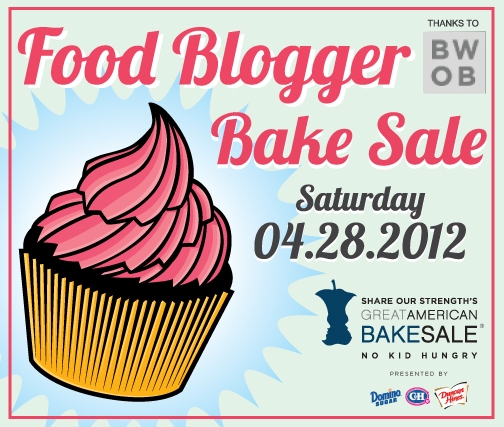 As I finally finished labeling at 11:53PM, I realized I didn't get through the list of all my baking.  I hope I made enough! Time will tell. I will have to let you know.
Until then, allow me to offer a sneak peak into one the treats I baked, boxed, and labeled.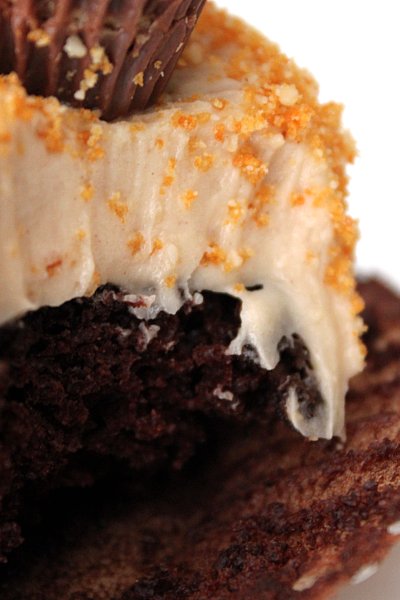 The cupcakes seen here, inspired by Kristie, from the Little Cake Bakery, are actually Gluten Free.  But before now, and for the bake sale,  this recipe was made with all-purpose flour. Substituting with Bob's Red Mill all-purpose worked like a charm.  Woohoo!
Enjoy!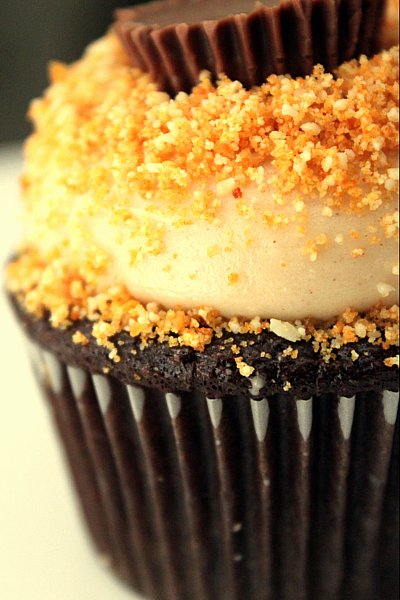 Chocolate Peanut Butter Crunch Cupcakes
Slightly adjusted from an out of print Wilton's White Wedding Album
2 cups granulated sugar
2 cups all purpose flour (or gluten-free all purpose, like Bob's Red Mill)
¼ teaspoon salt
1 cup hot water
½ cup butter
4 oz unsweetened baking chocolate
1 cup sour cream
2 tsp. baking soda
1 tsp. vanilla
2 eggs
Peanut Butter Frosting (1 ½ batches)
Brittle (recipe follows)
26-30 unwrapped mini peanut butter cups
Bake at 350◦F. Line 26-30 muffin pans with paper liners.
Place butter and water in saucepan over low heat. Add chocolate, remove from heat, and let sit for 30 seconds. Stir until the chocolate is melted and the mixture is smooth.
Large the mixing bowl of an electric mixer, whisk to combine the sugar, flour and salt . Switch to the paddle attachment and, on low speed, add chocolate mixture to dry ingredients. Continuing on low speed, add sour cream, vanilla and baking soda.  Be sure to blend thoroughly. Add eggs, one at a time. Mix until just blended. Do not overbeat.
Divide among the prepared liners, ¾ full. Bake for 18-20 minutes or until cake tester comes out almost clean. Cool on a wire rack.  Top with peanut butter frosting, ground brittle, and a peanut butter cup.
Peanut Brittle
2 cups sugar
1 cup water
1 cup corn syrup
2 Tbsp. butter
2 tsp. baking soda
½ tsp. salt
½ tsp. vanilla extract
2 cup peanuts, roasted and chopped
Line a baking sheet with foil and butter well; set aside.
In a large, heavy saucepan over moderate heat, stir together water, sugar, and corn syrup. Stir to dissolve.
Bring to a boil until it becomes a light amber color.  Remove from heat and stir in the butter, salt, baking soda, and vanilla. Stir quickly and carefully, as the mixture will bubble and rise up quickly.
Pour the mixture onto the prepared pan, and spread it out with a spatula. Make it as even and thin as possible. Cool to room temperature before breaking into pieces. Store in an airtight container.
For the cupcakes, place ¼ of the brittle in the food processor and pulse until ground. Sprinkle brittle on top of buttercream.
*Don't feel like making brittle? Placing a Planter's Peanut Candy Bar, or a preferred brittle or candy works as well.