limone/lemon
The weekend is over, as are all the area Share Our Strength bake sales that occurred across the US. Bloggers and bakers coast to coast, San Francisco & San Diego, Miami, DC, New York City, Chicago, Little Rock, Scottsdale, and more, came together with an outpouring that was tremendous. Did you miss the one in your area?  No worries.  Go online, type in your zip code and donate online.
The Atlanta Food Blogger Bake Sale (#ATLBakeSale) set up outside the Midtown Cook's Warehouse.  Donations came in droves as soon as the set up time struck 8AM.  With delicious treats in inviting packaging, the visitors and onlookers couldn't resist.  And, they didn't. Right up until 1PM cupcakes, scones, cookies, and bars left our tables.  Some didn't get far; crumbs between the tables and the parking lot, were all that left of some items .  Even local radio personality, and huge supporter of Share Our Strength, Jenn Hobby stopped by with her husband, who happens to be my former boss.  It was wonderful to see the two again, and share goodies and stories as I was reminded how I miss working for a supportive leader.
In addition to the Chocolate Peanut Butter Crunch Cupcakes, I made several other items for the sale:  Vanilla cupcakes, Red Velvet cupcakes, Donut Muffins, Pine Nut Biscotti, and Lemon Bars.  Whenever I make lemon bars, I refer to Ina Garten.  I have yet to find an Ina recipe that didn't rock. And, her lemon bar recipe is no exception.  Sunny and delightful, delicious.
Last week, while playing around with some recipes for the sale, I adapted Ina's Lemon Bars into a gluten free treat for my gluten-intolerant friends.  Yup, another GF dessert.  I am starting to like the variety! The end result was equally luscious and bright with every bite. But, that wasn't enough for me.  As I sat in rush hour traffic one evening, I had a random and, and what I think, a brilliant idea. Chocolate-covered lemon bars. Yes.  I said it!  Chocolate. Covered. Lemon. Bars.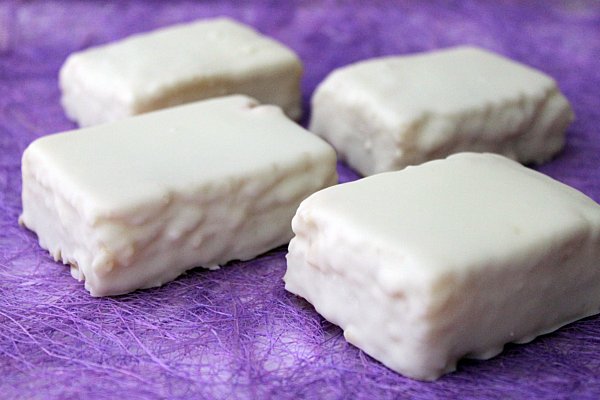 The crunch with the tang of the lemon made my heart sing!  I think you'll agree so I noted the how-to at the end of the recipe.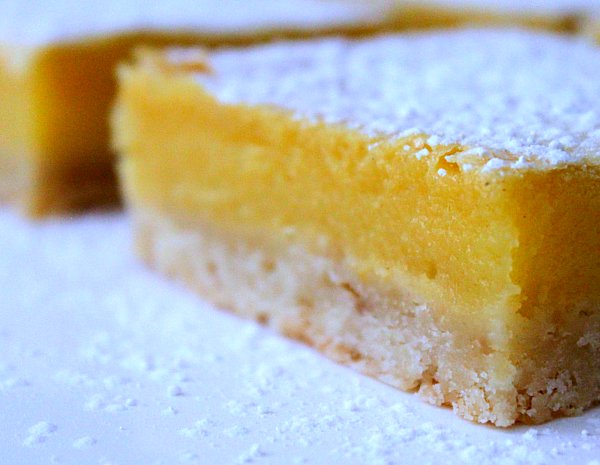 Lemon Bars (Gluten-Free)
Adapted Ina Garten Recipe
For the crust:
½ cup confectioners' sugar
1 cup brown rice flour
1 cup cornstarch
A pinch fine sea salt
1 cup unsalted butter, room temperature
1 tsp. vanilla
2-3 Tbsp. milk
For the filling:
7 large eggs, room temperature
3 cups granulated sugar
2 tablespoons grated lemon zest (4 to 6 lemons)
1 cup freshly squeezed lemon juice
1 cup gluten-free all-purpose flour (like Bob's Red Mill)
Confectioners' sugar, for dusting
11 oz. white chocolate chips (optional)
Preheat the oven to 350◦F.
For the crust:
Line a 9 X 13 X 2-inch baking pan with foil and lightly coat with canola spray. In a medium-sized bowl, whisk together the rice flour, sugar, and salt. Place the butter in the bowl of an electric mixer fitted with the paddle attachment. Add flour mixture. With the mixer on low, mix until the dough begins to come together. Use the milk if it remains in a crumbs-like texture.
Transfer dough into the prepared pan. With rice-floured hands, or a spatula, flatten the dough into one even layer. Bake the crust for 15- 20 minutes, until very lightly browned. Cool on a wire rack while preparing the filling. Increase oven to 375◦F.
For the filling:
In a large bowl, stir together the sugar and flour.  Add  eggs, lemon zest, and lemon juice. Whisk to combine, being sure to dissolve any lumps.  Pour over the crust and bake for 30 to 35 minutes, until the filling is set. Let cool to room temperature.
Cut into squares and dust with confectioners' sugar, or chill, then coat with white chocolate.
Cook's Notes:
Want a crust with all-purpose flour shortbread crust?  Try this one.
If covering in chocolate: Bring the bars to room temperature in the baking pans, on the wire rack. Refrigerate until firm and well chilled. With a sharp, straight edged knife, cut into squares. Melt the chocolate or candy coating in a microwave-safe bowl, in 30 second intervals, and stir until completely smooth. Use a small spatula or fork, to spread or dip the bars in the melted chocolate, covering them completely. Place the dipped bars on a foil-lined tray, and repeat until all bars are dipped. Refrigerate the tray to set the chocolate, about 10 minutes.