insalata di past/pasta salad
It was a sad day in Atlanta, for me, when eatZi's closed its doors here.  Even though there are still two locations open, Dallas, TX isn't quite the hop, skip, and a jump from here.  So, while I whined, complained, and used some not-so-ladylike-language, life went on.  Hrumph.
Then, Alon's moved into eatZi's Perimeter location. Similar to its predecessor, the variety of gastronomic goodies keep my attention while I wait in my to-go-order queue.  The new bakery/market doesn't have the sundried tomato Gemelli pasta that fueled my brain during my doctorate program, but Alon's does have a ton of other tasty treats.  Recently, I have honed in on the Greek pasta salad.  When there wasn't any available during my visit last week, I wondered why I just didn't make a batch myself?
So, that's what I did.  Instead of the shells pasta like Alon's, I decided the Les Pâtes d'Alsace Valfleuri Lasagnettes would add a fun factor in a homemade version. Now, if I could just read the (French) website and learn more about the products!  Luckily, the cheeses laid wait for me next to the pasta bins, as if the curds knew I couldn't speak French, knowing Feta was next on my list. Greek isn't exactly a language I can mutter, either, but the Mt. Viko feta cheese was just the thing for my salad.
This is my new favorite lunch, nudging out the Super Healthy Salad (with Miso-Ginger Dressing).  I wonder what with be the next lunch to come out as first place favorite?  What is your go-to lunch?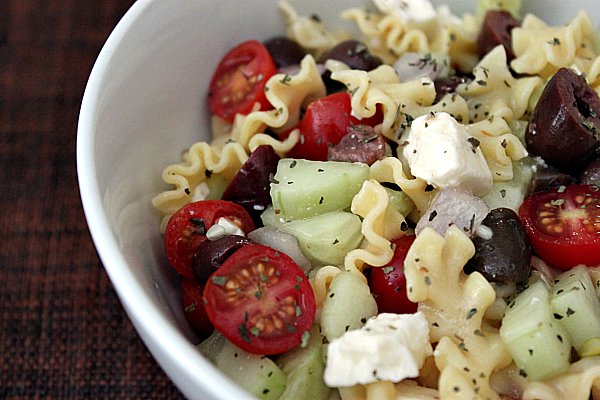 Greek Pasta Salad
5 oz dry Lasagnettes pasta, uncooked (about 1 ½ cups)
½ pint cherry tomatoes, sliced in half
1 cup cucumber, diced, seeded (peeled or unpeeled)
1 cup  pitted Kalamata olives, drained
½ cup red onion, diced
3 oz  good quality feta cheese, crumbled
¼ cup Greek Salad Dressing (recipe follows)
Coarse ground black pepper
Oregano
Cook pasta according to package directions. Drain in a colander, rinse with cold water, and drain again. Transfer to a large bowl, add tomatoes, cucumber, olives, onions, and feta cheese. Toss together. Drizzle dressing over pasta; toss to coat. Cover and chill in refrigerator for 2 hours to 24 hours. Sprinkle black pepper and oregano. Makes 4-6 servings.
Cook's Note: Play with the ingredients and adjust according to preference. There will be more dressing than you need for the salad. Save in the refrigerator for another day/salad. And, fresh herbs are best, but I didn't have any, so I used dried.
Greek Salad Dressing
1 tsp. chili stone ground mustard*
¼ cup white wine vinegar
½ cup olive oil
½ tsp. dried oregano
½ tsp. fine sea salt
½ tsp. freshly ground pepper
¼ tsp. dried basil
Place all ingredients in a jar with lid, and shake well to mix. Store in the refrigerator.
Cook's Note: This is a vinaigrette.  For a creamy dressing, puree all ingredients but the oil in a blender or food processor. Then, while the blender is running, carefully add the oil. Mix until creamy. Fresh herbs are best, but I didn't have any, so I used dried.
* I used Mercer Orchard's Chili Stone Ground Mustard.  Any stone ground, dijon, or preferred mustard will work.