decadente/decadent
A while back, I scooped up several gluten-free flours.  A colleague learned he was highly gluten intolerant, and the farmer's market that has easily accessible GF ingredients is way too far for him to drive without packing a lunch and leaving a trail of breadcrumbs. So, I grabbed a variety for him ( as well as some for myself) to play with, like sorghum, chia seed, coconut, and quinoa flours.
The coconut flour was particularly interesting to me, especially since I have been using coconut oil for some time. I had heard it was an approachable flour to bake with, but did some additional googling. I learned some important need-to-know tips about the grain free flour that proves helpful in baking.  For instance, coconut flour is a very absorbent flour, so a little goes a long way.  About ¼ cup to 1/3 cup coconut flour equals 1 cup grain-based flour. And, since it is a high fiber, high protein flour, it is necessary to increase the number of eggs to the recipe.  In fact, for every one cup of flour, about six eggs are needed, plus one cup liquid (like milk).   Lastly, because of the "sweet" nature of coconut flour, less sweetener needed in the recipes.
Even with these tidbits of information, one bit of advice stuck with me.  Making established, tested recipes, rather than experiment, can limit wasted time and money. Heeding to the advice, I dove into one website I stumbled upon, and liked one chocolate cake recipe (as well as a submitted almond joy recipe).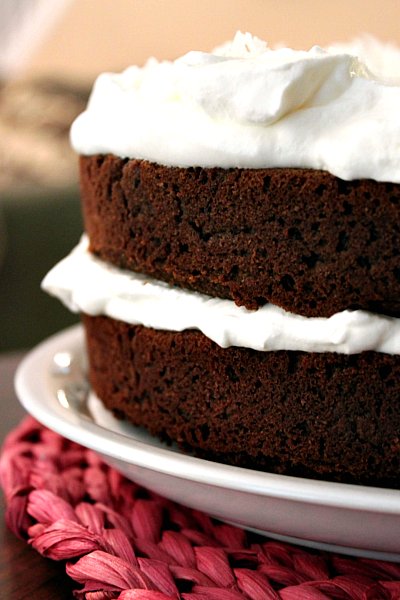 Not able to help myself, I did tweak the recipe a little by adding coconut oil and using one less egg than called for.  But, that was because I had fewer eggs than I thought!  All worked out though.  The batter was really thick, more like a dense brownie batter than a fluid cake batter.  I was worried the cakes wouldn't rise.  Looking in the oven half way through the cooking time and not seeing any action didn't calm my fears.  Luckily, at the end of the baking time, the cake rose to an acceptable height.  Paired with a simple whipped cream and the cake was a slice of heaven!
Have you used coconut flour? How so? Any tips to share?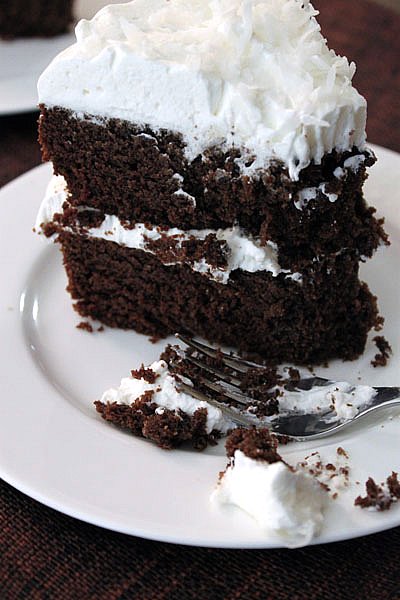 Coconut Flour Chocolate Cake
from coconut recipes
2 cups coconut flour
1 cup unsweetened cocoa powder
1 ½ tsp. baking soda
½ tsp. baking powder
1 tsp. salt
1 cup butter, room temperature
1 ¾ cups sugar
9  eggs, room temperature
1 tsp. vanilla extract
1 ¾ cup half & half (or milk)
¼ cup coconut oil, liquefied and cooled
3 cups heavy or whipping cream
¼ cup confectioners' sugar
1 tsp. vanilla extract
1-1½ cups shredded coconut (sweetened or unsweetened, according to preference)
Preheat oven to 350◦F. Grease two 8-inch or 9-inch round baking pans with butter.
In a large bowl, whisk together coconut flour, cocoa powder, baking soda, baking powder, and salt; set aside.
Add vanilla into the half & half; set aside.
In the bowl of an electric mixer fitted with the paddle attachment, mix butter and sugar for 2 minutes. Add eggs, one at a time; beat high speed for about 3 minutes. Add in the vanilla. Gradually add flour by alternating with milk, beginning and ending with flour. Add oil. Beat batter for about five minutes on high speed. Spoon thick batter into the two prepared cake pans and, with a spatula, smooth the top of each pan. Bake for 30-35 minutes, or until toothpick inserted into the center of cake comes out almost clean.
Cool on a wire rack for 10 minutes before removing from pans. Once removed from pans, cool completely.
Once the cake is cooled, make the cream filling. In a chilled bowl of an electric mixer fitted with the whisk attachment, whisk cream on medium-high speed until it just starts to thicken. Slow the speed down to medium and gradually add sugar. Continue to whisk until soft peaks form.
Add vanilla. Continue to whisk until smooth and stiff peaks form.
To assemble:
Place one layer (flat side down) on a serving plate.  Add about 2 cups of the whipped cream on the cake layer and evenly sprinkle with coconut.  Carefully top with second layer of cake on the filling, flat side down.  (if preferred, spread cream on the sides of the cake as well. Top with the remaining cream (use less if preferred). Evenly sprinkle with coconut.