limone/lemon
Is the weather beautiful in your neck of the woods? I am so excited spring is here a little early. Granted, it's been in the 80s (27C), and the pollen has begun to rear its ugly head, but the humidity doesn't seem to be aware of "spring forward". Woohoo!
As if the weather wasn't reason enough to be giddy, I was fortunate to get a visit from my mother last weekend for my birthday. What? You don't remember reading anything about the big day? Right. I actually haven't celebrated my birthday for years, much like holidays. It's not a religious decision, just a personal one that isn't worth eating up post space. But, what I do celebrate every year on my birthday is my mom. Since we don't live close, I make a point to call and thank her for being my mom. It's like our own special Mother's Day.
Last weekend, however, mom flipped the script. "It's a big day, Christina! It's not every day my youngest turns ?? years old."  So, she flew down to visit her youngest.
The visit was the best present I could have received. The second best?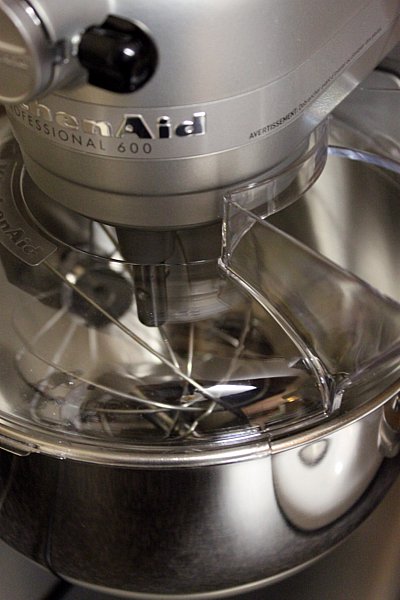 Do you know what this means? After being paralyzed when both of my mixers went to pasture, I received a new 6Qt Kitchen Aid.
I could hardly wait to break in the new machine. The first ingredients added to the shiny new bowl were those for several recipes I tested for an upcoming post-Las Vegas-eloping reception. Immediately thereafter, I made Cathy's Lemon Almond Torta. Why? It's The Secret Recipe Club reveal day. Group A was on March 5 and Group B on March 12.  Today is Group C's reveal day. Our group's hostess, Angela of Big Bear's Wife continued her streak on assigning me a wonderful blog, Wives with Knives. Cathy has been around for several years and, as proven throughout her four years of posts, one can't go wrong trying out any one of her recipes.
I must be honest about a pretty big problem with Cathy's blog, though. I couldn't narrow down my choices with choosing a recipe. Big problem, right? Well, it's a problem I'd gladly have again. I teetered between her One Bowl Banana Layer Cake and the Almond Joy Bread she saw on Peabody's Blog. Or, was it the recipe for the Mile High Popovers & Lemony Slice-and-Bakes my teeter tottered? Not able to choose, all the above recipes were printed for the moment I made my final decision.
Then, spring peeked over the fence, Cathy posted her Lemon Almond Torta, and the proverbial wrench foiled my plan. How could I pass up baking up something lemony at this moment in time? So that's what I did. And, to say it was the right choice was an understatement.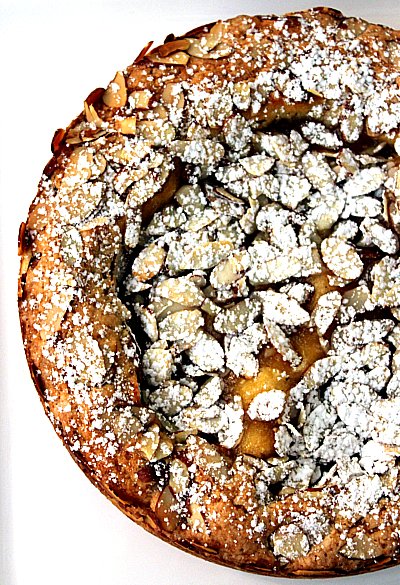 I admit, reading the instructions and seeing that I was to bake the lemon curd on top of the batter caused me to wonder. However, when all was said and done, the Torta showed me who was boss. The combination of lemon and almond was heavenly.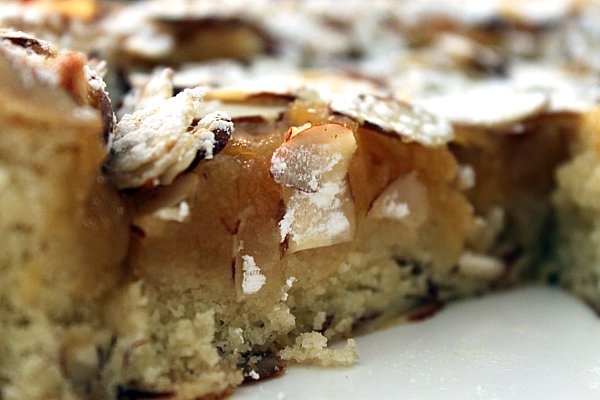 Cathy suggested forgetting about the parchment paper to line the pan because she had a difficult time peeling it off. I disagree. But, that may be because (1) I generously coated the parchment with butter to ensure a good stick for the almond slices, with which I created a bottom crust or (2) I let my torta stand, in an airtight container, overnight. Either way, the paper worked for me.
Thanks for a great recipe! This torta will surely be one of my new go-to recipes.
Lemon Almond Torta
From Chocolatier Magazine, posted on The Traveler's Lunchbox, seen on Wives with Knives
Curd:
¾ cup (150g) sugar
3 large eggs
Juice (½ cup) and grated zest from 2 large lemons
4 Tbsp. unsalted butter, cut into ½ -inch cubes
Torta:
2/3 cup sliced almonds
½ cup blanched almonds, lightly toasted
1 cup all-purpose flour
1 tsp. baking powder
½ tsp. salt
8 tablespoons unsalted butter, room temperature
1 cup sugar
1 tsp. vanilla extract
1 tsp. almond extract
3 large eggs, room temperature
confectioner's sugar for dusting
To make the curd, whisk, together sugar, eggs, lemon juice and zest in a heavy saucepan over medium heat  Add the butter slices. Cook, for 3 to 5 minutes, whisking constantly, or until mixture thickens. Do not allot the mixture to boil!
Once thickened, using a spatula, transfer the curd to a glass bowl, cover with plastic wrap (allowing the plastic to touch the curd, to prevent a film from forming) and chill for least 4 hours or overnight.
To make the Torta, preheat oven to 350°F. Butter the bottom and sides of a 9-inch round springform pan. with a circle of baking parchment. Gently press half the sliced almonds against the bottom and sides of the pan.
In the food processor combine the whole toasted almonds, flour, baking powder and salt. Process for 10-20 seconds, until finely chopped. In a small bowl, beat the eggs lightly with a fork until frothy.
In a large mixer bowl beat the butter for 30 seconds, until creamy. Gradually add sugar and continue beating for 2-3 minutes, until light in texture and almost white in color. Beat in vanilla and almond extracts.
With a rubber spatula, fold the almond/flour mixture into the butter mixture until blended and a stiff batter develops. Add beaten eggs and stir until just smooth. Transfer into prepared pan and spread into an even layer. Spread lemon curd on top of the batter to about 1/2-inch from the side of the pan in an even layer. Sprinkle the remaining sliced almonds over the top of the batter. Lightly dust with confectioners' sugar.
Bake for 30-35 minutes until the cake tester or toothpick inserted in the center comes out almost clean. Cool completely, in the pan, on a wire rack. Before removing, run a thin-bladed knife around the edge of the pan to loosen the sides of the pan. Peel off the baking paper and dust the torta with more confectioners' sugar before serving. Serve at room temperature.
Cook's notes:
I used ¾ cup almond flour instead of processing whole nuts and whisked it with the flour, baking powder and salt. And, while I whisk often, I hardly even sift flour.
Since I used all my lemons recipe testing, I had a friend grab a jar of curd from the store, with which I spread 1 cup over the batter.