Where did the week go?  It whizzed by. Although I am behind in post drafts and need to figure out what I am doing for Nutella Day tomorrow, all that must wait. First, I must hustle off to the teen's last basketball game of the season. The team is 19-1 and in the playoffs.  What a season!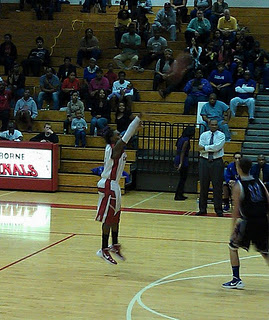 *Update: They won! Their last game of the season, the team finished undefeated at home…the first in OHS history! Now, we're ready for the playoffs. Go team!
The teen's energy is amazing.  He is going, going, going!  His only pause will be tomorrow, as he asked me to drive him to the mall.  Valentine's Day shopping.  Ha!  Who knows what he'll pick up in between the time I drop him off and pick him up for dinner.
I will worry about that tomorrow.  Right now, as I head out the door, I will leave you with a quick bread with my favorite…dates. The sweet fruit food is great for reducing cholesterol and high.  For me, however, I particularly like that dates boost energy and have selenium, the antioxidant that lend a hand to the thyroid. This is a good combo because, as I fall victim to thyroid issues, fatigue is often a side effect.  Who needs the sugary jolt of Red Bull when you can enjoy dates?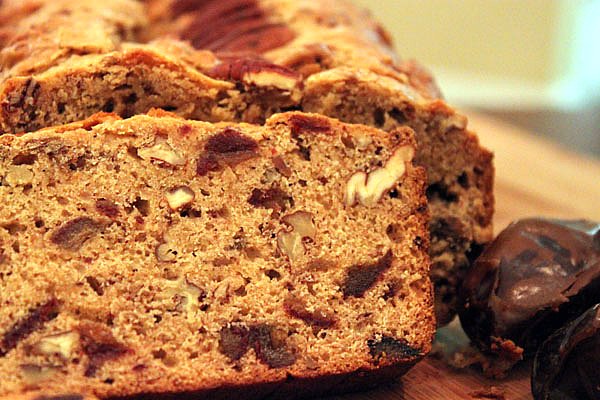 I made this bread on a weekend and it played various roles throughout the week.  It was a snack, toasted for breakfast, and, when sliced thinly, served as bread for a turkey sandwich. Cool right?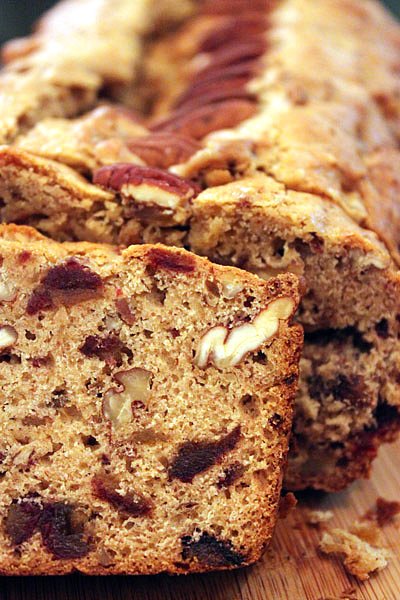 Date Nut Bread
1 ½ cups pitted dates, coarsely chopped
¾ cup boiling/ very hot water
1 ¼ cups all-purpose flour
2 tsp. baking powder
½ tsp. salt
¾ tsp. freshly ground nutmeg
¼ cup unsalted butter, room temperature
½ cup light brown sugar
¼ cup sugar
1 large egg
1 tsp. pure vanilla extract
1 cup chopped pecans (or walnuts), plus 5-8 pecan halves reserved
Preheat oven to 350°F. Grease (or spray with a nonstick vegetable spray) a 9 x 5 x 3 inch loaf pan.
Place dates in a medium-sized bowl, or large liquid measuring cup, boiling water. Let stand at least 20 minutes. Drain before use.
In a large bowl, whisk together the flour, baking powder, salt and nutmeg; set aside.
In a large bowl of an electric mixer (or with a hand mixer), cream butter and sugars. Add egg, then vanilla. Gradually incorporate the flour mixture and blend until just combined. Stir in drained dates and nuts.
Transfer the batter into the prepared pan. Top with reserved nuts in a preferred pattern. Bake 45 to 50 minutes, until an inserted toothpick in the center comes out almost clean. Place on a wire rack to cool for 10 minutes, then remove the bread from the pan and cool completely. Makes one 9 x 5 x 3 inch loaf.
Cook's Notes:
Seasons can be changed, according to taste. Cinnamon works in place of nutmeg.
If wrapped well wrapped, bread will keep for one week.
Since I am hosting this edition of Weekend Herb Blogging, I thought dates would be a fitting participant.  Next week's host?  Astrid from Paulchen's Foodblog.   (Grazie to Haalo for managing Kalyn's event, and Bri giving is the Italian version!)