torta a strati/layer cake
I must make a confession.  While I believe everything happens for a reason and I'm resigned to the fact my full time gig is where I need to be right now, it is a huge disappointment that I am unable to find the time to decorate cakes like I did just a couple of years ago. Once upon a time, despite working full-time, I was able to kick out a ridiculous amount of specialty cakes.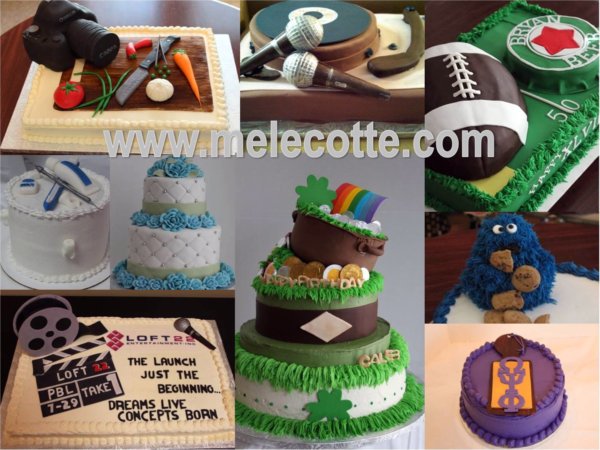 But, since moving back and working to recoup my losses, my time management has suffered in a significant way. Other than some basic layer cakes, and a decorative cupcake or two,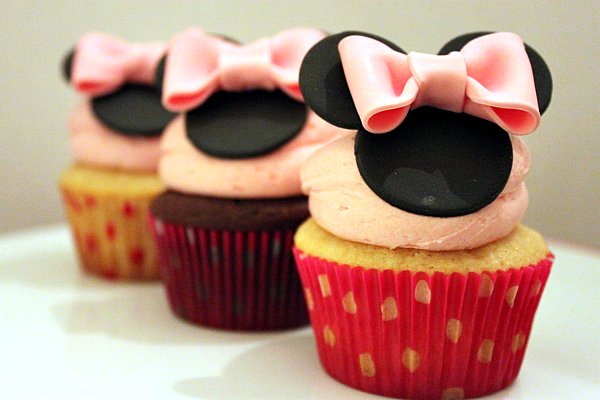 the fun stuff has long since been shelved and I have even had to turn away orders.
Until I can find a way back into decorating part (or full) time, I try to squeeze in (for me) less complicated cakes every once and a while, like the Red Velvet Cake with Cheesecake Center and this one, photographed by Tami.
And, thank goodness Tami was available to snap these photos!  Truth?  This cake almost didn't make the blog. After 30 minutes in the car, and with less than a ½-mile to Tami's door, the cake tin flipped over in my front seat.
Can you picture it?  Can you envision the slow-mo film blooper?  The side glimpse of the "slip"? The head turn The right arm reaching out but missing the tin only by an inch? And then, the sound of the plastic container bumping off the side of the car door and crashing to the floorboard?  The sudden, unexpected tumble made this once-perfectly open-layered chocolate bake pretty much un-salvageable.  Or, so I thought.
One slice is all Tami needed to showcase it's moist mocha scrumptiousness. She did good, right?
Enjoy!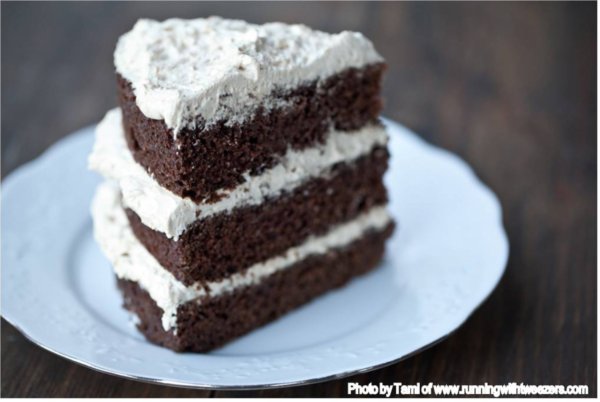 Mocha Layer Cake
2 ¼ cups cake flour
¼ cup unsweetened cocoa powder
2 tsp. baking powder
1 tsp. baking soda
½ tsp. salt
¾ cup whole milk
4 oz. bittersweet chocolate, chopped
¼ cup strong coffee
½ cup  unsalted butter, room temperature
2 ¼ cups light brown sugar
4 eggs, room temperature
1 cup sour cream
2 tsp. vanilla extract
Mocha Whipped Cream (recipe follows)
Sweetened Coffee (recipe follows)
Preheat oven to 350°F. Butter and flour three 9-inch cake pans.
In a large bowl, whisk together the flour, cocoa, baking powder, baking soda and salt; set aside.
In a medium sauce pan over medium-low heat, scald milk by heating the milk until it begins to steam and small bubbles start to form around the edges.  Be sure to stir frequently so that the milk doesn't thicken and/or burn. Remove from heat and add the chocolate.  Let stand for 1 minute.  Whisk to melt chocolate.  Add coffee and continue to whisk until combined. Set aside.
In the bowl of an electric mixer, cream the butter and sugar for 3 – 4 minutes. Add the eggs, one at a time, beating well after each addition. Turn mixer down to low speed. Add the flour mixture alternately with the milk mixture, beginning and ending with the flour mixture. Mix until just combined.  Add sour cream and vanilla and blend until well mixed, about 30 seconds.
Divide the batter equally into each of the three prepared pans. Bake for 20 – 25 minutes, or until a cake tester comes out almost clean. Cool on wire racks for 10 minutes before inverting the cakes onto the rack to cool completely.
Once cool, prepare sweetened coffee and whipped cream.
To Assemble: Place one layer of cake on a serving plate, brush with sweetened coffee, and spread one third of the whipped cream on the cake. Place the second layer of cake onto the first cake layer, brush with sweetened coffee, and spread another one-third of the whipped cream. Then add the third cake layer, brush with sweetened coffee, and add the remaining whipped cream.  Stored in the refrigerator for 1-2 days. Serves 14-16 people.
Mocha Whipped Cream
2 cups heavy whipping cream
1 – 2 Tbsp. confectioners sugar
1 Tbsp. ground instant coffee
In a large mixing bowl whisk the whipping cream until soft peaks.  Gradually add the sugar and instant coffee. Continue to whisk until stiff peaks form.
Sweetened Coffee
Stir together ¼ cup hot strong coffee and 1 Tbsp. granulated sugar. Set aside to cool.