coppia corrispondente/matching pair
A three day weekend. What to do? The choices are limitless. Even with all the options, after a busy day of hanging out with friends, running errands, and checking out new fabulous finds, I find that there isn't anything better than being in my own kitchen and preparing a home-cooked meal. In fact, while out with a friend yesterday, we spoke about the therapeutic value of cooking/baking. And, as I assume most of you who love to cook can relate.
From the time I arrive at work  to the time I leave, on average a 12 hour day, I have to be "on", alert, and ready for anything. Once home, you'd  think I would like to just collapse on the couch and veg. Instead, exploring and learning about potential uses for the items in my refrigerator and pantry is always too tempting. There is something calming about the process of choosing, planning and cooking what is to be prepared, maintaining an organized kitchen, and creating steps involved to make a delicious meal. Many times, as I scan a (small) counter covered with ingredients, I take a moment and play food Tetris so I can maximize efficiency. Ha! Double the fun.
Because I am just cooking for me, most of the time, I rarely make a whole meal.  I even though I end up with an entree or a side, it's an added sense of enjoyment to see how many uses I can find for an ingredient.  Case in point?  Black garlic.
I was intrigued by these little bulbs of soft, robust goodness when I received a couple of bulbs from Frieda's.  To be honest, I wasn't sure what to do. The soft texture through me off a bit.  Confused, I read a little further and found out that the, "whole heads of Korean-grown garlic are aged for 1 month in a special high-heat fermentation process. The aged garlic turns a rich black color with a soft, chewy texture and a mild, sweet-savory taste that might be classified as "umami" (the fifth taste – mostly present in savory and meaty foods). "
My first inclination was to go the garlic bread-route.  Boring!
Instead, I attempted a pan seared Halibut in a Tarragon Brown Butter Sauce and Toasted Walnuts. It was tasty, but impatient me didn't wait to brown the butter as long as I should have. So, just a picture for that meal.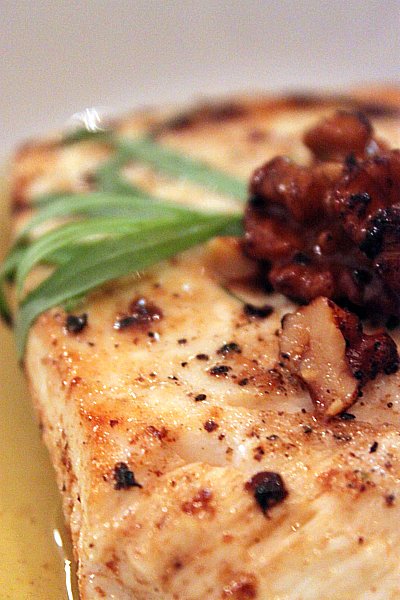 Then, I paired two of my favorite vegetables, mushrooms and parsnips.  The woodsy flavors of both vegetables compliment one another beautifully.  The hit of sage at the end, just before removing the mixture off the heat, adds a memorable pop. A perfect side dish for grilled meat, chicken or fish, (I think) it is a guaranteed pleaser, especially for these chilly winter evenings.
Do you use black garlic?  If so, how so?  Please share.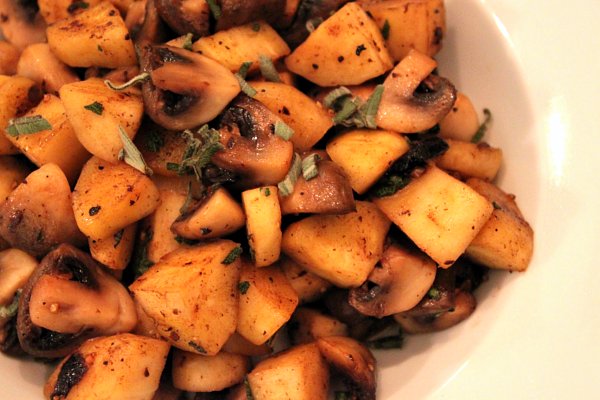 Mushrooms & Parsnip Sauté
1 lb. parsnips, halved lengthwise
2 Tbsp. unsalted butter (or olive oil)
1 Tbsp. black garlic, finely chopped (white garlic is fine)
½ tsp. fine sea salt
¼ tsp. freshly ground black pepper
1 lb. small white mushrooms; wiped clean and quartered
1-2 Tbsp. fresh sage; chopped
Cook the parsnips in boiling salted water until just tender, 4 or 5 minutes. Drain and allow to cool 5 minutes. Dice parsnips into bite sized pieces; set aside.
Melt the butter in a large skillet over medium heat. Add garlic, salt and pepper and cook until fragrant, about 1 minutes. Add mushrooms and toss with garlic butter to coat. Cover pan and cook for 5 to 6 minutes, stirring occasionally, and making sure garlic doesn't burn (if necessary, reduce heat to very low). Add parsnips, stir to incorporate.  Cover and continue to cook about another 5 minutes, stirring occasionally, or until desired doneness and the parsnips are lightly browned. Sprinkle with the sage and stir to combine. Yields about 4 servings.

Disclosure: I received samples of Frieda's, Inc, but I was not compensated in any other way.I was not obligated to complete this post and all thoughts and opinions are my own.